Event time:
3:00 PM London / 4:00 PM Paris
-What does the latest policy momentum point to?
-What alternative pathways including Carbon Removals are available?
-What are investors doing right now? What is their challenge?
This event will assess the latest on policy, investment and economic transition.
Speakers will be sharing their views on climate policy progress against 1.5C. and implications for investors, transition finance.
Hear green finance, climate policy and investor voices looking ahead on 2023.
Moderator:
Bridget Boulle - Director of Technical Development, Climate Bonds Initiative
Speakers:
Mark Fulton – Founder, Inevitable Policy Response (IPR)
Brian Hensley – Partner, Kaya Advisory
Alex Bernhardt – Global Head of Sustainability Research, BNP Paribas AM
Kavita Srinivasan– Senior Engagement Manager, Vivid Economics
Event sponsors:
Climate Bonds Initiative (CBI)
Inevitable Policy Response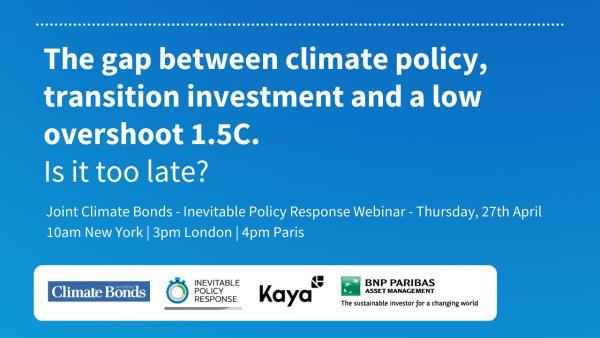 Event speakers:
Bridget Boulle
Kavita Srinivasan
Mark Fulton