Event time:
12pm New York / 5pm London
London Stock Exchange and Climate Bonds Initiative invite you to join them for an insightful industry webinar delving into the development of the US green and sustainability bond market. This session will provide tangible insights relevant to market stakeholders, corporate treasurers and sustainability officers embarking on a sustainability journey.
The panelists will share their experiences, address key challenges and showcase green and sustainable bond issuance processes in the US.
The panel will comprise of a corporate bond issuer already on the sustainability journey, an institutional investor, an underwriter, a law firm, an international stock exchange and an international standard setting organization with extensive market intelligence.
Speakers:

- Sean Kidney, CEO & Founder, Climate Bonds Initiative
- Amber Chi, Senior VP & Assistant Treasurer, Salesforce
- Marilyn Ceci, Managing Director and Senior Advisor to the Center for Carbon Transition, J.P. Morgan
- Emily Weng, Vice President, BlackRock Global Fixed Income ESG Investment, BlackRock
- Alan Denenberg, Partner, Corporate Department, Davis Polk & Wardwell LLP
Moderator: Aude Rajonson, Head of Fixed Income Origination, London Stock Exchange Group
Event sponsors:
Climate Bonds Initiative (CBI)
London Stock Exchange Group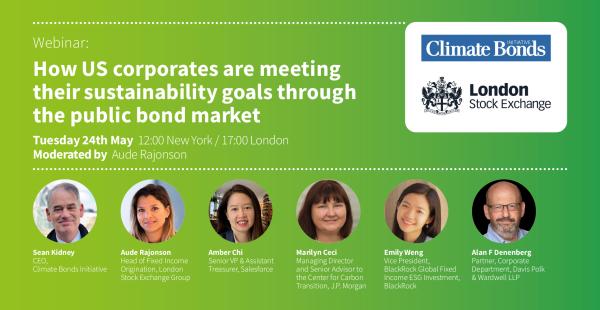 Event speakers:
Alan Denenberg
Amber Chi
Aude Rajonson
Emily Weng
Marilyn Ceci
Sean Kidney