Green loans are emerging as a fast growing financing mechanism. The use of both green and sustainability linked loans are increasingly popular in ASEAN nations and are beginning to appear in Australia and New Zealand.
How far & fast will this new market grow?
Climate Bonds latest analysis of domestic market developments around green loans will form the backdrop for this Webinar event. Expert voices will bring their perspectives on the drivers of new green lending, emerging market trends on both sides of the Tasman and best practice in labelling of green loans.
Moderator:
- Sean Kidney, CEO, Climate Bonds Initiative
Speakers:
- Emily Tonkin, Director, Sustainable Finance, ANZ
- Michael Chen, Head of Sustainable Finance, Westpac
- Craig Eggleton, Group Treasury Funding, Division Director, Macquarie Group
Where: Online from anywhere! (Link to video call with be shared after registration)
Date: Wednesday 14th October 2020
From: 8.30 - 9.45am Sydney Time  - World Clock
 
Event sponsors:
Climate Bonds Initiative (CBI)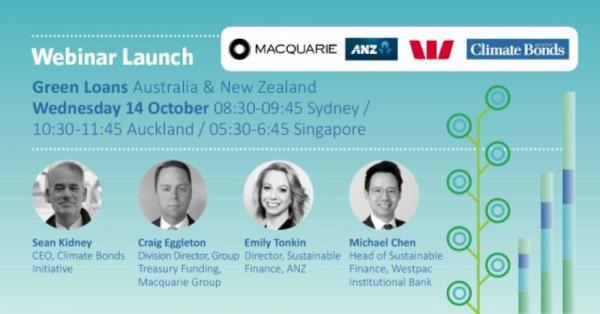 Event speakers:
Craig Eggleton
Emily Tonkin
Michael Chen
Sean Kidney