Mark Burrows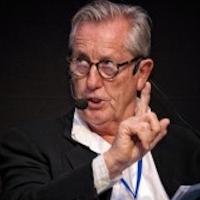 Professional Bio
Mark Burrows returned to investment banking after a short retirement in 2011 as a Managing Director and Vice Chairman of Global Investment Banking at Credit Suisse.
Mark is the Senior Advisor to UNEP (United Nations Environmental Programme). In this role, Mark has been looking at financing sustainable growth, which has come after much work in relation to Green Bonds, starting at the Forests Asia Summit in Jakarta and involvement in the African Forests Summit in 2014/15.  He has also been a leading force in initiatives within the B20 in getting Green Finance onto the agenda at the G20, and working with global financial institutions to accelerate Green Finance into a mainstream ten trillion dollar asset class.
Mark has a long and distinguished career in investment banking, commencing with Barings in London after attending Sydney University. He was Executive Chairman of the iconic investment advisory bank, Baring Brothers Burrows, in Sydney to 1999, and then the Executive Deputy Chairman of ING Barings in London to 2004, before becoming a Partner of Lazards and returning to Australia as their inaugural Chairman.
Internal team information