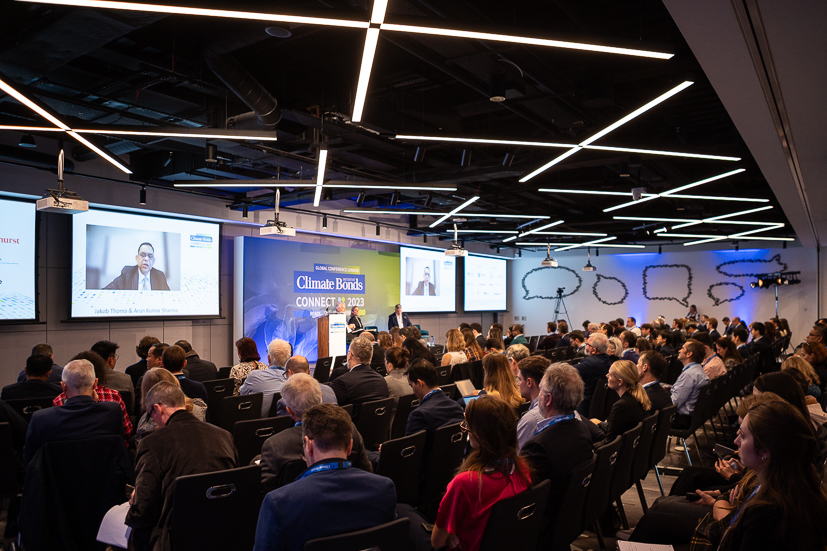 Climate Bonds CONNECT 2023 - London Global Conference Wrap Up
Climate Bonds CONNECT 2023 - London Global Conference brought together hundreds of investors, asset owners, and industry professionals to discuss how the sustainable finance sector can mobilise and facilitate the transition to a green economy. With over 350 in-person attendees and over 1000 people joining remotely from around the world, CONNECT 2023 demonstrated the appetite and enthusiasm for a real global transition.
Doris Honold, Chair of Climate Bonds Board, kicked off the conference with a clear message to the world's economies — it's time to transition. 2023 will be the hottest year on record, and the effects of climate change will only increase as we work to bring our emissions down and align our economies with a net zero future. While the world is making progress on this transition, we aren't yet moving fast enough. That, Doris said, is why we need clear, ambitious transition plans in every country, every industry, and every company. Transition plans will soon be a company's license to operate and will be the foundation of the global race to net zero.
Climate Bonds CEO Sean Kidney echoed the importance of transition, especially for investors. In the face of climate volatility, Sean said, transition is really about managing risk. Reducing emissions is essential to meeting the minimum requirement of 1.5°C warming, but investors also need to focus on building resilience into their investments to ensure they are protected against the risks climate change will bring. While this is a tremendous challenge, Sean said that investors should see the global transition as an opportunity for long-term growth and stability. The world has the capital necessary for this transition, but it needs to move — fast. Thankfully, there are more options than ever for investors to identify and support credible transition efforts. With 50 countries now implementing green taxonomies, and large-scale public procurement driving down costs, the green future is closer than ever before. But to get there, Sean said, every company, investor, and industry needs to put transition at the forefront of its operations.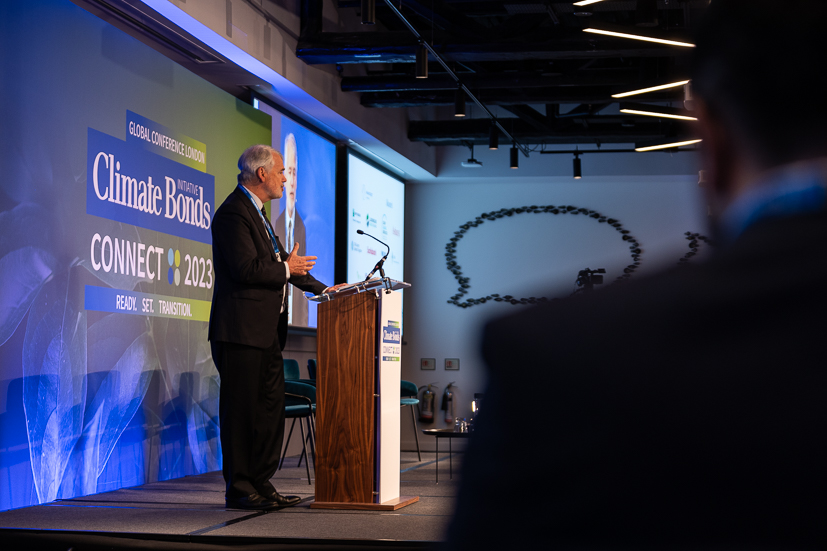 Sean then launched the first panel of the day, Setting the Scene. The expert panel discussed what needs to be done to jumpstart the global transition, especially how governments and policymakers can encourage and facilitate the necessary changes. Jakob Thomä, Project Director at Inevitable Policy Response, said that transition at the speed and scale necessary won't be possible without cooperation and collaboration between governments, industries, and investors. Risk, Jakob said, is the biggest barrier to the transition, and governments can step in to mitigate that risk so that investors can support the ambitious transition measures we need. Margarita Pirovska, Director of Policy at PRI, emphasized that this transition needs to encompass the entire economy, not just the energy sector or hard-to-abate industries. Everyone, Margarita said, needs to be part of the global transition. Arun Kumar Sharma, Senior Advisor at the World Bank Private Sector Investment Lab, put it another way: we need to transition the entire global economy — not one country, one industry, or one company. That will require long-term planning and long-term views, which is why Shaun Tarbuck, Chief Executive of ICMIF, said that every company needs to create a singular sustainability strategy, to ensure that they're operations are viable in the long-term as the global economy transitions to net zero.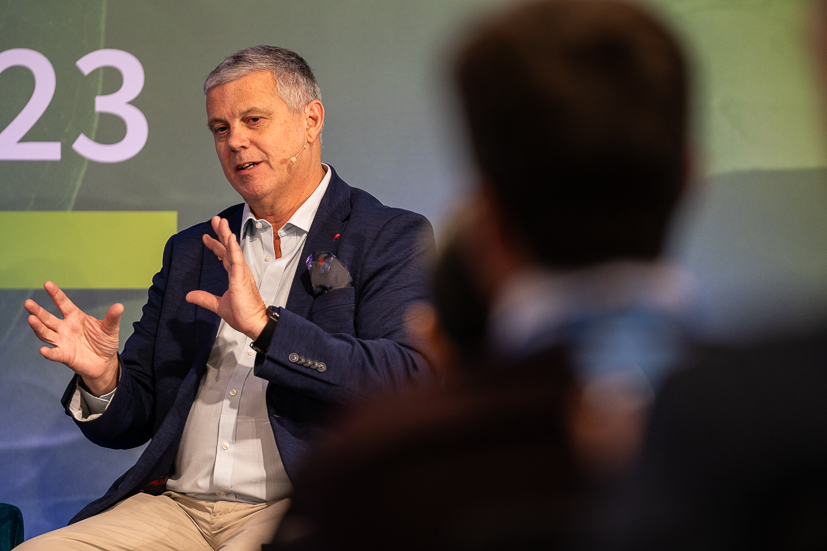 The second panel of the morning dove deeper into the plans and strategies necessary to make those changes possible. Rachel Hemingway, Head of Transition Programmes at Climate Bonds, led a discussion on how companies and industries can set out their pathways to net zero through transition plans. These sorts of plans, Rachel said, show how a company is going to change over time, as well as how those changes are going to be financed. Shinichi Kihara, Director General for International Policy on Carbon Neutrality at the Japanese Ministry of Economy, Trade, and Industry, pointed to the guidelines in Japan's Green Transformation Plan (GX) as evidence of the possibility for industries to make real, ambitious changes. The sector roadmaps in the GX plan, he said, demonstrate how even the highest emitting industries like cement and steel production can make dramatic emissions reductions and reach net zero by 2050. He also pointed to the Japanese government's $140bn  sovereign transition bond, the first of its kind, as a way that governments can support companies and industries with credible transition plans. Nazmeera Moola, Chief Sustainability Officer at Ninety One, said that transition is at the heart of their net zero strategy, and that transition guidance will be essential for companies to develop the plans that will get them to net zero. Tomohiro Ishikawa, Chief Regulatory Engagement Officer at MUFG Bank, emphasized that these transition efforts can't be limited to developed economies, but also need to support emerging economies, especially with regards to the energy sector. These transition plans, he said, can't simply focus on greening a balance sheet — they need to have real effects in the real economy. One example, said Marian D'Auria , Global Head of Risk & Sustainability at GFG Alliance, is the steel industry's investment in Electric Arc Furnaces, recycled secondary steel production, and hydrogen-powered furnaces. Changes like these, Marian said, will make meaningful and immediate changes not just in the industry's emissions, but in its ability to produce the green steel that will be needed to build resilient and prosperous communities around the world. We can't build a green economy, she said, without green steel, which is why Christina Gamboa, CEO at the World Green Building Council, said that transition plans for industries like steel are essential to planning the green future for the rest of the economy. With more than two-thirds of the world's assets based in real estate, transitioning our buildings will be a crucial step in reaching global climate targets.
During the networking lunch, Climate Bonds unveiled the new Electric Utilities Criteria, which will enable certification of investments in green energy utility systems and companies. The criteria are available now for public consultation, and will be released for certification early next year.
The afternoon turned the conversation to resilience, where Ujala Qadir, Climate Bonds Director of Strategy and Programmes, led a discussion on how the global economy can prepare for the effects of climate change over the next few decades, and those already here. Paola Albrito, Director of the United Nations Office for Disaster Risk Reduction, said that the world should expect a 40% increase in climate disasters as global temperatures rise. Wildfires, floods, and intense heat will necessitate adaptation to ensure that communities and economies can bounce back after a crisis. Those increased risks are why investors need to view resilience as an opportunity to avoid future costs, said Betrand Millot, Head of Sustainability at CDPQ. Resilience, he said, is risk management, which investors need to prioritise as they develop and invest in transition plans. Sophie Evans, Associate Director at the Advisory Centre for Disaster Protection, said that the world needs to be ready for the effects that will come while continuing to strive for a green future.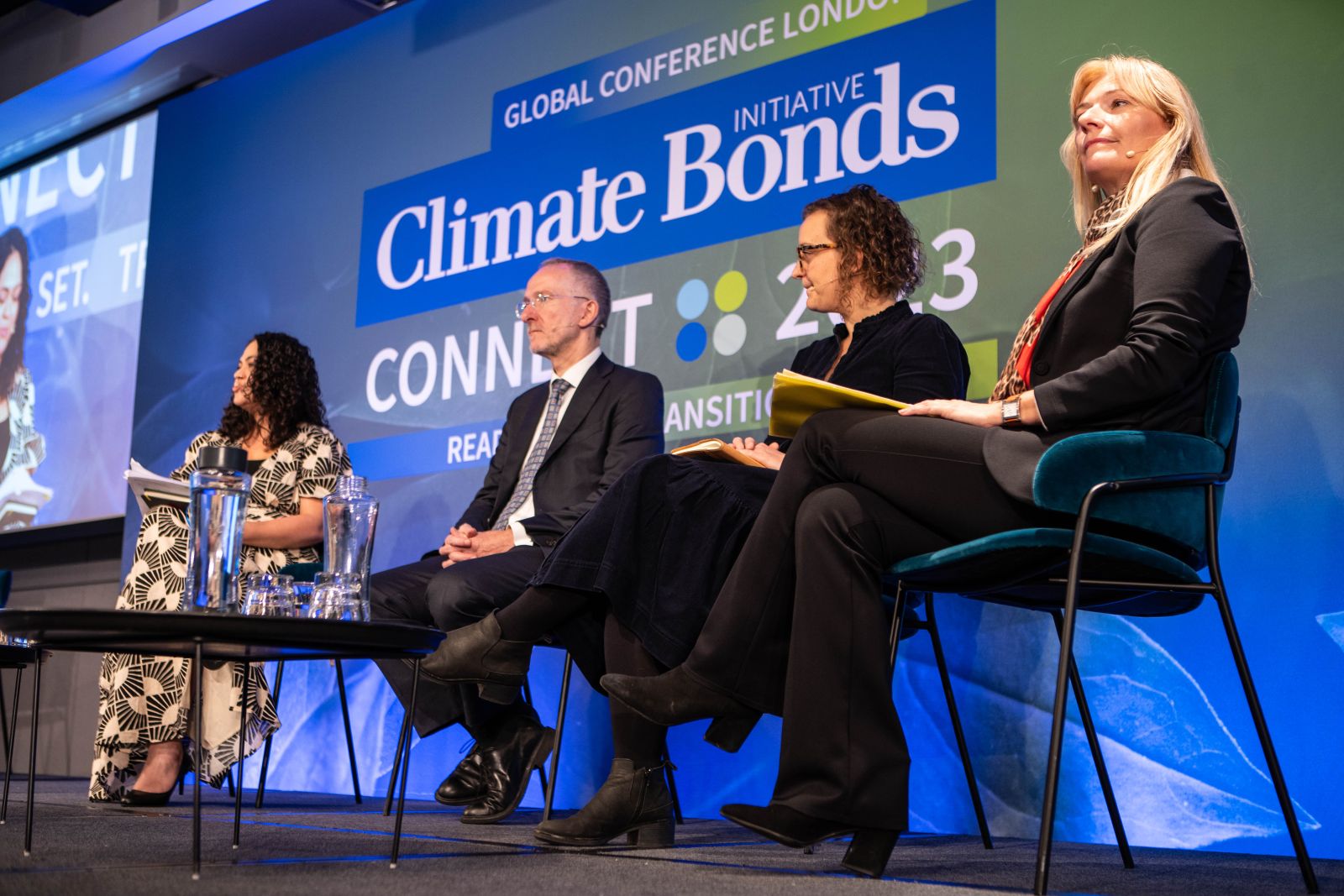 Anna-Marie Slot of Ashurst led a discussion around the urgent need for climate action in emerging markets and the challenges that issuers and investors face with mobilising capital in developing economies. Hamid Asseffar, Head of EMEA Sustainable & Impact Investing at Invesco described the need for financial structures to be put in place to guide and encourage investment in emerging markets. Tools like blended finance, Hammid said, can address some of the risks inherent in investing in developing economies and can mitigate risks for investors. Farnam Bidgoli, Managing Director and Global Head of ESG Solutions at HSBC, agreed that financial frameworks can give confidence to investors about the long-term stability of their investments. For example, Farnam said, using anchor investors and large-scale platforms like the One Planet Fund can build larger sustainable markets than would ever be possible without those structures in place. Adebayo Arayoe, Capital Markets Specialist at FSD Africa, highlighted the need to tailor these structures to each individual country, region, and community. In Africa, for example, Adebayo says that it is difficult to separate social issues from climate issues, and investments in African markets need to be structured to address the unique needs of the region. Scott Roberts, Head of the Southeast Asia Green Finance Hub at the Asian Development Bank, said that those kinds of bespoke frameworks and creative structures can direct finance to meet the needs of regions like Southeast Asia, but need to ensure that the investments are supported by coordinated policy actions. The ambitious targets that many nations are setting, Scott said, need to be backed up by credible implementation plans, so that investors can be confident in the future stability of the regions and their investments.
The final session of the day focused on the opportunities in fixed income as the world transitions to a green economy. Sean Kidney led a discussion with panelists and audience members about how investors, asset owners, and industries can mobilise capital and direct it to the places where the world needs it most. Pietro Sette, Research Director at Mainstreet Partners, said that an essential part of those investments is accurate, up-to-date data. He said that an essential part of the global transition is making it easy for investors and asset owners to identify and support credible transition efforts and use the tools available to them, including new financial instruments like Sustainability-Linked Bonds. Jarek Olszowka, Head of Sustainable Finance at Nomura, said that the challenge isn't just about determining what is green and what isn't, but determining whether a transition plan has the speed necessary to bring companies and industries in line with net zero targets. The bottleneck, he said, is not on the demand side — investors are keen to finance these transitions, but need clarity on the best path forward. Agnes Gourc, Head of Sustainable Capital Markets at BNP Paribas, said that smart policy regulation, including the Inflation Reduction Act in the United States, can help reconcile the short-term needs of companies and investors with the long-term needs of the economy and the planet. During the panel, hundreds of investors, asset owners, and issuers were able to meet, share their experiences investing in green projects, and connect with other people traveling the road to net zero.
Sean wrapped up the conference with a call to action — the world needs to capitalise on the opportunity of the global transition. We are living in a century of volatility, Sean said, but with cooperation and collaboration between banks, regulators, investors, and industries, we can make the transition to net zero smooth, fast, and profitable. Above all, Sean said, we need to make it easy to act. Finance needs to be able to flow to the projects that will make credible impacts, and industries need to be moving with speed toward a net zero future.
We'd like to thank our sponsors and everyone who joined the event in person and online!