On 20 September, Climate Bonds brought together leading experts and investors for the Climate Bonds CONNECT 2023 regional seminar in New York City. With the focus on the global transition and race to net zero, the conference explored the power of sustainable finance in enabling a rapid, credible transition to a green economy.  
Part of Climate Week NYC, the Climate Bonds Connect North America Regional Seminar brought together investors, industry experts, and thought leaders to discuss how the global capital markets can finance the transition to net zero.  

The New York event is the third of the Climate Bonds CONNECT 2023 series, following events in Hong Kong and Bogotá. We have captured the best moments on camera – check out the photos. 
Are you a podcast fan? We got you! 
 

 

 

 

 

 

 

 

 

 

 

 

 

 

 

 

Dr. Aneil Tripathy, Climate Bonds Academic Research Consultant, joined Barney Lloyd-Wood in the Climate Bonds Café after the conference to recap the event. Listen to their conversation now! 

 

 

 

 

You can also listen to the events sessions individually in your favorite streaming platform here. 
Transition is a challenge — and an opportunity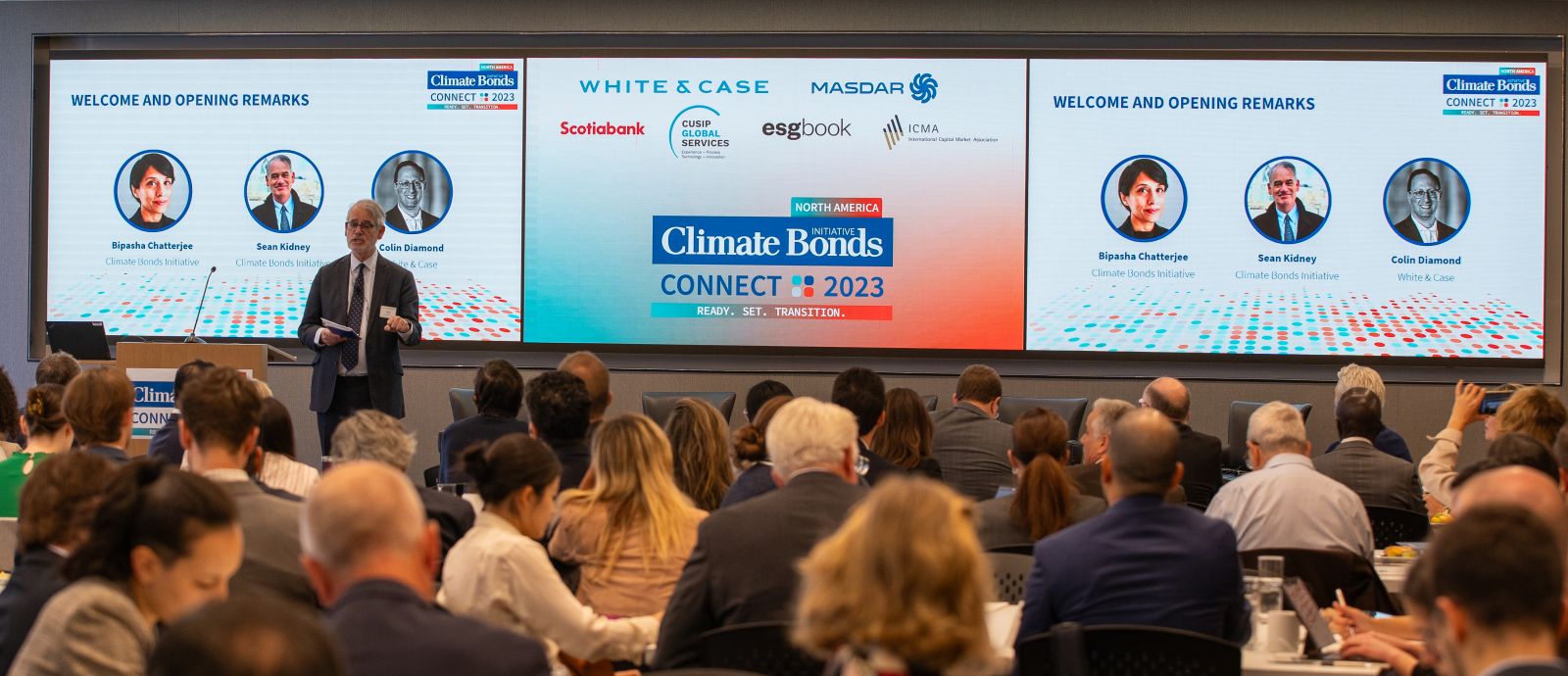 Climate Bonds CEO Sean Kidney welcomed 200 attendees with a clear message: it's time for the world to transition.  
"Ambition is now everything," Kidney said. "We can no longer look backward. The past will be no guidance for the future — we need to think about the future we want and figure out how we're going to get there."  
Kidney kicked off a day of sessions with investors, industry leaders, and experts focused on how the global capital markets can drive finance toward credible and ambitious transition projects. While transition presents a challenge for global economies, Kidney reminded the investors in attendance that it also presents one of the strongest opportunities for long-term prosperity and urged everyone to mobilise toward seizing that opportunity.  
You can hear more about how Climate Bonds is working to facilitate this rapid transition in our new podcast series Ready. Set. Transition. available now.  
Racing along the road to net zero — Hybar's green steel certification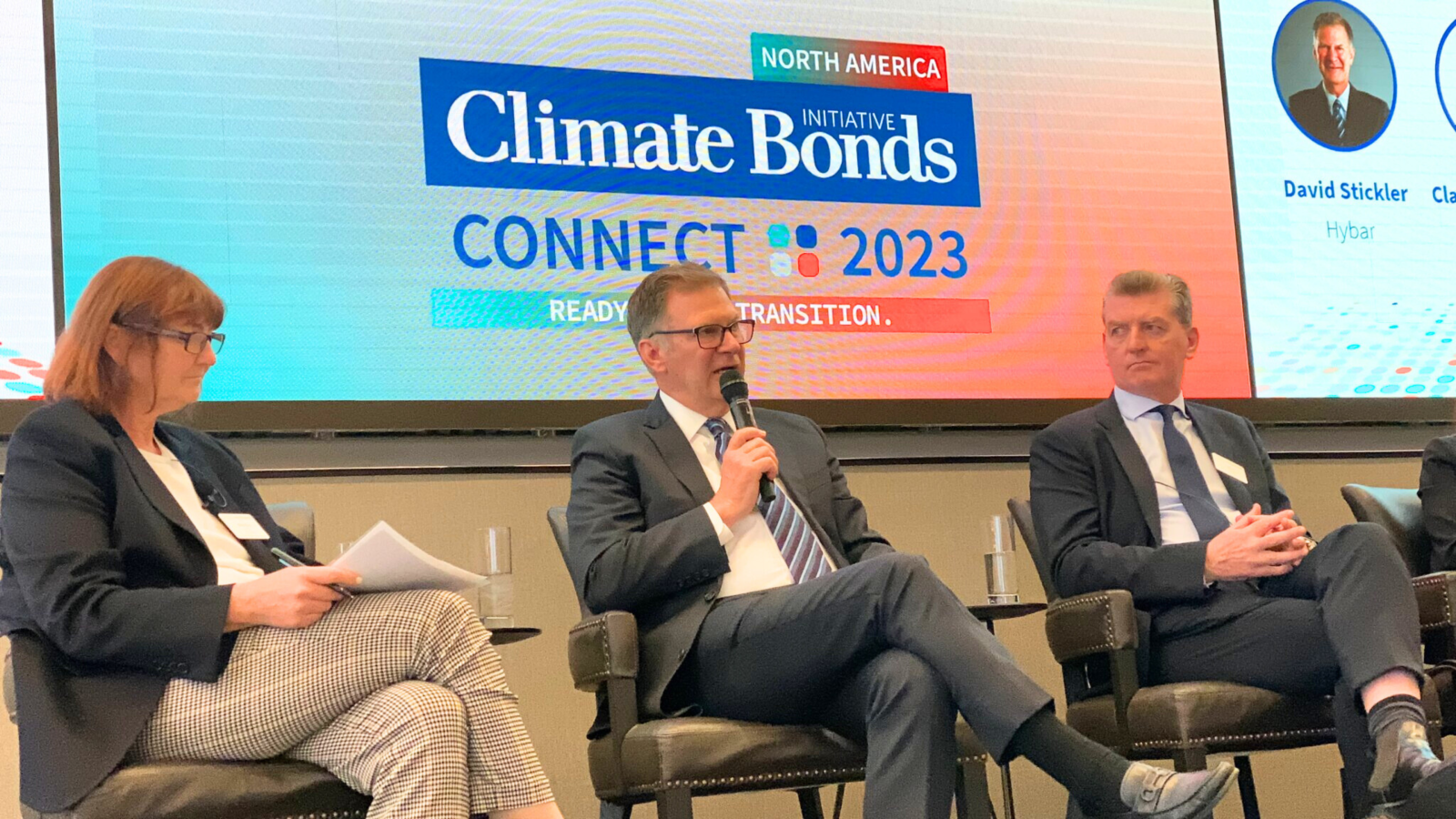 Climate Bonds CONNECT 2023 also showcased an exciting development in the race to net zero — the world's first Climate Bonds Certified Steel Bond. Hybar CEO Dave Strickler joined the conference to discuss how his company was using Climate Bonds certification to support the creation of a state-of-the-art steel facility in Arkansas. The $330million issuance, Strickler said, means that Hybar is "well positioned as a leader in terms of environmental sustainability in the world's steel industry."  
This facility is designed to produce an impressive 630,000 tons of rebar annually. Hybar is set to achieve a groundbreaking milestone in North America by utilising a direct connection to a nearby behind-the-meter solar installation to exclusively generate steel with 100% solar energy. By switching to clean energy, Hybar aims to keep its carbon emissions to a minimum, becoming a pioneer in low-carbon steel manufacturing. 
Countdown to London — Climate Bonds CONNECT 2023 Global Conference on 9 & 10 November 

Climate Bonds CONNECT 2023 will be culminating with our global Conference in London on 9 November and our Training Day on 10 November. Join us to hear from the world's leading experts in sustainable finance and to find out how you can contribute to the global Climate Bonds movement. Register your interest now at climatebonds.net/conference.