On Tuesday 18 July, Climate Bonds hosted the second Climate Bonds CONNECT 2023 regional seminar in Colombia's capital, Bogota. Drawing inspiration from this year's captivating theme, "Ready. Set. Transition.", the Climate Bonds CONNECT 2023 conference delves into this transition, exploring the power of sustainable finance in driving economic growth in the region, mitigating climate risks, and fostering resilience. The event showcased groundbreaking initiatives, strategies and opportunities that will accelerate the transition towards a low-carbon economy. 
Climate Bonds Connect centers around facilitating a credible brown-to-green global transition that is ambitious, inclusive, and aligned with the Paris Agreement. During the event, ministers, regulators, investors, asset managers, and influencers discussed their views on the development of a sustainable market and how credible, ambitious efforts to decarbonise the Latin American economy can help the region reach its climate targets.  
One of the key takeaways was the need to create connections between organizations to grow the market, as well as discussion spaces to promote the sustainable finance market in the region. There are already instruments available, but the challenge is to promote and utilise them. The quality and number of attendees was a testament to the growing appetite for credible transition planning in LAC. 
All the sessions will be available on Youtube in Spanish, except from Sean Kidney's opening speech, which is in English. Watch the sessions on Youtube.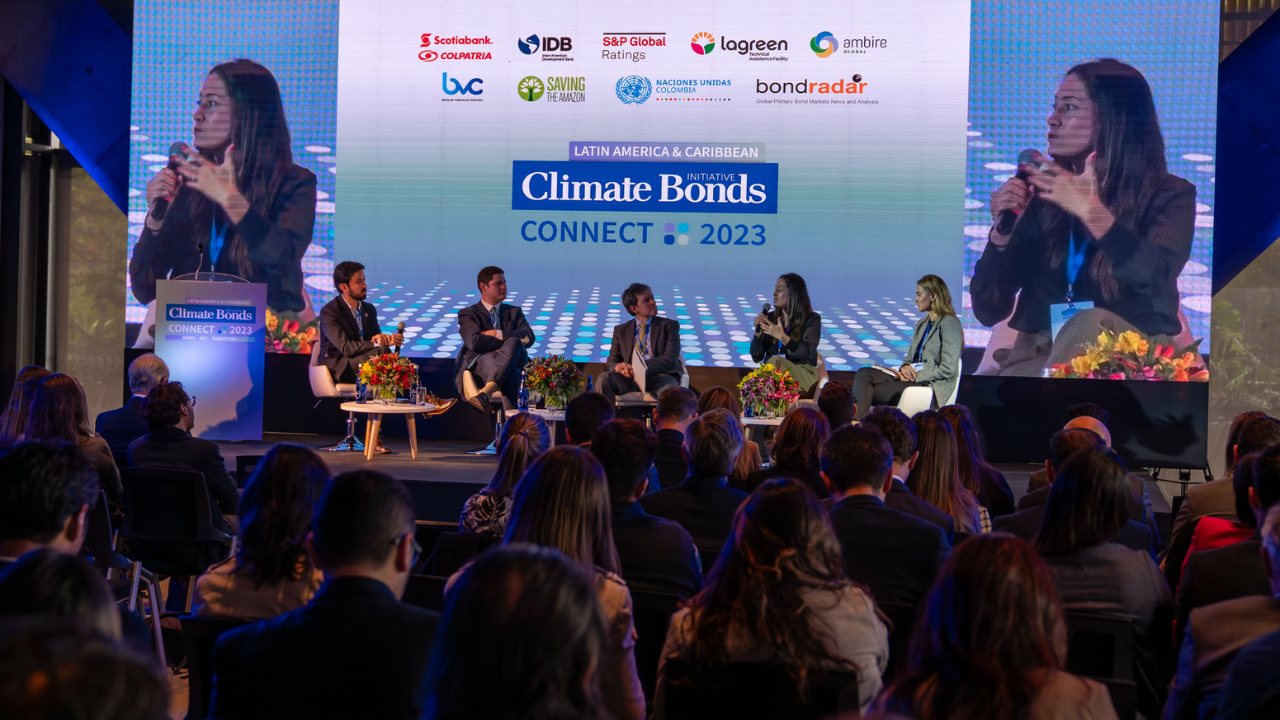 PODCAST in Spanish: Colombia + Verde - Debrief #ClimateBondsCONNECT2023 América Latina y el Caribe

Following the regional seminar, Andrés Felipe Sanches, Head of Latin America and the Caribbean and Valeria Contreras, LAC Sustainability Manager, hosted our regional podcast in Spanish 'Colombia + Verde' to discuss key take aways of the event. You can listen to the full interview here .

 
 
---
LAC is committed to #transition: Learning first-hand from our speakers.
 

 

CEO, Climate Bonds Initiative 

"We need to signal to the world, to our investors, to our banks, to our governments, what we can do. We need demonstrations, we need examples, we need the finance sector to start doing more green deals. We need a wave, a tidal wave of green bonds across Latin America that match the green tsunami of economic changes coming through. We don't need them because the deal will change the world, we need them to show the world what to do, we need them to encourage hope. Our commitment to the future will be challenged by what we're going to

experience

the next few years. The finance community has an extraordinary privilege: we can do something. Most people don't have that opportunity. They

have to

take what's going to come. We can act. For that, we are extraordinarily lucky. I am lucky to be with you in this room, contemplating what we're going to do in the next few years to create a future fit for our children."

 
 

 

Mariana Escobar

Operations Officer,  International Finance Corporation  

"Taxonomies are becoming a fundamental tool to be able to narrow down or

contextualise

decisions according to the reality of each country. Currently, the World Bank Group, particularly the IFC, is supporting different developments of taxonomy. We are working with the Central American Council of Banking and Insurance Supervision to develop a regional framework for a regional taxonomy, at least one base taxonomy. We are also supporting the process in the Dominican Republic. There are also ongoing discussions to promote this in other countries, such as Peru, which was also mentioned in the previous presentation. This, in a way,

acknowledges the potential that we see in the development of these taxonomies."

 
 

 

 

"Colombia is blessed with abundant natural resources. We are in a very advantageous position, which makes us highly attractive for the development of sustainable hydrogen projects. We have a clear definition of green hydrogen within our country's green Taxonomy, and investments in this green hydrogen are essential for Colombia. My main message would be to strive for coordination between the financial and technical aspects because sometimes we only focus on the technical side. Hydrogen is being promoted for sustainability and to drive the decarbonization of our country's industrial processes on the international stage. One significant advantage is that we have the potential to export hydrogen, and that's where we should be heading. This will ensure that it's not only green but also truly sustainable.

"

 
 

 

Ulises Ruíz

Director General of Public Debt, Ministry of Finance of Mexico

 

"In March of this year, we received positive feedback, and many of the comments mentioned that Mexico's activities align with the Climate Bonds Initiative Taxonomy and the European Union Taxonomy. This integration of different taxonomies eases the migration and achievement of objectives in Mexico and worldwide, as many of our companies here in Colombia and other parts of Latin America also have headquarters in Europe, making it necessary for them to meet certain metrics. Having a consistent transformation facilitates integration and compliance at the national level. The taxonomy contributes to bonds and provides investors with certainty that what they are investing in is not greenwashing." 
 

 

 

Directora México, S&P Global Ratings; Colombia y Panamá, BRC Ratings – S&P Global

"What we are projecting, and indeed observing, is that the participation of sustainable bonds in the total emissions of Latin America is broad and projected. Out of the trillion-dollar participation of bonds globally, sustainable emissions represent approximately 16%. In Latin America, it is expected that they represented 29% last year and it is projected to reach 30% this year. As a region, I believe we are giving even greater importance to this matter

than it

is globally recognized, despite knowing and hearing that Europe is leading in all these matters. I believe that in Latin America, to make the most out of all the challenges we are facing, there is a significant involvement in sustainable debt and corporations are seeking to have this sustainable debt in the markets. "

 
NEW REPORT! Exclusive launch at #Connect2023 
 

 

Climate Bonds Initiative and the

Inter-American Development Bank Group (IDB)

pre-launched the latest "

Latin America and Caribbean (LAC): State of The Market 2022

" report at the Conference. The green, social, sustainability, sustainability-linked, and transition (GSS+) bond markets in LAC have

experience

sustained growth since their inception in 2014.

 

The report reveals that, by the end of 2022, cumulative green, social, and sustainability debt originating from LAC had reached USD126.8bn, a 160% increase since June 2021 (USD48.6bn). Transition and sustainability-linked bonds, included for the first time in this regional analysis, add a further USD27.3bn. By the end of 2022, the LAC GSS+ market had reached USD154.1bn.  LAC countries have embraced sovereign GSS+ issuance, with a cumulative USD49.9bn at the end of 2022, a 442% increase on the USD9.2bn that had been recorded in June 2020. 
A BIG THANK YOU to our Sponsors and Supporters! Your support made our event a success!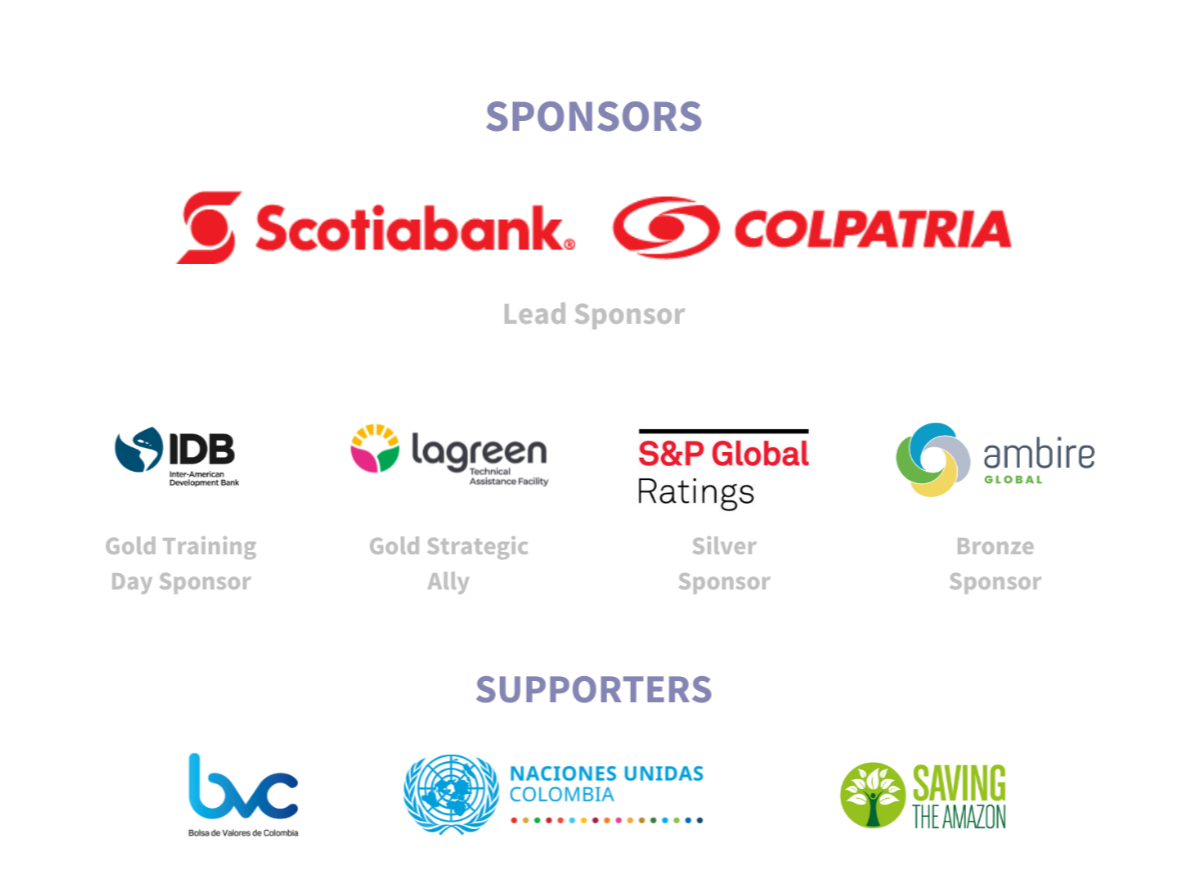 Climate Bonds launches the 'Comparison Study Between the Colombian and EU Taxonomies'  
 

Ahead to the regional seminar, on Monday, 17 July, Climate Bonds hosted an in-person event at Colombia's Stock Exchange (BVC) to launch the 'Comparison Study Between the Colombian and EU Taxonomies' developed in partnership with the EU Commission and Ambire Global. 

We were pleased to welcome participants to learn about two incredibly important taxonomies aligned to Climate Bonds Standards, Climate Bonds Taxonomy, and more. 

Read the full study here.
Join the conversation online! — Climate Bonds Connect 2023 Global Conference is coming! YOU can join us from anywhere in the world!
Following the triumphs of the Hong Kong and Colombian events, Climate Bonds CONNECT is set to create another impactful gathering in 2023. The series of world-class events will unite key decision-makers and top-tier influencers once more, culminating in New York (in-person only) in September and London in November (hybrid event). 
Registration for the global conference in London is open now. Available online and in-person (by invitation only), the conference will bring together financial leaders and decision-makers from around the world to discuss how the global economy can rapidly transition to a net zero future, and how we can connect finance with credible projects.