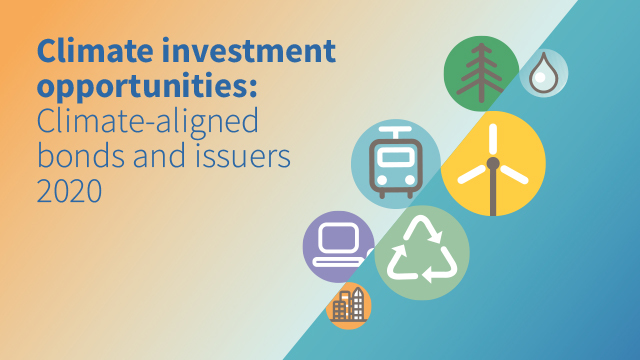 Report details climate aligned bonds outside the labelled green market
The Climate Investment Opportunities: Climate-Aligned Bonds & Issuers 2020 report provides a comprehensive analysis of the global unlabelled climate-aligned bond market, revealing investment opportunities that extend beyond the thematic bond market.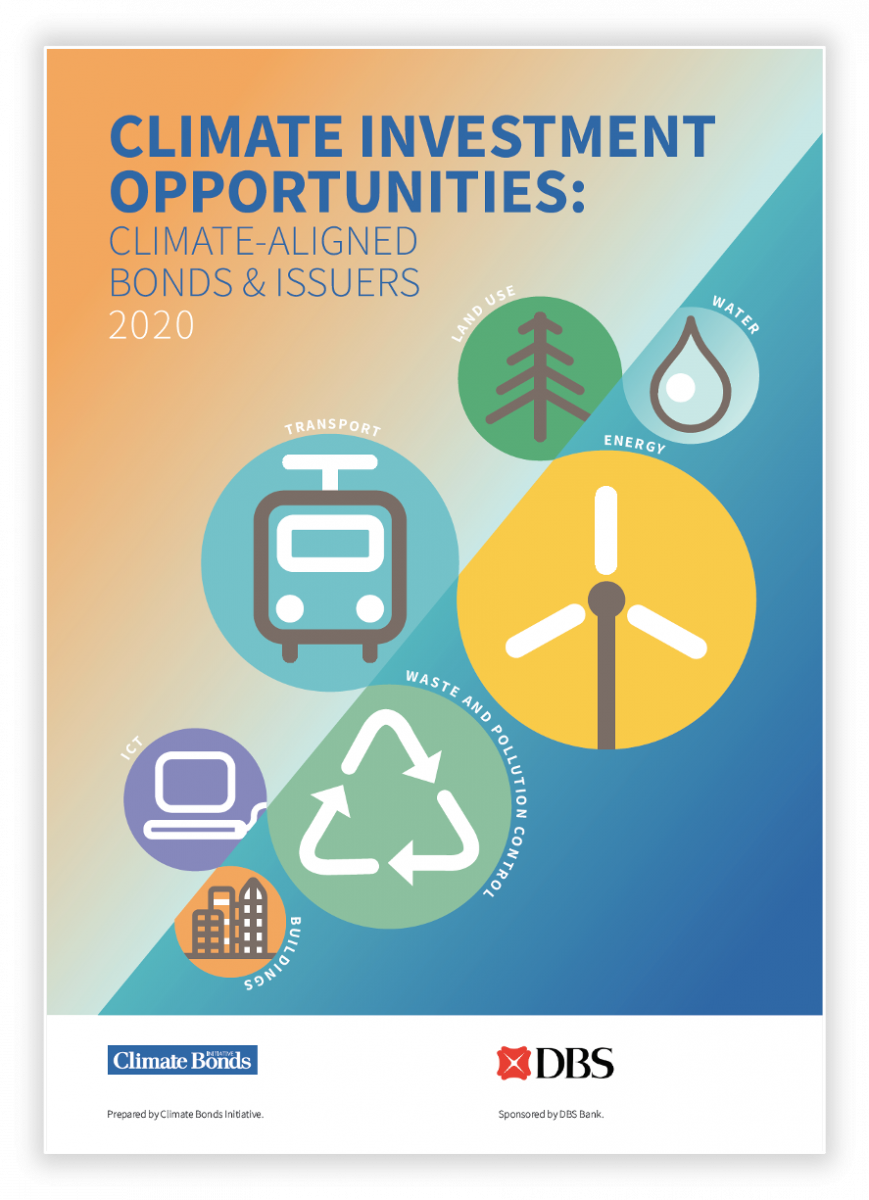 Climate-aligned investment opportunities extend well beyond the Green, Social and Sustainability (GSS) bond market. These are opportunities for climate-aligned issuers to refinance their business operations in the GSS bond market and benefit from a broader investor base as well as the extra visibility offered by the green label.
Unlabelled instruments are difficult to identify, and labelling is an important signposting tool for investors. These instruments are identified via a proprietary methodology developed by Climate Bonds and support for this publication was provided by DBS Bank.
Unlabelled opportunities
The report identifies over USD913bn from 420 climate-aligned issuers based in 45 countries, an extraordinary volume; almost half the size of the labelled Green, Social and Sustainability (GSS) bond market, which reached a cumulative USD1.7tn in 2020.
The climate-aligned bond universe is about equally split between developed and emerging markets, with 1% of volume coming from supranational institutions. Asia-Pacific is the top region, accounting for USD436.6bn (48%) brought to market by 183 climate-aligned issuers. Bonds from China represent the vast majority of issuance from Asia-Pacific (74%), and 36% of the global total. Europe ranks second in regions, accounting for USD321.3bn (35%), with 121 issuers.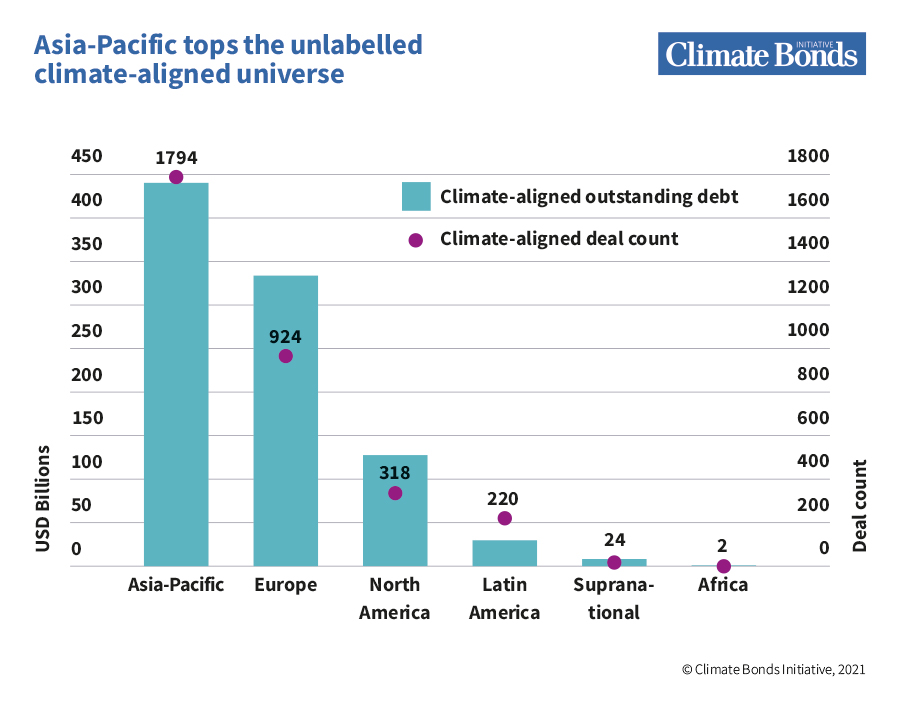 The 'Transport' climate theme dominates the climate-aligned universe, followed by Energy and Water. Railway companies are the most widespread, accounting for almost all the transport related climate-aligned volume.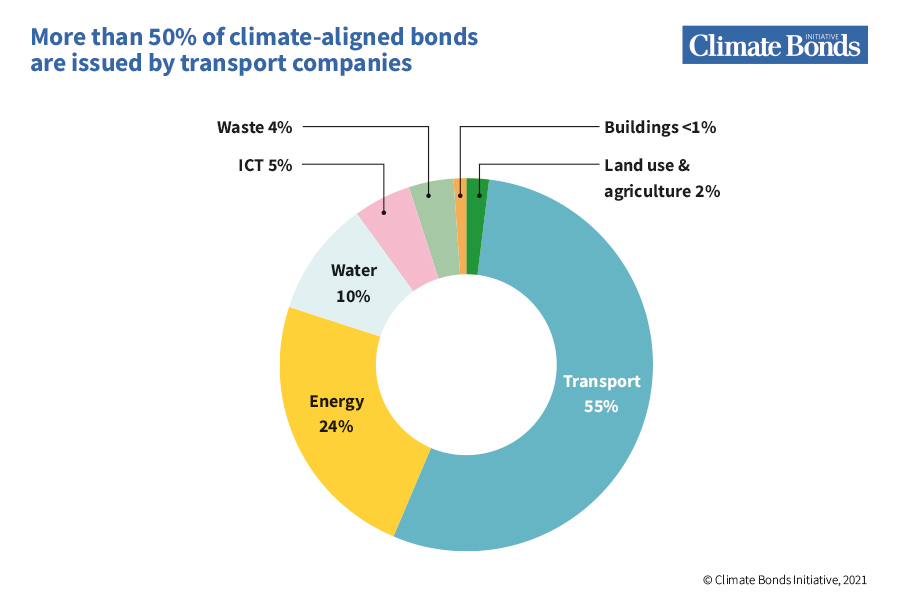 Over 40% of the climate-aligned volume will mature in the short term, which raises opportunities for refinancing climate-aligned business operations in the GSS bond market. As many climate-aligned companies identified in the report have already issued labelled bonds, refinancing opportunities can contribute towards the expansion of the labelled bond universe.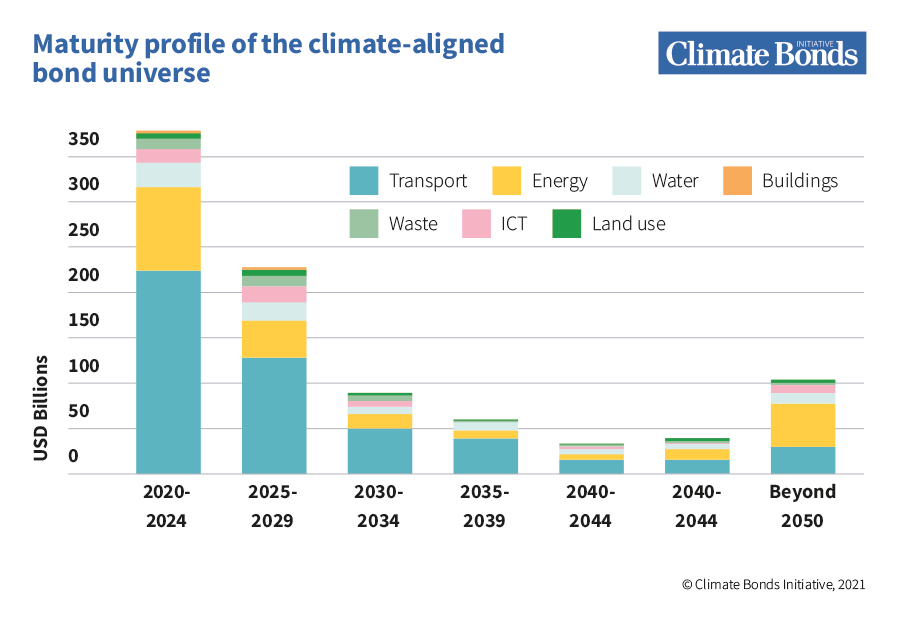 At a Glance - Developed Markets (DM)
DM account for USD464.8bn from 203 climate-aligned issuers spread across 21 countries
Europe is the largest source of climate-aligned volumes with USD319bn from 112 issuers domiciled across 14 countries
Transport sector leads climate-aligned opportunities in developed markets, followed by Energy and Water
France is the largest source of DM climate-aligned bonds; SNCF, EDF, Orange SA are the top issuers
More than half of the volume will mature within eight years, which shows huge potential for scaling-up the labelled green bond market
At a Glance - China and Emerging Markets
China is the largest source of climate-aligned bonds, with USD325bn from 96 climate-aligned issuers
Asia-Pacific dominates EM issuance with 73% of volume, followed by Latin America at 24%
Energy is the top sector for climate-aligned opportunities, followed by transport and water
EM (excluding China) account for 14% of the global climate-aligned universe, with USD123.3bn issued by 121 climate-aligned issuers domiciled across 23 countries
South Korea is the largest source of EM climate-aligned bonds; Korea Electric Power Corporation, Indian Railway Finance Corporation and Korea Rail Network Authority are the top issuers
Almost half of the climate-aligned outstanding debt will mature in the short term, offering opportunities to scale up the EM GSS market, with an additional USD40bn (33%) maturing by 2029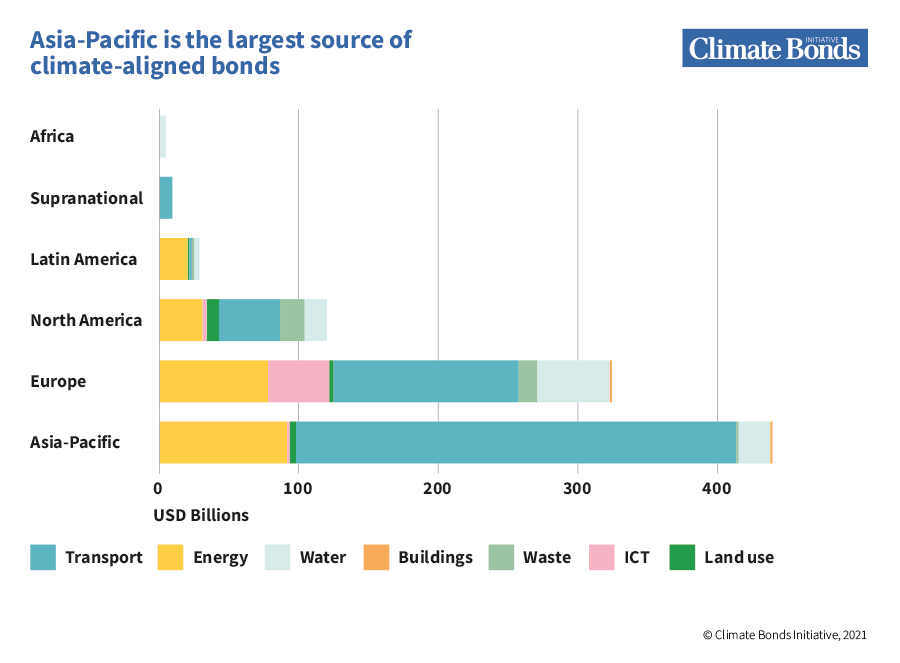 Decarbonising Hydrogen
If the production of hydrogen fuel can be decarbonised cost-effectively, hydrogen can play a substantial role across the energy system. To reach widespread adoption of green/low-carbon hydrogen, public sector investment is required to provide the necessary infrastructure to attract private investment and drive down costs. Climate-aligned companies, especially those in the Energy sector, are well-positioned to raise finance for the development of green hydrogen activities and adapt business practices in light of the global transition towards carbon neutrality.
Real estate is Tricky
Identifying the share of revenue streams associated with highly energy-efficient green buildings is tricky. Industry certification schemes and metrics to quantify energy efficiency and/or improvements vary substantially across building types and across countries, which makes it difficult to compare and evaluate the climate alignment of these companies.
Better and more standardised disclosure will help pinpoint climate-aligned investment opportunities to the investors. There is also considerable scope for real estate companies to use green finance tools to fund low-carbon real estate projects. Green bonds can demonstrate that an entity is developing a green building portfolio to limit its environmental footprint.
Funding low-carbon vehicles
Climate-aligned companies can help direct increased funding towards low-carbon vehicles. Despite the growth of investments in low-carbon mobility in recent years, substantial emissions reductions in the transport sector are still necessary to meet the 1.5°C target.
The Last Word
Increasing capital flows towards investments that address climate factors and contribute to reaching national emissions targets must be amongst the priorities for both policy makers and finance sector stakeholders in emerging economies. 
Identification of climate aligned bond issuers, moving some refinancing offers to the labelled market has a benefit greater than the individual issuance itself. Expanding green and sustainable debt markets, increasing the depth and diversity of green bonds, loans and sukuk, benefits both issuers and investors while supporting low carbon economic development paths. 
Investors have an opportunity to make choices that respond directly to their ESG mandates, as well as protect their portfolios against adverse risks coming from climate change. A closer focus on climate aligned corporations offers another pathway to assist in achieving these goals.
'Til Next Time,
Climate Bonds.
---

Join Tuesday, July 13th, our first-of-a-kind analysis of the North American sustainable debt market! Register here.
---

Thursday, July 29th, Webinar 'The Climate Policy Acceleration - Impacts for Investors.' 
A special Climate Bonds joint event with the PRI and Inevitable Policy Response (IPR). Register now