Posted: Oct 27, 2020 by Luiza Mello
Survey results will provide guidance on investor appetite and demand for green agri bonds & help drive market directions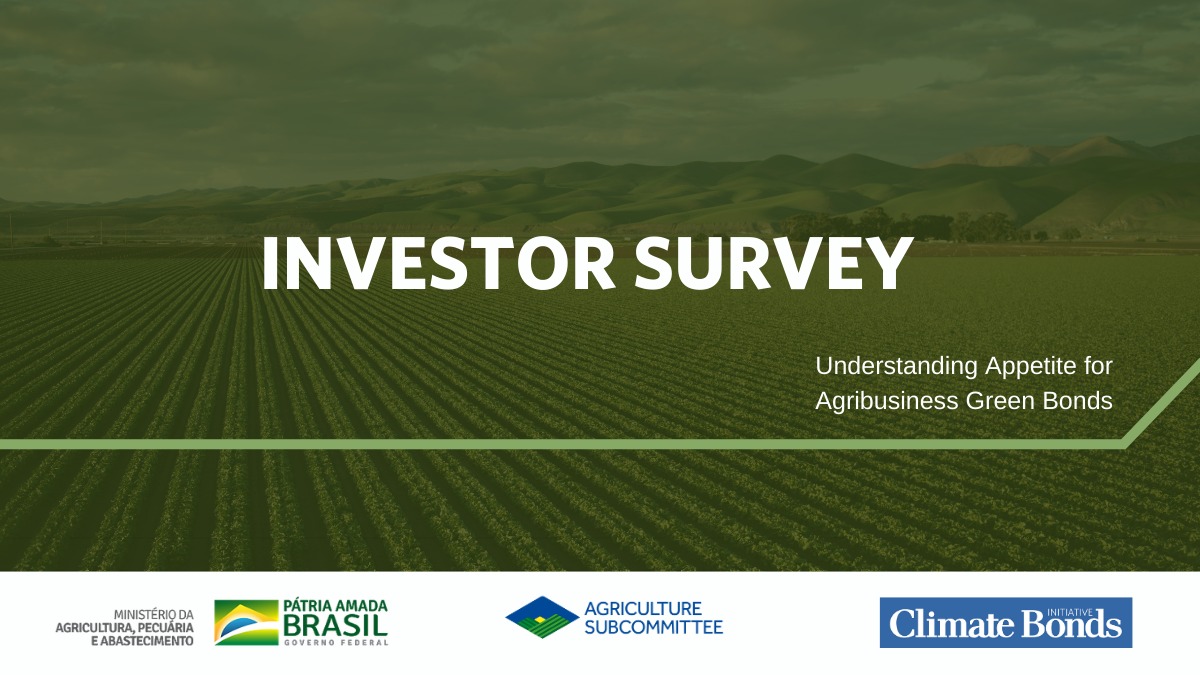 What's all about?
The Climate Bonds Initiative and the Brazil Ministry of Agriculture, Livestock and Supply (MAPA) are launching a survey aiming to understand the appetite for green bond issuances in the Brazilian Agribusiness sector.
The Survey is available here until November 13th at 18h00 (Brasília Time). It is divided into seven sections and will take less than 20 minutes to complete. 
The Investor Survey is part of the Memorandum of Understanding (MoU), between Climate Bonds Initiative and the brazilian Ministry of Agriculture, Livestock and Supply signed in November 2019, to leverage the green finance in the agribusiness sector and connect investors with Brazil's green investment pipeline. 
While the MoU has a detailed Work Plan with different work streams directed at key stakeholders – investors, producers, regulatory and self-regulatory organizations – it is important to understand investors demand to build a portfolio of green projects. 
The Green Potential for Agribusiness in Brazil
The green potential of Brazil's agribusiness is significant. The annual demand for agriculture 'working capital' is USD 100 billion, according to MAPA. There is also a need for investment capital and financial resources for other activities across agribusiness including input production, logistics, storage, agroindustry, wholesale and retail markets. To substantially increase production, efficiency and productivity, on a sustainable basis will require additional capital.  
José Angelo Mazzillo Júnior, Brazil Ministry of Agriculture, Livestock and Supply (MAPA)
"The full sustainability of our agriculture is a matter of time. Green finance will be the greatest catalyst to achieve that. Our sustainable agribusiness is an excellent alternative for funding of agriculture and for investing. We will be looking to bring them together and create investable opportunities. Tell us what you need and let's look to solutions."
Justine Leigh-Bell, Deputy CEO, Climate Bonds Initiative
"There is considerable opportunity for green finance in Brazil's agribusiness sector. is considerable. Brazil has the chance to be a leader in the supply of sustainable agricultural products worldwide, and green bonds issuances will help leverage this potential. Hearing directly from investors will give us the chance to meet their demands with more clarity, achieving market success. "
Leisa Souza, Agriculture Programme Manager, Climate Bonds Initiative 
"The agricultural sector in Brazil has a stock of sustainable assets that can be accessible to the global green finance market. This research seeks to understand national and international investors' demand for agribusiness and connect them to the existing opportunities in the sector." 
The last word 
The cumulative global green bond market reached more than USD$ 948bn according to Climate Bonds data at end September 2020. Annual issuance reached $172.8bn. 
In 2019, green bonds/loans reached a total of $258 bn. 
In Brazil, the cumulative green bond market reached $6.8 bn. There's room for much more! If you're considering investing in Brazil, we're looking forward to hearing from you.
Until next time,
Climate Bonds Initiative
-> The Brazil Agriculture Investor Survey can be completed here.