Posted: Sep 17, 2020 by Leena Fatin
Long term data analysis of green performance against vanilla bonds: Latest report in series that commenced in 2016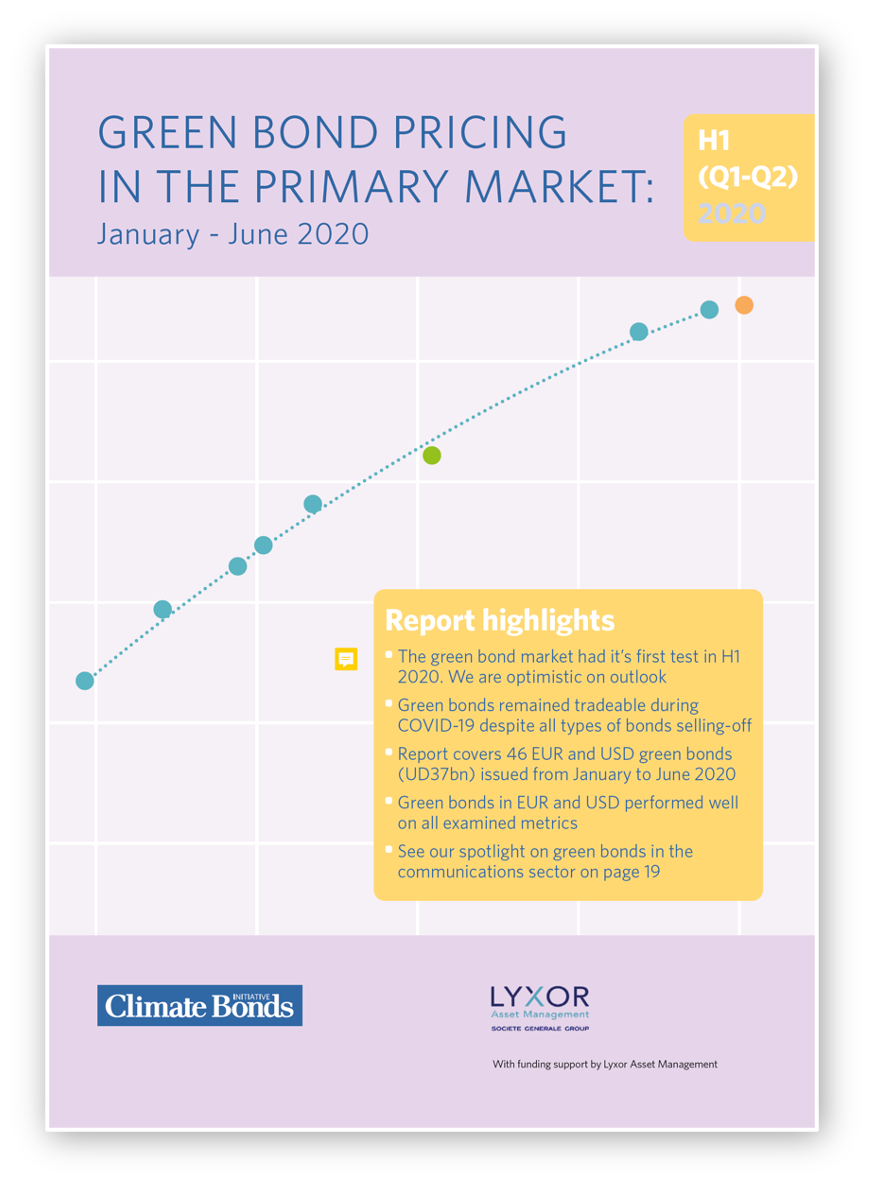 This is the 10th iteration of Green Bond Pricing in the Primary Market" covering January to June 2020.  
The report monitors the performance of 38 EUR and eight USD denominated benchmark size green bonds with a total value of USD37bn issued during H1 2020.
The 10th report in the full series is also the fifth semi-annual report. Prior to 2018, reports were released every quarter, the first one being the Q4 2016 Snapshot.
Highlights from Q1-Q2 2020:
The green bond market experienced its first serious test in the first half of 2020 as financial markets reacted to the impact of COVID-19.  Despite the volatility we are optimistic on the prospects for the green bond market. 
Data recorded rising yields in all types of bonds during the sell- off which unfolded between late February and the end of March. We note that the green bond market remained open for business offering crucial flexibility to investors.
Qualifying green bonds in EUR and USD performed well on all metrics in the primary and immediate secondary market, on average. 
55% of green bonds were sold to green investors
Green bond ETFs reported huge inflows and no outflows during H1 2020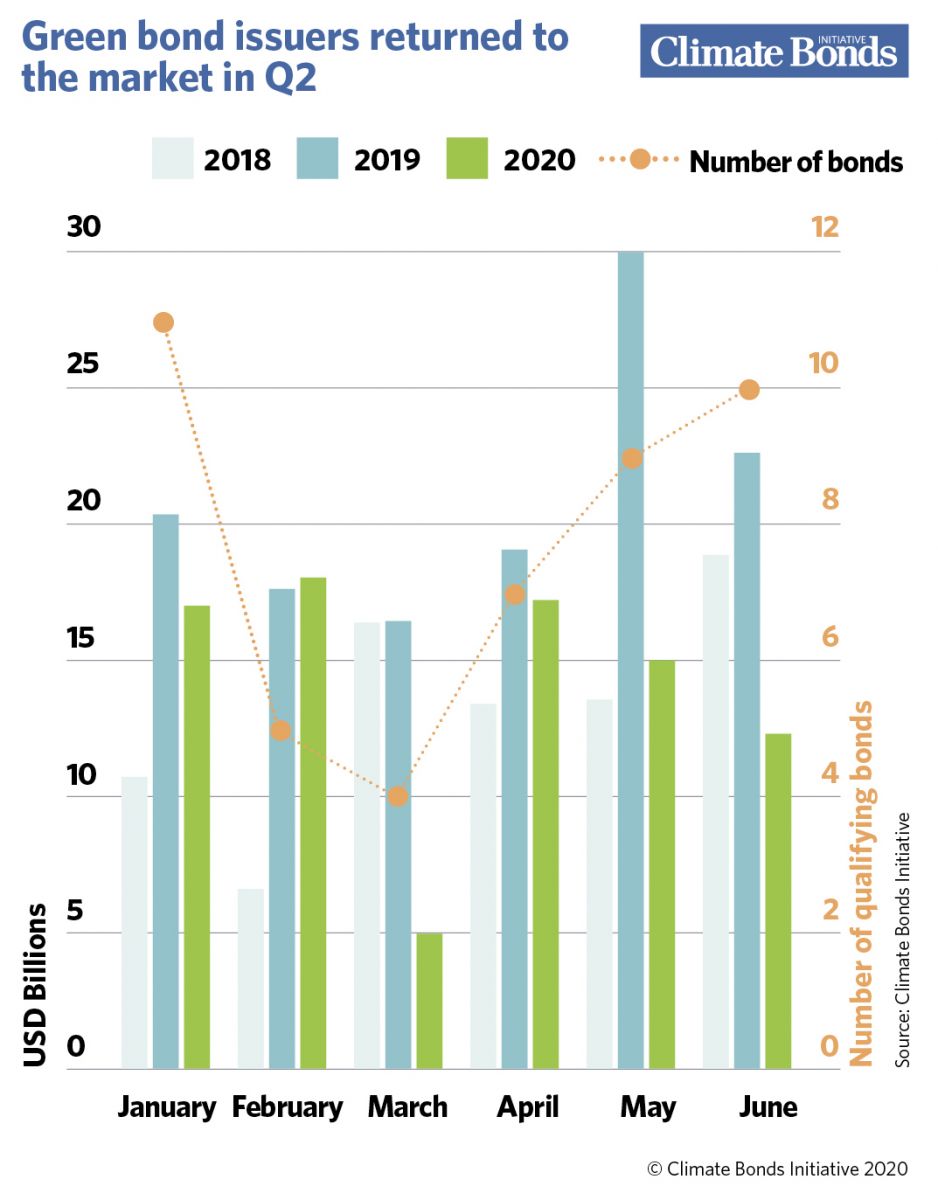 Detailed Findings:
This research is based on bonds representing 40% of green bonds issued in H1 2020. 29 qualifying issuers revisited the green bond market with 34 bonds, while 12 debut issuers brought labelled green bonds. 
Qualifying EUR and USD green bonds performed well during book building. 
EUR green bonds achieved, on average, record levels of oversubscription and spread compression.  USD green bonds achieved higher average oversubscription and spread compression than vanilla equivalents, the average spread compression being the highest observed to date. 
Yield curves were built for 21 qualifying bonds. The pricing pressure observed in H2 2019 eased off as the investors took a more cautious approach. Five bonds priced inside their yield curves exhibiting a greenium, six priced on the yield curve, and ten priced with normal new issue premia. 
55% of the bonds in our sample were allocated to investors describing themselves as green (up from 50% in H2 2019). We expect more dedicated investors to enter the market and green bonds will experience demand pressure from several other sources including central banks, and non-dedicated investors where green bonds are large enough to be included in broad market bond indices.  
Seven and 28 days after pricing green bonds had, on average, tightened more than vanilla baskets and matched indices suggesting that the momentum gained during bookbuilding continues to spill over into the immediate secondary market. 
Green bond ETF's reported extraordinary growth in H1 2020, and we note that there were no redemptions from these funds. We expect this interest to remain robust as more investors incorporate green instruments into their investment strategies. 
Assessment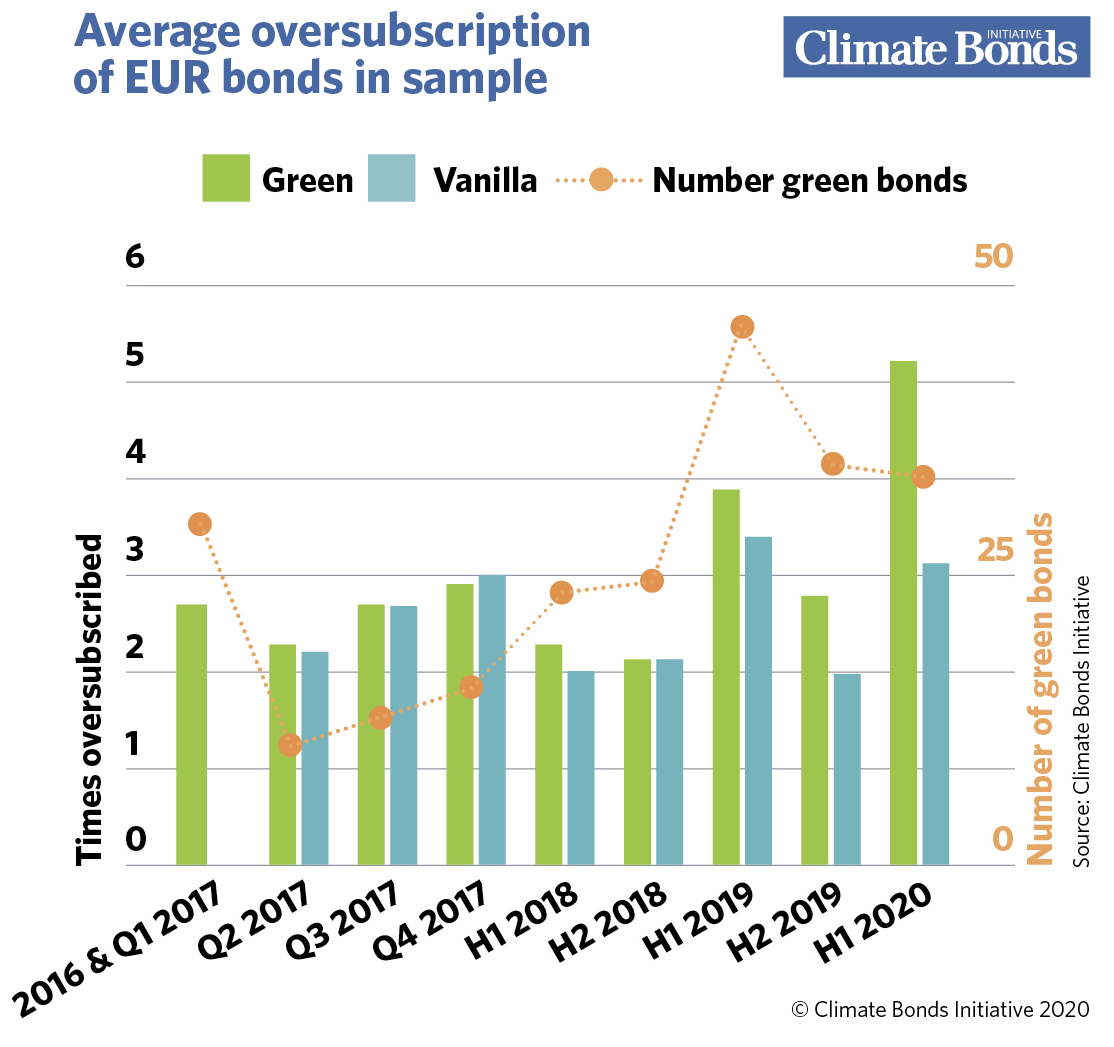 The green bond market underwent its first serious test in H1 2020. Green bonds recorded a spike in yields like all bonds, but green bond markets did remain open allowing investors the flexibility to liquidate positions where needed. 
On average, both EUR and USD green bonds achieved higher book cover and greater spread compression than vanilla equivalents and green investors were allocated a greater percentage of deals than ever on average, demonstrating that Treasurers attach value to the diverse investor base that green bonds are known to attract. 
Greenium to return?  
Yield curves were available for 21 bonds in our sample.  Evidence of a more consistent greenium as seen in H2 2019 failed to materialise for most issuers in our H1 2020 sample. We expect the Greenium to return as the market gets back on its feet in H2,  particualry if the lack of supply remains a consideration. 
In the immediate secondary market, green bonds perform well, on average tightening more than comparable bonds and indices after both seven and 28 days. Green bond ETFs did not report any redemptions and in fact, experienced record growth in H1 2020. 
The continued strength in demand for green bonds suggests that investors see value in the green label. We expect this interest to increase as investors become more aware than ever of the urgency to direct funds towards supporting the commitments of the Paris agreement and pressure grows for business to transition towards net zero business models. 
Spotlight on green bonds in the Telecoms sector
Telecoms sector has been slow to embrace green bonds, but the handful that have been issued to date have experienced strong pricing dynamics. the most recent of which was Swisscom.  
We see huge potential for green bonds in this sector since coming technological upgrades and improvements fall into a range of Use of Proceeds Categories, and on the demand side, green bond investors are seeking more diverse sources of issuance. "The outlook remains positive for green bonds and green finance in general. Despite the difficulties for financial markets during the first half of the year, underlying demand remains and investor preference for quality product will continue to grow," said Sean Kidney, CEO Climate Bonds.
The last word
We will continue tracking pricing trends as the market moves through the hundreds of billions towards the vital 2020s Milestone of the first trillion in annual green issuance. Keep an eye out for our next update covering Q3-Q4 (H2) 2020, due for publication in March 2021.
'Till next time,
Climate Bonds.
Methodology can be found on Page 26 of the report.
Download the Green Bond Pricing in the Primary Market H1-2020 report here and all the previous Pricing reports are available here.
Ackowledgements: 
Support and funding for this paper were provided by Obvion Hypotheken and Lyxor.
Suggested citation: Green Bond Pricing in the Primary Market July-December 2019, Harrison, C.