Posted: Sep 30, 2020 by Mariana Caminha
The Toolkit provides the African capital markets guidance on how to issue green bonds that are in line with international best practices and standards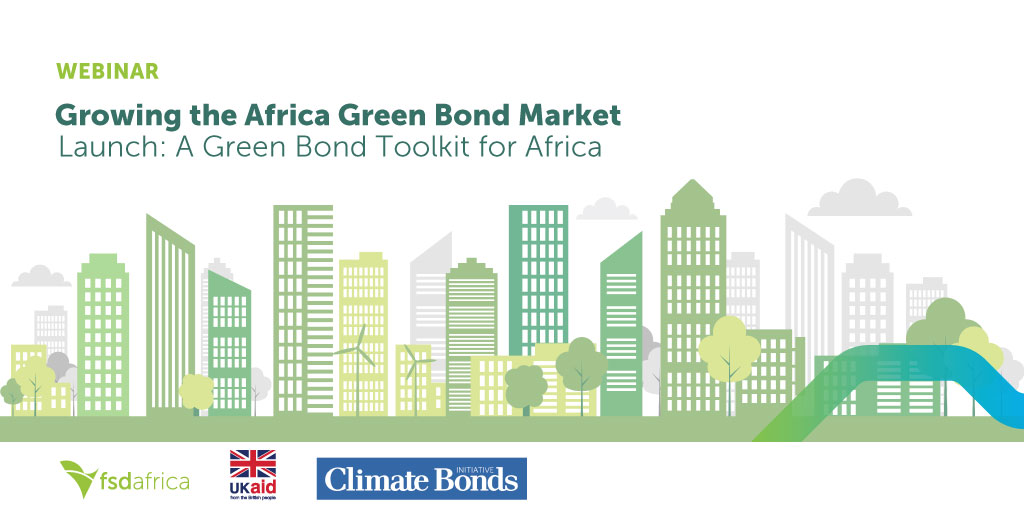 FSD Africa, in partnership with the Climate Bonds Initiative has recently launched the Africa Green Bond Toolkit, a practical guide to issuing green bonds for the region. The development of the Toolkit was sponsored and led by FSD Africa and prepared by the Climate Bonds Initiative (CBI).
The Toolkit will provide African countries and capital markets with guidance on how to issue green bonds that are in line with international best practices and standards. The Toolkit also provides a backdrop to the development of the market, such as the examples of Acorn Holdings in Kenya and Access Bank in Nigeria, which have emerged from Africa.
The partnership between FSD Africa and Climate Bonds Initiative aims to expand the knowledge about Green Bonds as an important and critical tool that offers an opportunity to build a more climate-resilient and greener economy, especially in Africa, in order to attend the commitments made in the Paris Climate Agreement.
The State of the Market in Africa
Africa has seen 20 issuances since 2012, accumulating a total amount of USD 2.78 billion, when Nedbank issued the continent's very first green bond. South Africa was the first African country to successfully issue listed green bonds from private investors. The ZAR 1.46 billion and ZAR 1 billion green bonds were issued by the City of Johannesburg in 2014 and City of Cape Town in 2017.
South Africa is the country which has issued the most, with USD 2.189 billion issuances in 8 deals, followed by Nigeria in second place, with USD 136 million. There is also one supranational issuer from Africa (AfDB), which has issued USD2.6bn from 18 deals.
Green bonds have a vital role in mitigating the effects of climate change while being resilient to them. In order to do that, they have been moving institutional capital to priority economic sectors while promoting the development of climate-resilient, low carbon infrastructure and sustainable development.
Join the discussion: Webinar on the Africa Green Bonds Toolkit
The Climate Bonds Initiative and FSD Africa will come together to discuss the opportunities for green bonds in Africa and how the toolkit can support African stakeholders to promote more green bond issuances in the African landscape.
The webinar "Growing the Africa Green Bond Market: A Green Bond Toolkit for Africa" will be held on the 6th October at 10 am London / 12pm Kenya
REGISTER NOW! You can sign up here.
The last word
The cumulative global green bond market reached more than $ 863.3 billion. In 2019, green bonds/loans reached a total of $ 258 billion. Until September, the global issue was $ 125 billion.
We are looking forward to seeing further issuances from African countries.
Until next time,
Climate Bonds Initiative