Posted: Jun 15, 2020 by Mariana Caminha
Launch Webinar "Unlocking Brazil's Green Investment Potential for Agriculture" roadmap.
Produced in partnership with the Brazil Agriculture Sub Committee, the roadmap has been prepared to provide greater understanding and visibility on the landscape of existing green investment opportunities across Brazil's agribusiness sector and to support the creation of a pipeline of bankable projects for green bond issuance and other labelled debt instruments.
The Roadmap will form the backdrop of the inaugural Webinar in our new Brazil Agriculture series, scheduled through July-August.
Brazil Agriculture Series Webinar 1 - Tuesday, June 23rd -  "Unlocking Brazil's Green Investment Potential for Agriculture" roadmap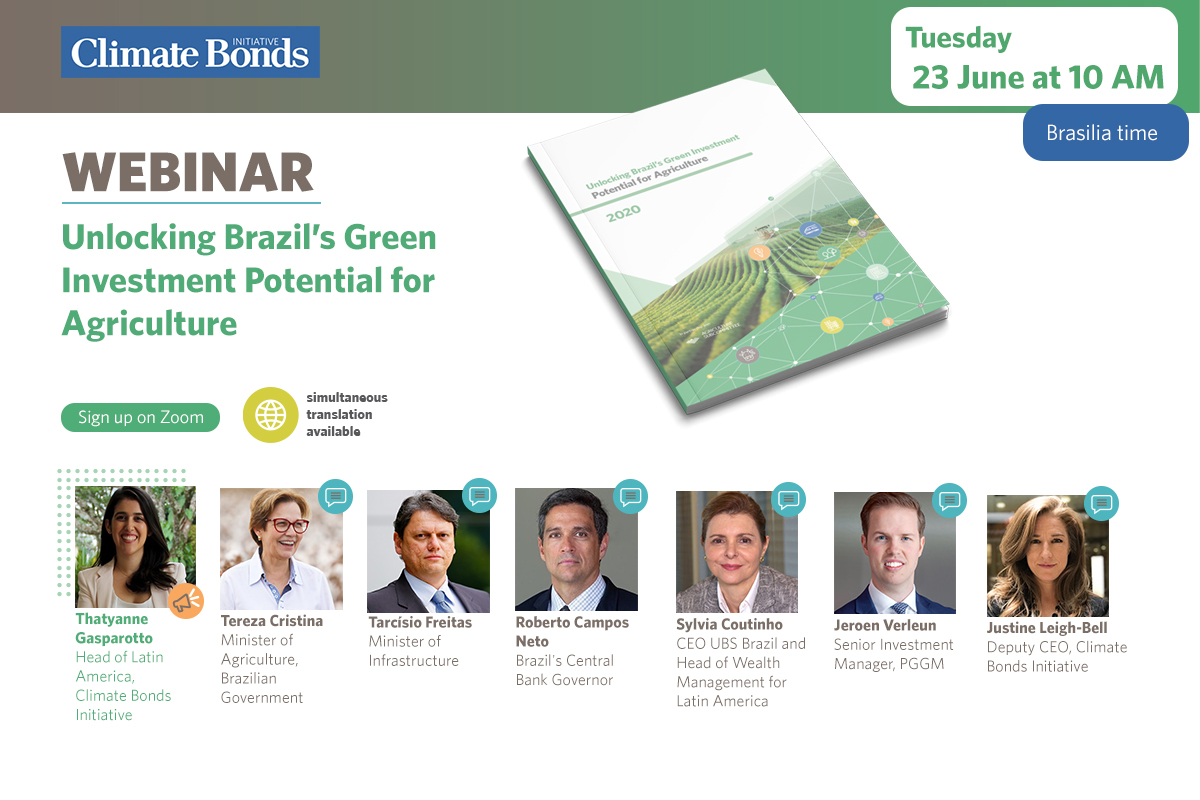 Expert Panel
An expert panel has been assembeld to dicuss the green and investment potential in Brazil's giant agricultural sector.
Date: Tuesday, June 23rd
Time: 10am Brasília Time / 3pm Paris / 2pm London
Registration: https://zoom.us/webinar/register/WN_texil-b5QZ-uXSMY4qQdVA
The Climate Bonds Connected Webinar Series continues
Our Webinar series continues into the new finacial year.
If your interest is in Asia, dont miss our Philippines - State of the Green Bond Market | Thursday 25th 16:00 Singapore / 10:00 Paris /09:00 London. Register here. 
Visit the Climate Bonds Connected webinar page for the latest scedules and links to podcasts & recordings of previous events.
We're also on Twitter, LinkedIn, Instagram, Facebook and Spotify.
'Til next time,
Climate Bonds