Posted: Oct 7, 2019 by Luiza Mello
This month digest is divided into three sections: Market News & Analysis, EU Taxonomy coverage and Regional & CBI news.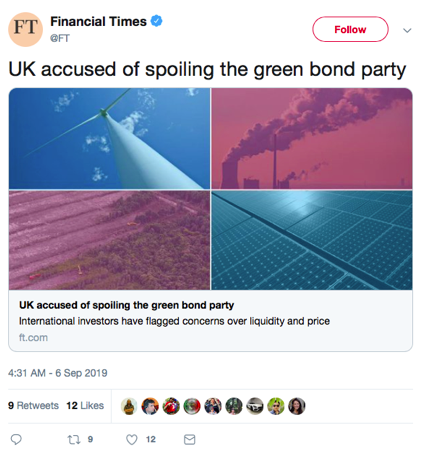 MARKET NEWS & ANALYSIS
Financial Times, UK accused of spoiling the green bond party
Britain's Treasury continues to resist calls from investors to issue a sovereign green bond.
Since the market's inception, the volume of euro and dollar-denominated green bonds have vastly overshadowed sterling-denominated equivalents. In the first six months of 2019, €65bn worth of green bonds were sold compared with £2bn, according to the Climate Bonds Initiative.
Bloomberg, Wall Street's New Battleground Is $136 Billion Green-Bond Market
Author explains how and why banks capitalize on a boom in green finance.
The sales boom is being driven by corporations and governments raising funds to invest in initiatives to help them meet commitments to cut fossil fuel use, embracing principles of The Paris Agreement on climate change.
Financial Times Alphaville, Greening central banks' reserves, Claire Jones
Alphaville'a author argues that central banks should buy more green bonds to "encourage issuance and create a deeper pool of assets in secondary markets". She hopes that Christine Lagarde's nomination as head of ECB will mean a green light for green quantitative easing.
The European Central Bank has committed to spending €20bn a month in bond markets from November as part of a revamp of its €2.6tn quantitative easing programme. Why not use this programme as a means of practising what they preach about sustainability?
Financial Times Alphaville, Germany's very generous green bond, Claire Jones
FT's Alphaville writer explains German government's reasoning behind the plan to issue a green bond with a 2 per cent coupon. Jones explains why she thinks it's a bad idea in a "world of negative rates".
It might win the CDU and CSU a few votes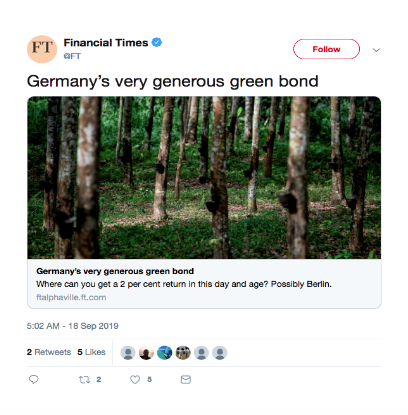 from the country's savers struggling to find a return, while greening the party's image at a time when they are neck-and-neck in the polls with the surging Greens. But from a financial perspective it makes no sense for Berlin to dole out €1bn in interest payments a year right now and, with the bonds likely to be bought by richer Germans, we would suggest doing so would also needlessly worsen inequality.
Reuters, Breakingviews - Markets short-termism keeps climate fight boxed in, Antony Currie
Article quotes HSBC data that estimates around $1 trillion a year currently spent in investments that have a positive climate impact. UN, at the same time, says six to eight times more is required.
Take green bonds, where companies raise money that they promise to spend on environmentally sound projects. The amount of these securities issued may rise by almost 50% this year and hit a record, the Climate Bonds Initiative estimates. But at $250 billion, this year's total sold would represent just 2.5% of all debt capital markets.
The Banker, Why green bonds are hitting red lights, Silvia Pavoni
Journalist looks at obstacles to issuing a green bond in emerging markets.
Few emerging markets have national guidelines on what is green, and not all are mandatory. Of the 13 emerging market frameworks analysed by the IFC and the Climate Bonds Initiative on behalf of the Sustainable Banking Network, there are rules and official guidelines by the Association of South-east Asian Nations' Capital Market Forum at a regional level and nationally in China, India, Indonesia, Malaysia, Nigeria and Morocco.
International Financial Review, Rise of controversial transition bonds leads to call for industry standards, Gareth Gore, Miluska Berrospi
Marfrig sustainable transition bond continues to attract media interest. Banks at the same time try to come up with internal policies that will bring some regulation to this new label.
Generically known as transition bonds, the asset class is expected to grow substantially. The combination of demand for assets with any kind of sustainability label, issuers keen to show their green credentials, and banks chasing deals create ideal conditions.
Markets Media, Green bond issuance overtakes 2018
CBI market analysis showed that 2019 issuance overtook the 2018 total on the 17th of September.
The non-profit investor organisation said in a report that previous milestones this year include reaching $100bn (€92bn) in June and $150bn in August.
China Times, 綠債夯 上半年全球發行破紀錄 - 財經要聞 - 工商時報
China Times looks at Climate Bonds mid-year data.
2019年上半年總金額創新紀錄,超過1,370億美元,氣候債券倡議組織(The Climate Bonds Initiative, CBI)也統計,符合規定的綠債發行金額,全球今年1至7月累積超過1,450億美元,單月成長都在30~40%之間。
France 24, 'Blue finance' hopes to put oceans on a sustainable path
AFP article republished in several outlets talks about ways of harnessing green (or blue) finance and governmental regulation to "save the waters".
"Much of what has to be done in the blue economy is regulation," said Sean Kidney, co-founder of the Climate Bonds Initiative.  Without coordinated action among governments, he warned, "in 30 years time we may not be catching fish but jellyfish." Kidney's nonprofit aims to steer the massive amounts of funds raised by debt issuance toward low-carbon and other climate-friendly projects.
The Real Deal, Real estate firms get (green) thumbs down as they jump into climate bonds
Despite some critical voices from the real estate industry, author says there's no question that green bond issuers in the sector are usually "on the cutting edge of developing efficient buildings to high standards like LEED certification".
(…) And those REITs say that as long as they're developing environmentally friendly buildings, they see value in the growing climate bonds market.
Bloomberg Quint, Company Debt Has Never Been Greener. Investors Want MoreAs companies across the globe raise funds to pay for climate change ventures, institutional investors are increasingly conscious of how their money is being used. The only real impediment to growth is a lack of sustainable projects needing cash.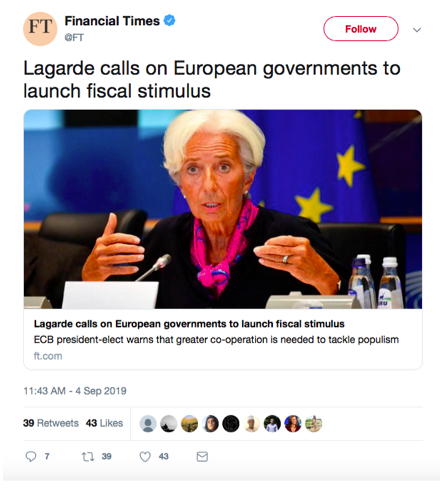 Financial Times, Lagarde calls on European governments to launch fiscal stimulus, Martin Arnold, Mehreen Khan
During the hearing at the European Parliament, Ms Lagarde promised to make tacking climate change a priority once she's appointed the president of ECB.
The central bank could "direct" its corporate asset purchases towards green bonds once the EU and other regulators have agreed on a common framework for green finance she said.
New York Times, Lagarde Vows to Put Climate Change on the E.C.B.'s Agenda, Liz Alderman
She added that the bank had already been buying so-called green bonds that are earmarked for climate and environmental projects, but that there weren't many available because the market was still being developed.
EU Observer, Rich EU states should spend more, Lagarde says,
"Primary mandate is price stability, of course. But ... climate change and environmental risk are mission critical," Lagarde said, mentioning potential investment in green bonds.
Financial Times, French central banker rejects 'green' asset buying, Patrick Temple-West
François Villeroy de Galhau, French central bank governor, criticised Lagarde's announcement of green quantitative easing program.
Central banks "could seriously distort" the nascent green bond market if they boost purchases of environmentally impactful investments, French central bank governor François Villeroy de Galhau has said.
EU TAXONOMY
International Financial Law Review, Critical challenges facing the green bond market
Author says that after so many years of market development, it is surprising that there is still no green contractual protection for investors. He hopes that taxonomy will have effect on increasing  transparency.
While in June 2019 the EU Commission published a detailed taxonomy for environmentally-sustainable economic activities which will assist issuers in describing their eligible green projects, it remains to be seen whether this will have the intended effect on increasing transparency.
Number of taxonomy-focused articles were published September edition of I&PE:
Investment & Pensions Europe, EU Sustainable Finance: the greening of Europe, Elisabeth Jeffries
Experts from academia and investing community highlight the importance of taxonomy in disincentivizing greenwash.
With the emergence of a EU Green Bond Standard aligned with the taxonomy and similar to the Climate Bonds Initiative's updated Climate Bonds Standard, there will be less cause to doubt the environmentally friendly characteristics of future green bond issuances.
Investment & Pensions Europe, Viewpoints: The industry reacts
An article that encapsulates polarised opinions on taxonomy expressed by community of asset managers, pension funds and members of institutions such as IIGCC, NGO ShareAction or London Stock Exchange.
Will the TEG be helpful? Yes. Will they be sufficient on their own? No. It's up to corporates to capitalise upon sustainability. On the one hand, it's up to corporates and investors to use the EU standards to align their interest; on the other it's up to financial service providers to use them to build attractive products. [Steffen Hörter, global head of ESG, Allianz Global Investors, and member of the TEG]
Investment & Pensions Europe, A green game changer, Joe Mchale, Nadia Humphreys
Apart from taxonomy, EU Commission introduces stronger sustainability reporting regulations and disclosure requirements.
Another groundbreaking EU initiative was a group of 35 technical experts tasked to come up with an EU classification system – or taxonomy – to determine whether an economic activity is environmentally sustainable. This initiative will underpin the raft of new ESG related rules and address the often-identified weakness of work-around ESG initiatives, in terms of defining what exactly is sustainable and how to measure it.
Investment & Pensions Europe, Viewpoints: Investment as the saviour, Andreas Hoepner
An insight from the member of EU's Technical Expert Group on Sustainable Finance.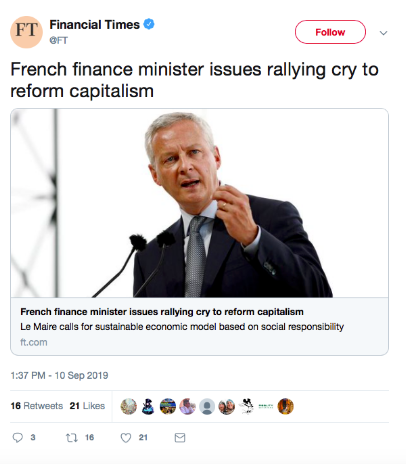 The TEG's membership are buy-side organisations and aims to work towards a conflict-free version of capitalism. For this the EU deserves praise from the academic community, even though it only found space for a single academic.
Financial Times, French finance minister issues rallying cry to reform capitalism, Siobhan Riding
Minister Bruno Le Maire called on EU to act faster in terms of introduction of the EU green bond standard.
But Mr Le Maire, who said the EU had "a special duty to build [a] fairer capitalism, consistent with its founding values", urged EU policymakers to "move faster". He called for action on an EU green bond standard and said France would push for a social and environmental reporting framework for companies at European level.
Politico, Lagarde charms EU lawmakers as she heads for ECB presidency, Bjarke Smith-meyer, Hannah Brenton And Paola Tamma
While Lagarde was cautious about phasing out polluting assets from the bank's portfolio too quickly, she backed the idea of an EU-wide standard for sustainable investments, which is currently making the rounds in Brussels.
Financial Times, French finance minister issues rallying cry to reform capitalism, Siobhan Riding
(…) He called for action on an EU green bond standard and said France would push for a social and environmental reporting framework for companies at European level.
S&P Global, New EU taxonomy helps investors, companies identify green investments (podcast)
Also in the episode, we talked to Sean Kidney, CEO of the Climate Bonds Initiative, which has its own taxonomy for green bonds. Kidney said the EU's classification system could open up the green bond market to a whole new set of issuers. 
The Banker, What does it mean when we say 'green'?
Reuters, Can nuclear energy be green? Draft EU classifications don't rule it out
Europost, Taxonomy to make business sustainable
Environmental Finance, Taxonomy moving in the right direction but still too complex, says Cicero
Bloomberg, Here's How 'Green Finance' Aims to Save the Planet
L'Agefi,  Impact of the EU green taxonomy
Expert Investor, Are new EU climate benchmarks fit for purpose?
Iran Energy, Nuclear Power Must Be Included in EU's Sustainable Finance Taxonomy
Energy Live News, Nuclear power 'must be included in EU's sustainable finance taxonomy'
Law360, Insurers Say EU Green Asset List May Not Work In Practice
Euractiv, Investors demand binding EU measures to shield from climate risks, Alicia Prager
Energy Live News, EU Council agrees position on 'green finance taxonomy'
Resource, NGOs condemn waste incineration in open letter to European Commissions
Journal Pioneer, Green bond rise may slow as EU states seek more clout over greenwashing
top1000funds, France urges more ESG action, Sarah Rundell
Clean Energy Wire, Germany's finance industry struggles to marry climate action and business strategy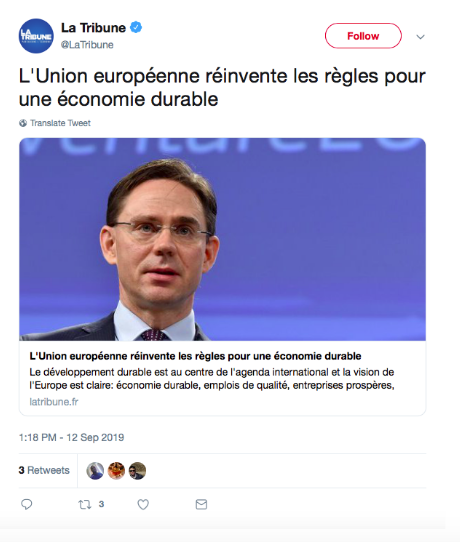 In French
La Tribune, L'Union européenne réinvente les règles pour une économie durable, Jyrki Katainen
Vice-President of the European Commission responsible for Jobs, Growth, Investment and Competitiveness, in an article for La Tribune, explains how EU reinvents the rules for sustainable economy.
D'ici la fin de l'année 2019, les États membres devront également parvenir dès que possible à un accord politique sur la classification, dite taxonomie. La proposition de plateforme internationale sur la finance durable garantira par ailleurs une meilleure coordination de ces initiatives à l'échelle globale.
Les Echos, Finance verte: Bruxelles se divise sur le nucléaire
Les Etats européens ont inclus la production d'électricité nucléaire dans les secteurs éligibles aux futurs investissements verts. Mais l'Allemagne et le Parlement s'y opposent.
Novethic, Taxonomie européenne des activités vertes : Le Conseil approuve presque !
La position du Conseil européen sur le projet de définition commune à l'Europe des activités durables était cruciale. La présidence finlandaise a permis de trouver une position qui ouvre la porte à l'adoption, en 2022, d'une taxonomie plus large que le seul climat.
In Spanish
Cinco Dias, Ballabriga (BBVA) asegura que "la sostenibilidad es rentable" para las empresas y la banca
La taxonomía es como un diccionario que permite definir qué actividades son sostenibles. Su uso no va a ser obligatorio para los bancos, "pero es cierto que va a ser el diccionario de referencia que se va a utilizar para informar al mercado, los inversores y a los supervisores sobre la actividad de finanzas sostenibles desarrollada", explica el directivo de BBVA.
Diario Responsible, Ballabriga: "El gran cambio vendrá cuando se incorpore la sostenibilidad en soluciones para los clientes"
Los retos aparecerán en la implementación de la taxonomía. Mientras que la información no financiera sobre esta emergencia climática no sea obligatoria para las empresas, no va a ser nada fácil que los bancos, los inversores y las aseguradoras puedan utilizarla para la gestión de los riesgos climatológicos".
El Independiente, Cómo afecta el cambio climático a las inversiones
Funds & Markets, El Plan de Acción de la UE para Financiar el Desarrollo Sostenible: la "taxonomía"
Funds & Markets, Medidas del Plan de Acción de la UE para Financiar el Desarrollo Sostenible
soziable.es, "Hay que repetir una y otra vez que la sostenibilidad es rentable"
La Vanguardia, La UE acuerda una lista de actividades sostenibles para movilizar inversión
In German
Börsen-Zeitung, Der Sustainable Finance Action Plan der EU, Frederik Voigt
Die Einstufung von Aktivitäten und Assets als nachhaltig ist derzeit durch ein hohes Maß an Fragmentierung geprägt. Die Taxonomie verfolgt das ehrgeizige Ziel, dieser Zerfaserung ein Ende zu bereiten.
Tagesspiegel Background, EU-Standard für boomende Grün-Anleihen, Susanne Bergius
Der Markt für Green Bonds wächst schnell. Trotzdem besteht Skepsis, ob die Milliarden wirken wie sie sollen. Damit Investoren sicher sein können, dass der ökologische Anspruch nachweislich erfüllt wird, will die EU einen eigenen Standard einführen.
Tagesspiegel Background, Plan für EU-Green-Finance mit großen Lücken
Der Rat will nur die grüne Nische regulieren – wer die graue Wirtschaft finanzieren will, soll freie Hand haben. Finanzorganisationen protestieren. 
Tagesspiegel Background, EU-Staaten wollen Klima-Taxonomie verzögern, Susanne Bergius
Der Freitag, Soll Atomkraft noch als "nachhaltig" gelten?
Börse Online, Neues Gesetz: Mit gutem Gewissen in Atomkraft investieren?
Cash Online, Nachhaltigkeitstaxonomie: ZIA sieht Anpassungsbedarf
Private Banking Magazine, Profianleger beklagen hohe Zahl an Nachhaltigkeitsinitiativen
Eko Reporter, DVFA: Immer mehr Anleger fragen nach grünen Geldanlagen
Euractiv, Grüner Finanzsektor wünscht sich Verbindlichkeit bei EU-Taxonomie
Halal Welt, Mauderer: "Lasst mich auch endlich Taten sehen!"
In Italian
Il Sole 24 Ore, Finanza green: gli americani mettono sotto esame classificazione Ue, Vitaliano D'Angerio
Gli esperti del Technical expert group on sustainable finance (Teg) creato dalla Commissione Ue uscente, ha pubblicato il 19 giugno scorso la bozza di 400 pagine del report sulla tassonomia (classificazione) della finanza sostenibile insieme ad altri due documenti su green bond e benchmark di cui si è già parlato sul sito web del Sole24Ore e nelle pagine del quotidiano.
ETica News, Consultazione sulla Tassonomia. C'è tempo fino a lunedì
ETica News, Tassonomia, quanti nodi da risolvere
Adnkronos, Finanza sostenibile, ecco le criticità della proposta Ue secondo l'Up
ANSA Ambiente & Energia, Finanza sostenibile, i "punti critici" secondo UP
Quotidiano Energia, Finanza sostenibile, il Consiglio Ue approva la tassonomia
Fasi, Finanza sostenibile - parte il negoziato per una tassonomia europea, Marta Bonucci
Il Salvagente, I ministri Ue si sono rifiutati di togliere il nucleare dalla lista delle fonti sostenibili
             In Chinese
Huanbao World, 欧盟将垃圾焚烧排除在了可持续的经济活动之外
3个月前(2019年6月18日),欧盟发布了最新版的《欧盟分类法》(EU Taxonomy)(以下简称"分类法")。该分类法将垃圾焚烧发电排除在了可持续的经济活动之外,因为它既不能减缓气候变化,也对循环经济的环境目标――废物预防和再循环造成了损害。
               In Japanese
RIEF, EU欧州理事会、サステナブルファイナンスのTaxonomyから原発除外の原案修正
温暖化対策の面を最優先、ドイツ等の反対を押し切る。欧州議会との調整が焦点に
The Sankei News, 【山本隆三の快刀乱麻】原発を座礁資産にする欧州議会の勇み足
欧州委員会(EC)では昨年5月以降、環境、温暖化問題を考慮した投資の基準づくりを行っている。低炭素エネルギー源への投資を誘導するためだが、欧州議会は今年3月、原子力発電所、天然ガスインフラ、化石燃料関連産業を投資対象にしないことを決議した。
REGIONAL & CBI NEWS
Italy
La Repubblica, Green bond: in Italia superano le cifre del 2018 e volano a oltre 4 miliardi di euro
Italy's second most read financial daily cites data from CBI that ranked Italy the sixth largest issuer of green bonds in Europe.
Le nuove emissioni di Green Bond viaggiano spedite: a fine 2019 – secondo la stima della Climate Bonds Initiative - potrebbero raggiungere i 250 miliardi di dollari. Il 3,6% del totale, al momento, arriva dall'Italia, che ha già raddoppiato le cifre dello scorso anno: dieci emissioni da inizio anno per un totale di 4,25 miliardi contro i 2 miliardi del 2018.
Spain
El Pais Seminal, Invertir en verde
Author looks at developments in the green bonds market with a focus on Spain.
Según la Climate Bonds Initiative (CBI), una organización sin fines de lucro centrada en los inversores, en los ocho primeros meses de 2019 la emisión global de bonos verdes llegó a los 150.000 millones de dólares y para el conjunto de este año se estima que superará los 250.000 millones, un 50% más que el anterior.
Latin America
In September, CBI launched the "Latin America and Caribbean: Green Finance State of the Market 2019 (SoTM)": the first detailed analysis of green finance in the region since its entery to the market in 2014.
Global Finance, Latin American Green Bond Market To Set Record, Ivan Castano
Issuers in Latin America raised over $4 billion in green bonds as of July 2019 - up from only $875 million in all 2018.
By contrast, this year's pace is exceeding expectations, says analyst Bridget Boulle. "We have already eclipsed what we had in 2017, when the market raised $3.9 billion and which was the highest ever [issuance] year," she notes.
Latin Finance, LatAm green bonds set record, Ivan Castano
Latin America issuers sold more than $4bn in green bonds in seven months of 2019 easily surpassing last year's total of $875m and setting a new record, accord to Bridget Boulle, head of market analysis at the Climate Bonds Initiative.
GreenBiz, Climate Week 2019: Huge commitments, big money and collaboration, Deonna Anderson
Climate Bonds Initiative released a similar missive focused on Latin America and the Caribbean. The report, sponsored by the U.N. Development Programme, analyzes green finance in the regions. It found that "green bond growth is expected across the region, driven by much needed investments in green infrastructure.
Recharge News, Renewable energy leads green bond issues in LatAm
Diaro Financiero, Chile emitió  el 25% de los bonos verdes en la región  
Other LatAM news:
World Bank Blogs, Latin American green bonds are resurging, Bruno Bastit
2019 brings a positive outlook for LatAM green bond market.
For Latin America, this year is bringing change. Following the issuance of two relatively big green transactions totalling $1.3 billion in the first quarter, increasing climate-aligned investor mandates, and environmental regulations, the region is seeing increased interest in financing infrastructure and projects via green-labeled debt instruments. 
China
South China Morning Post, China expected to allow green bonds to fund clean coal projects in potential blow to climate change fight, Li Jing
While coal and green bonds remain in contradiction, sources told SCMP, that China's central bank is expected to allow clean coal projects be financed by green bonds.
The designation is important because it will encourage investors to fund [with green bonds] such projects as climate-warming coal fired power plants while claiming they are financing green development.
Xinhua, China's green development wins recognition, creates new opportunities
Xinhua, on the contrary, looks at the bright side of China's green infrastructure development.
Green finance also took off. In 2018, the country issued a total of 31.2 billion dollars in green bonds, remaining the world's second-largest green bond market, according to the China Central Depository & Clearing Co. and Climate Bonds Initiative.
China Daily, HKMA should adopt EU finance standards to avoid 'greenwashing'
Author says that Hong Kong Monetary Authority should adopt the EU taxonomy to avoid the risk of becoming a "greenwashing" victim.
As the pioneer of global climate actions, the EU is setting its eye on the goal of zero carbon emissions in 2050. With this policy goal in mind, the EU is establishing a set of standard categories to support investors in distinguishing and screening assets, projects and companies that purport to contribute to alleviating climate change.
Japan
Nikkei Asian Review, Japan's $1.5tn pension fund to go all in on green bonds
Government Pension Investment Fund move is expected to deepen the market for green bonds in Japan.
The move by the GPIF - Japan's largest public investor by assets, managing 159 trillion yen ($1.5 trillion) - springs from the fund's new focus on environment, social and governance investing.
Gold Online, 環境を意識した投資手段「グリーンボンド」は日本に根付くか
年金積立金管理運用独立行政法人(GPIF)は早ければ20年度にもグリーンボンド(環境債)への本格投資を始める方針だと、主要メディアが19年9月25日に報じました。
Australia
In September, Foresight Group, a UK-based infrastructure and private equity manager and one of Australia's leading solar investors launched a fund where each loan is certified under the Climate Bond Standard.
PV Magazine, New investment fund to boost smaller-scale solar projects, Blake Matich
Foresight Group, a UK-based global investment firm, and one of Australia's leading solar investors, has today launched a new renewable energies investment fund specifically toward lending to renewable energy generation and associated infrastructure projects on a smaller-scale.
Financial Standard, Foresight launches new wholesale fund, Elizabeth McArthur
The fund will provide Australian wholesale investors with access to the Climate Bonds Initiative certified green debt.
The Fifth Estate, Foresight Group launches fund for small scale renewables, Poppy Johnston
The Foresight Renewable Energy Income Fund will target $150 million in size and will make loans of $5 million to $30 million, mainly to small-scale solar and wind and associated infrastructure projects.
Smart Cities World, Foresight launches renewable energy investment income fund
Renew Economy, New investment fund targets small solar and wind farms in Australia, Sophie Vorrath
RenewablesNow, Foresight launches USD-103m Aussie renewables investment fund
Brazil
Climate Bonds Initiative and Brazilian Minister of Infrastructure signed a Memorandum of Understanding in New York.
Terra, Em busca de financiamento mais barato, governo quer selo verde para Infraestrutura, Anne Warth
O governo quer ampliar as possibilidades de financiamento de grandes obras de infraestrutura com crédito mais barato e "verde" - os chamados green bonds. A partir de um memorando de entendimentos, o Ministério da Infraestrutura poderá certificar a carteira de projetos do Programa de Parcerias de Investimentos (PPI) com um "selo verde", emitido pela Climate Bonds Initiative (CBI). Ferrovias devem ser as mais beneficiadas.
O Brasilianista, Ministro firma parceria com organização que certifica projetos sustentáveis
O objetivo é ter a aprovação de projetos de concessão de ativos de infraestrutura, que permite aos  investidores, acesso ao mercado de green bonds, que são títulos verdes para a captação de recursos para projetos que atuam na suavização das consequências das mudanças climáticas e ambientais.
Journal O Globo, Empresa interessada em concessões de infraestrutura poderá usar 'títulos verdes', diz ministro
Acordo assinado em Nova York na semana passada pelo ministro da Infraestrutura, Tarcísio Gomes de Freitas, com a Climate Bonds Initiative (CBI)
Sohu, 巴西总统府回应保护雨林呼声:正全力以赴应对危机
Estadao, Infraestructura verde
Folha de S. Paulo, Ministro quer encantar investidor com vídeo de infraestrutura ambientalista
G1, Fogo na Amazônia não afastou interesse estrangeiro em concessões no Brasil, diz ministro
G1, Governo busca 'selo verde' para projetos de concessão na área de infraestrutura
Diario de Pernambuco, Após alerta de fundos, governo diz que combate crise ambiental
Other news from Brazil:
Revista RI, Transformando os mercados de títulos verdes, Juan Antonio Ketterer, Maria Netto e Luciano Schweizer
Authors list the measures that can be undertaken to improve the risk profile of green bonds and reduce transaction cost.
Criação de um espaço de diálogo entre os reguladores (Comissão de Valores Mobiliários (CVM), Banco Central (BCB), Superintendência de Seguros Privados (SUSEP) e Superintendência Nacional de Previdência Complementar (PREVIC)), ministérios afins, bancos e associações de investidores (incluindo seguros e fundos de pensão), bolsas de valores e atores internacionais, como o CBI – Climate Bonds Initiative.
Islamic Finance
Also in September, Dubai Islamic Economy Development Centre (DIEDC) signed an agreement with the Dubai International Financial Centre, Dubai Financial Market and the Climate Bonds Initiative to collaborate on growing the green sukuk market.
Islamic Business & Finance, DIEDC plans to boost green Sukuk market in UAE, Kudakwashe Muzoriwa
DIEEDC stated that the partnership aims to promote the issuance of green Sukuk in the UAE and across the world, in addition to developing the standards of certification for green Sukuk along the lines of the Climate Bonds Standard and Certification Scheme.
The National, Gulf Islamic banks poised for mid-single digit asset growth over next 18 months,  Fareed Rahman
"The agreement aims to promote the issuance of green sukuk in the UAE and across the world, in addition to developing the standards of certification for green sukuk along the lines of the Climate Bonds Standard and Certification Scheme," DIEDC said in a statement.
MondoVisione, Dubai Islamic Economy Development Centre Collaborates With DIFC, DFM, And The Climate Bonds Initiative To Grow Green Sukuk Market
Arabian Business, Dubai signs key deal to grow green sukuk sector
International Adviser, Four key trade bodies sign deal to grow green sukuk sector
Environmental Finance, CBI, Dubai announce push to develop green sukuk
More CBI News
Climate Resilience Principles
Climate Bonds Initiative recently launched Climate Resilience Principles (CRP) for the US market – a high-level guidance for governments, investors and banks to determine when projects and assets are compatible with a climate resilient economy. At the same time, European Bank of Reconstruction and Development (EBRD) issued word's first Climate Resilience Bond where the earmarked projects were selected in alignment with the new principles.
Acclimatise, New principles help identify potential range and type of investments that address physical climate risks, Robin Hamaker-Taylor
The Climate Bonds Initiative (CBI) have released new Climate Resilience Principles this week. The principles provide high-level guidance for investors, banks and governments to determine if projects and assets contribute to a climate-resilient economy.
Global Capital, EBRD to launch first ever climate resilience bond, Burhan Khadbai
The European Bank for Reconstruction and Development (EBRD) has mandated banks for its first ever climate resilience bond, a new type of socially responsible product that aims to bring more focus on climate adaptation, rather than mitigation. It follows the recent publication of the Climate Resilience Principles by the Climate Bonds Initiative (CBI).
Renewables Now, EBRD raises USD 700m from climate resilience bond
The proceeds from the issuance will be used to fund the EBRD's existing and new climate resilience projects that are in line with the Climate Resilience Principles, a guide to sustainable investing published recently by the Climate Bonds Initiative (CBI).
Triple Pundit, Salesforce Launches Yesteryear's Climate Action Tool, Joyce Coffee
A day before Salesforce's Sustainability Cloud launch, the Climate Bonds Initiative released its Climate Resilience Principles that provide a framework for assessing climate resilience investments. Created with input from over 40 experts around the globe, the principles first aim to guide investors to understand climate risks faced by assets, activities and systems.
Punkt4info, Weltweit erster Klimaresistenz-Bond erlöst 700 Millionen Dollar
Der Climate Resilience Bond der EBWE werde in Übereinstimmung mit den vier Kernprinzipien der Green Bond Principles (GBP) ausgegeben. Die vorgesehenen Projekte würden gemäss der Climate Resilience Principles (CRP) verwaltet, die von der Climate Bonds Initiative (CBI) veröffentlicht wurden.
Credit Suisse - CBI partnership
Two organisations launched a partnership to build a roadmap to accelerate sustainable transition  to low-carbon economy by promoting a 'Sustainable Transition Bond' market.
The Asset, Climate Bonds Initiative, Credit Suisse launch 'Sustainable Transition Bonds'
Credit Suisse and the Climate Bonds Initiative (CBI) will be partnering up to unlock the power of the capital markets to accelerate the transition to a sustainable and low-carbon economy by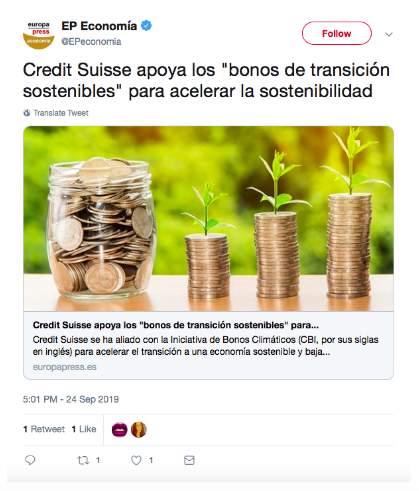 promoting a "Sustainable Transition Bond" market.
Europa Press, Credit Suisse apoya los "bonos de transición sostenibles" para acelerar la sostenibilidad
Credit Suisse se ha aliado con la Iniciativa de Bonos Climáticos (CBI, por sus siglas en inglés) para acelerar el transición a una economía sostenible y baja en carbono mediante la promoción de un "bono de transición sostenible", según informó en un comunicado.
La Vanguardia, Credit Suisse apoya los "bonos de transición sostenibles" para acelerar la sostenibilidad
Next Finance, Credit Suisse et la Climate Bonds Initiative (CBI) élargissent l'horizon des obligations vertes grâce à un partenariat autour des « Sustainable Transition Bonds »