Posted: Jul 11, 2019 by Luiza Mello
Market News
Author talks about the huge pressure to find more issuers in the market with "lots and lots of willing buyers but not enough suitable sellers". He wonders if the green bonds market can afford to stick to its puristic principles if it is to reach the desired growth pace. Journalist explores avenues that the market can turn to.
One option is to expand the universe of issuers by allowing corporates that have non-green operations to issue green bonds against distinct, green-qualifying parts of their business. This will only work if the market can come up with a definition of green that is clear but, more importantly, far more flexible in terms of recognising change at the margin and rewarding behaviour.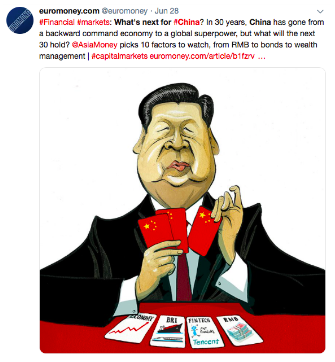 Asiamoney, Financial markets: What's next for China?, Elliot Wilson
A nice read that recalls an unrealistically-sounding history of China from thirty years back (author calls it "three decades of defying all the odds"). He sets out 10 predictions for the future of China – number 2 is that the country will "clean up its act" and become leader in green finance and green bonds.
China accounts for 70% of all green bonds sold in the emerging world; mainland issuers, led by financial institutions, printed $31 billion worth of green bonds in 2018, or 18% of the total, according to the Climate Bonds Initiative, ranking behind only the US.
Asiamoney, China: Three decades, six leaders – Ma Jun
In a series that presents profiles of influential financial world personas in China, Asiamoney acquaint its readers with the Ma Jun; ex-chief economist at China's central bank, academic, environmentalist and outspoken green bond advocate.
Ma worked tirelessly to transform the institution into a clarion voice on green finance. And it worked. It was the first central bank to accept green bonds as collateral when banks borrow from it. In 2017, working with the Bank of England and the Banque de France, the PBoC unveiled the so-called Network for Greening the Financial System, an unofficial mechanism designed to force banks to lend better and greener.
Financial Times, A bigger role for green bonds, Philippe Le Houérou
Chief executive of the IFC stresses the role of creating innovative financial tools that make green investments easier, more accessible, attractive for investors. Recently created IFC and HSBC's climate capital fund for 'real economy' issuers ticks all these boxes.
A decade ago, green bonds were virtually non-existent. Today, they are a rapidly growing asset class, bringing much-needed new capital not just to the clean energy sector but to energy-efficient buildings, sustainable land use, waste, water and transport. According to the Climate Bonds Initiative, global green finance needs to reach $1tn by the end of 2020 and continue to grow each year thereafter.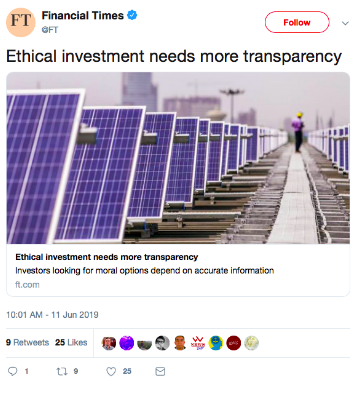 Financial Times, Ethical investment needs more transparency, The Editorial Board
Authors of the article advocate for high standard of disclosure in the burgeoning $30tn responsible investment market.
Either way, investors deserve transparency and clarity about what they are buying. Savers on the lookout for ethical investments will need to decide for themselves what is consistent with their principles and bear responsibility for their choices. That means higher standards for disclosure rather than a one-size-fits-all "kitemark" for what counts as truly good.
Financial Times, Green bonds investors cite benefits of ESG sector, Billy Nauman
FT outlines findings of two influential financial surveys: The Rockefeller-Longitude poll and UBS's poll of 600 institutional investors. Both showed that majority of investors actively embrace the ESG concept into their investment decisions.
More than half of all retail investors who have placed money in so-called impact investment products, such as green bonds, expect to increase their share of the sector in the next two years, a survey by the Rockefeller Foundation and Longitude Group shows.
Financial Times, Green Bond market leaves wildlife behind, Siddarth Shrikhand
Author cites data that shows that only 5-10% of all green bonds proceeds to date have been directed towards funding biodiversity conservation projects.
Analysts point to a number of factors holding back the development of the market. Chief among them: a lack of investment-ready projects that offer meaningful deal sizes for investors to justify the costs of due diligence.
International Financial Law Review, FIN REG Influencers: Climate Change
In the IFLR's influencers section, CEO of the Climate Bonds Initiative, warns of the political and financial impact of climate change and calls on the private sector to "modernise before the regulation does".
However, in spite of the work done so far at the policy level, private sector action has been slow. "There is very little understanding of where the impact is, even though we are beginning to experience some very volatile weather – we've seen little progress yet," says Kidney. "Overall the investment industry is concerned and looking for solutions, but doesn't have them yet."
International Financial Law Review, Sustainable finance looks set to dominate the market, Jimmie Franklin
Another article in IFLR that suggest taking the political impact of climate change seriously.
Sean Kidney, chief executive officer at Climate Bonds Initiative, said: "Weather is only going to get hotter, and storms are only going to get more violent. In political sense, parties now fight on a platform of climate change. It is hard not to anticipate what that will mean for different industries – and remember that emissions are continuing to rise."
Financial News, Lost in transition: the climate revolution needs a new type of bond, Yo Takatsuki
Author thinks green bonds should be domain of high-quality environmental projects and advocates for a creation of a financial tool that will facilitate transition of greenhouse gas-intensive industries to low-emission operating.
But lumping such issuances together with traditional green bonds risks confusion among investors. The Climate Bonds Initiative, a think-tank that champions the market, said Snam's issuance "may not be seen as a green bond by some", adding: "fossil fuel power generation and infrastructure does not meet CBI's green bond screening criteria, so the bond is not included in the CBI green bond database".
Bloomberg Opinion, Green Bonds Are Finally Sprouting Up All Over the Globe, Brian Chappatta
Author points to a stark difference between the current green bonds market landscape and 2018's slowdown. He calls it "a comeback for green bonds"
To be clear, the Climate Bonds Initiative's stated goal of $1 trillion in yearly green-bond issuance remains a ways off. But 2019 has brought signs that it's not just a pipe dream. May's $23.8 billion was the second-highest monthly volume on record.
Bloomberg, Green Finance Is Now $31 Trillion and Growing, Reed Landberg, Annie Massa and Demetrios Pogkas
Another article with a tangible "before 2018" spirit: media are enthusiastic about the upward trend in green finance area.
Money is gushing into any kind of asset labeled green or sustainable. The frenzy now has investors and firms alike grappling with what counts as "green finance"—and with funds that are no longer seen as green enough.
Global Capital, Bragging rights available: first ESG-linked bond, Jon Hay, Silas Brown
Author prizes the innovative deal structure introduced to Schuldschein market by engineering firm Dürr where spreads can be cut or raised based on sustainability target performance. He thinks bond markets should adopt this.
Green bond purists will take a while to get used to it. They like to feel their money is going to green ends. But the issuer was usually going to do those activities anyway, and the investor remains exposed to all its brown activities. With an ESG ratched, the whole organisation has an incentive to improve.
IISD, Who is Investing in the Technology Transition to a Low Carbon Economy, and Where?, Beate Antonich
Article outlines findings of Climate Bonds Initiative quarterly market review.
The top three sustainability and social bond markets for Q1 2019 were Germany (USD 2.5 billion), followed by South Korea (USD 1.2 billion) and France (USD 1.1 billion). All bonds received an external review, showing a growing commitment to transparency.
The Business Times, Green bonds for a climate-resilient future, Vivek Pathak
Vivek Pathak of IFC stresses the role of green bonds in financing Asia's infrastructure investments.
As the market accelerates and green bond volumes increase in Asia, standard guidelines are essential to promote integrity and transparency. This will inspire confidence among investors that green bonds are a viable asset class. Further, crowding in mainstream investors will be critical for a robust green bond market as will be a strong regulatory and policy foundation for a green economy.
Green bond 2019 issuance surpasses 100 billion mark. Read more. 
Coverage in English
Reuters, Green bond issuance surpasses $100 billion so far this year: data, Nina Chestney
Global green bond issuance has surpassed the $100 billion mark already this year, the first time the milestone has been reached in the first half of this year, the Climate Bonds Initiative said on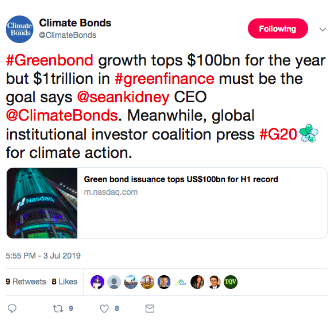 Tuesday.
International Financing Review, Green bond issuance tops US$100bn for H1 record, Steve Slater
This year marks the third year issuance has topped US$100bn. In 2017 it reached that benchmark in November, and last year it surpassed that level in mid-September.
International Financing Review, StanChart Sustainability bond aims to bridge global gap, Tom Revell
It is the third successive year this milestone has been reached, but the first time it has been reached in the first half of the year.
CNBC, Green bond issuance surpasses $100 bln so far this year-data
Cumulative green bond issuance has reached nearly $107 billion, according to the Climate Bonds Initiative, a London-based non-profit which promotes investment in the low-carbon economy.
Euroactiv, France returns to top of global green bond ranking, Delphine Cuny
With more than €15 billion worth of green bonds issued since January, France has become a leader of green finance, ahead of the US and the Netherlands.
Business Green, Green bond milestone: Global issuance surpasses $100bn in first half of 2019, Michael Holder
The record means the global green bond market has quadrupled since 2014.
GreenBiz, Green bond milestone: Global issuance surpasses $100 billon in first half of 2019, Michael Holder
The milestone sits within bullish forecasts for the green bonds market in 2019. Total issuance projection for the whole of 2019 range from S&P Global Ratings' $180 billion to the $240 billion forecasted by Swedish bank SEB. 
Energy Live News, Green bonds surpass $100bn milestone in first half of 2019, Priyanka Shrestha
The benchmark was first met in November 2017 during COP23 and in mid-September in 2018.
Environmental Leader, A Financial First: Green Bond Issuance Surpasses $100 Billion Mark in First Half of 2019,  Emily Holbrook
The largest Sovereign green bond in 2019 to date has been a Climate Bonds Certified issuance from the Netherlands at $6.7 billion.
Smart Energy International, Green Bonds reach record $100 billion
The new benchmark indicates strong growth in the sector, and has been welcomed by supporters.
SalaamGateway, Indonesia only Islamic economy in top 15 national green bond issuers in H1 2019: data
Indonesia is the fifteenth biggest issuer of green bonds and the only Islamic economy in the world's top 15, for the first half of 2019, according to data from the Climate Bonds Initiative.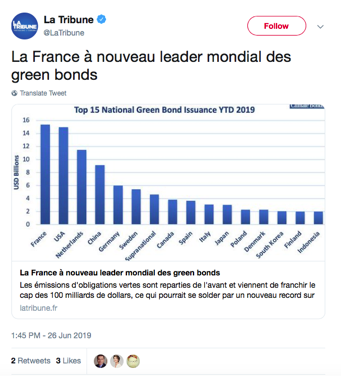 Coverage in French
La Tribune, La France à nouveau leader mondial des green bonds, Delphine Cuny
La France reprend son titre de championne du monde de la finance verte. Au premier semestre, d'après le classement publié ce mardi 25 juin par l'organisation à but non lucratif britannique Climate Bonds Initiative, le premier pays émetteur d'obligations vertes depuis le début de l'année est la France avec 15,3 milliards de dollars (environ 13,4 milliards d'euros).
European Scientist, La France à nouveau première émettrice de green bonds
Si l'an dernier, le cap des 100 milliards de dollars d'émissions avait été atteint en septembre, il n'a fallu attendre que le mois de juin pour atteindre la même taille de marché cette année. « C'est la première fois que nous franchissons cette étape clé dès le premier semestre de l'année » s'est félicité Sean Kidney, le directeur général de Climate Bonds Initiative.
Green Univers, La France en tête des émetteurs d'obligations vertes en 2019, Floréane Marinier
Les émissions sous green bonds ont déjà atteint 107,1 Mds$ (94,08 Mds€) pour 2019.
BMF Business, Green bonds: pourquoi la France atteint des sommets, Julie Cohen-Heurton
Selon un classement publié par l'organisation britannique Climate Bonds Initiative, la France se hisse de nouveau à la première place des pays émetteurs d'obligations vertes depuis le début d'année.
Coverage in Spanish
El Economista, Bonos verdes alcanzan US100,000 millones, Judith Santiago
Estamos en una carrera de inversión en el clima para atraer a los cientos de miles de millones en capital privado que se necesitan anualmente para cumplir con los objetivos de clima y sostenibilidad", dijo Sean Kidney.
Bloomberg, Chile ofrece primer bono verde en euros fuera de Europa
Polonia y Países Bajos también han vendido bonos verdes en euros este año, mientras que las emisiones a nivel mundial en el primer semestre superaron los US$100.000 millones por primera vez, según Climate Bonds Initiative.
Expansion, La emisión global de bonos verdes rompe récord
La emisión de bonos verdes en el mundo ha alcanzado casi los 107,000 mdd, según la CBI, organización sin fines de lucro con sede en Londres que promueve la inversión en la economía baja en carbono.
La Tercera, Emisión de bonos verdes a nivel global supera los US$100.000 millones en lo que va del año
"Nos alegra haber llegado a los US$100.000 millones en emisión de bonos verdes por tercera vez y tan pronto en el año. Sin embargo, el desafío de la financiación climática global es alcanzar una inversión verde anual de 1 billón de dólares para principios de la década de 2020", dijo el director ejecutivo de CBI, Sean Kidney.
Coverage in Italian
Rinnovabili.it,  Vola il mercato dei "green bond": emessi oltre 100 miliardi nel 2019
(…) secondo l'organizzazione internazionale Climate Bonds Initiative, il valore complessivo delle obbligazioni "verdi" (i cosiddetti green bond) emesse nel 2019 avrebbe già superato la cifra record di 107 miliardi di dollari, un taguardo raggiunto solo 2 volte nella storia di questi particolari strumenti finanziari e mai così presto durante un'annualità.
il Giornale, L'energia fa il pieno di bond "verdi", Sofia Fraschini
Ma la sfida ha commentato il direttore esecutivo della Climate Bonds Initiative, Sean kidney - per la finanza ambientale è ora raggiungere il trilione di dollari d'investimenti ecocompatibili annuali entro il 2020.
https://blogs.wsj.com/moneybeat/2019/06/27/wsj-wealth-adviser-briefing-options-traders-facebook-cryptocurrency-fancy-restaurants/
EU Taxonomy & Green Bond Standard
Reuters, EU issues "green" investment guide to help combat climate change
Europe sought to increase the flow of money into businesses that tackle climate change on Tuesday with the publication of European Commission guidelines on what qualifies an investment as environmentally friendly. 
The Actuary, EU publishes climate disclosure guide, Chris Seekings
The European Commission has published a new guide to help around 6,000 insurance firms, banks and listed companies report how their activities impact climate change.
Investment & Pensions Europe, Expert group releases climate taxonomy proposal, Suzanna Rust
The TEG's proposed taxonomy includes economic activities that are already low carbon as well as "transition activities", such as steel or cement manufacturing.
Nikkei Asian Review, Is the climate too big to fail? Central bankers say yes, Ryushiro Kodaira
"If the EU taxonomy is applied to financial regulation, it could urge banks to shift financing from environmentally-unfriendly projects to friendly ones." said Chie Mitsui, an ESG expert at Nomura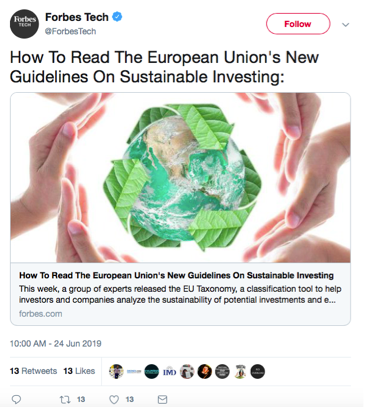 Research Institute.
Forbes, How To Read The European Union's New Guidelines On Sustainable Investing, Bhakti Mirchandani
Under the proposed taxonomy regulation, institutional investors marketing environmentally sustainable investment products would be required to explain whether, and how, they used the taxonomy criteria.
Pensions & Investments, ATP, PKA invest in European Investment Bank's green bonds
"(…) In this area, there are positive developments from the European Union and the European Commission: the recent reports on EU sustainability taxonomy and EU green bond standard.(…)  said Michael Nellemann Pedersen, director of investments at PKA, in the news release.
Euractiv, EU expert group drives sustainable finance's mainstreaming two steps ahead, Alicia Prager, Claire Stam
"We're in a climate investment race; to attract the hundreds of billions in private capital needed annually to meet climate and sustainability goals," said Sean Kidney, CEO of Climate Bonds Initiative. "The EU Taxonomy will clarify what needs to be done and make it easier for investors and banks to grow sustainable finance markets in Europe."
Börsen-Zeitung, EU fordert flexible Taxonomie für grüne Geldanlage,  Jan Schrader
Die geplante Klassifizierung grüner Anlageziele in Europa, die sogenannte Taxonomie, soll nach Vorstellung der EU-Kommission nach Einführung rasch verändert werden können.
LEITERbAV,  Den EU-Standard für grüne Bonds, Pascal Bazzazi
Hauptgrund für die Skepis der Analysten: Es gebe bereits von Marktakteuren entwickelte, private Standards, die breite Akzeptanz fänden.
Les Echos, « Taxonomie », le mot qui inquiète les assureurs, Laurent Thévenin, Thibaut Madelin
Ce document de 400 pages vise à lister les activités économiques qui peuvent apporter une contribution substantielle à l'atténuation du changement climatique. Un enjeu de taille pour les assureurs européens, dont les choix d'investissements peuvent s'en trouver affectés.
El Pais, El imparable impacto de las finanzas sostenibles, Miguel Ángel Noceda
"La taxonomía, o clasificación de activos y actividades económicamente sostenibles, es necesaria para garantizar la consistencia y claridad del mercado, y si Europa quiere movilizar capital (se calculan 180.000 millones anuales), precisa de un sistema técnicamente sólido para establecer lo que es verde de lo que no", añadió.
CincoDías, La inversión sostenible, una prioridad para la UE, Paula Mercado
Se pretende que este sistema sirva para poder determinar si una actividad económica es ambientalmente sostenible y para definir un estándar de la Unión Europea sobre bonos verdes, así como índices de referencia para estrategias de inversión con bajas emisiones de carbono y orientaciones para mejorar la divulgación corporativa de información relacionada con el clima.
El Economista, Bonos verdes: baratos para el emisor, rentables para el inversor, María Domínguez
En cualquier caso, pronto dejará de ser algo opcional en la UE, el mercado aventajado en esta cuestión: la Comisión Europea está elaborando una normativa que incluye los activos ISR (de inversión socialmente responsable) que, entre otras cosas, obligará a que las operaciones de bonos verdes cuenten con un verificador.
Chemical Daily, 持続可能な経済活動を定義 欧州委TEG、タクソノミー最終提言
欧州委員会のサステナブルファイナンスに関する技術専門家グループ(TEG)は、持続可能な事業活動の基準を定めた「タクソノミー」の最終提言を公表した。
Agora Japan, サステナブルファイナンスの議論は多面的に
等について検討が進められている。本年6月半ばに技術専門委員会(TEG)が農業、林業、製造業、電力・ガス・蒸気・空調供給、水・下水・廃棄物、運輸、情報通信、建設・不動産分野の67の活動についてタクソノミー案を発表した。
More media coverage of the EU TEG work will be published in a separate report.
Certified bonds
Chile
IFR, Chile readies Green bond in euro market, Miluska Berrospi
Chile is preparing to hit the euro market with a Green bond in coming weeks after mandating banks on the deal (…).
Bloomberg, Chile ofrece primer bono verde en euros fuera de Europa
La nación tiene un acuerdo de referencia a 12 años con un precio objetivo inicial de alrededor de 75 puntos base sobre midswaps, según una persona conocedora del tema, que pidió no ser identificada porque no está autorizada para hablar sobre el asunto.
PV Magazine, Chile será el primer país del continente americano en emitir un bono verde soberano, Pilar Sánchez Molina
El Banco Interamericano de Desarrollo ha anunciado que ha apoyado al Gobierno de Chile en la preparación de la documentación y certificación necesaria para la emisión de un bono soberano verde.
Latin Finance, Chile looks to euros for more green bonds, Kevin Gray
On Monday, Chile became the first Latin American sovereign to issue a green bond (…).
Latin Finance, Chile sells euro green bonds
El Economista América, Chile obtiene tasa históricamente baja en exitosa emisión de su primer bono verde
Chile emitió bono verde soberano con vencimiento en 2050 por US$1.418 millones.
BN Americas, Chile obtiene tasa históricamente baja en exitosa emisión de su primer bono verde
Primero, la tasa de interés de 3,53% es la más baja obtenida por Chile a plazo similar en su historia, superando la tasa de 3,71% de emisión del año 2012. La tasa de adjudicación a plazos similares también es la más baja entre economías emergentes durante el año.
BN Americas, Chile readying new green bond issue
La Tercera, Gobierno cierra plan de financiamiento externo para 2019 con emisión de su primer bono verde en euros
Esta vez se trató de una colocación en euros, con lo que el país se convirtió en el primer soberano no europeo en ofrecer deuda ambiental denominada en dicha moneda.
Energia Limpia XXI, Chile avanza con Bono Verde Soberano y mitigación del cambio climático
El Marco ha sido evaluado por un especialista independiente, Vigeo Eiris, quien confirmó su alineación con los Green Bonds Principles, y ratificó el cumplimento de la cartera propuesta para la emisión del 2019 con la Climate Bonds Certification.
Diaro Financiero, Gobierno coloca bono verde con tasa récord
Cooperativa.cl, Chile emitió su primer bono verde soberano
La Estrella de Panamá, Chile emite su primer bono verde soberano por 1.418 millones de dólares
Bio Bio Chile, Chile es primer país americano en emitir bono verde subrayando "compromiso con el medioambiente"
Asset Finance International, Chile launches Latin America's first sovereign green bond
L'Agefi, Le Chili a émis un premier « green bond » avec succès
Futuro Renovable, Chile lanza bono verde soberano en euros y es el primer país no europeo en colocar deuda ambiental en esa moneda
PKO Bank Hipoteczny
Warsaw Business Journal, PKO Bank Hipoteczny to issue green mortgage bonds
PKO Bank Hipoteczny plans to issue green mortgage bonds worth PLN 250 million, the bank said on Thursday.
Sustainabonds, Inaugural PKO BH PLN250m green covered bond a first for CEE
PKO Bank Hipoteczny (PKO BH) launched the first green covered bond from Poland and central and eastern Europe yesterday (Wednesday), a PLN250m (EUR58m) five year FRN with proceeds earmarked for financing energy efficient residential mortgages.
300gospodarka, PKO Bank Hipoteczny wyemituje pierwsze w Polsce zielone listy zastawne o wartości 250 mln złotych, Marcin Zakrzewski
Listy emitowane przez PKO Bank Hipoteczny jako pierwsze w Polsce otrzymały certyfikację międzynarodowej organizacji Climate Bonds Initiative, potwierdzającą spełnienie najwyższych standardów zieloności określonych w porozumieniu paryskim.
Parkiet, Zielone listy zastawne PKO BH
(…) Najlepszym tego przykładem jest nasz Green Covered Bond Framework oraz wypracowane kryteria oceny efektywnych energetycznie nieruchomości mieszkalnych w Polsce, które stworzyliśmy w oparciu o najwyższe międzynarodowe standardy. (…) – mówi Paulina Strugała, prezes PKO Banku Hipotecznego.
money.pl, PKO Bank Hipoteczny wyemituje zielone listy zastawne o wartości 250 mln zł
Listy emitowane przez PKO Bank Hipoteczny jako pierwsze w Polsce otrzymały certyfikację międzynarodowej organizacji Climate Bonds Initiative, potwierdzającą spełnienie najwyższych standardów zieloności określonych w porozumieniu paryskim, wyjaśnia bank.
wgoposdarce.pl, PKO Bank Hipoteczny wyemituje zielone obligacje
PKO Bank Hipoteczny wyemituje zielone listy zastawne o wartości 250 mln zł - poinformowało w czwartek w komunikacie PKO BP. Dodano, że termin zapadalności listów ustalono na 30 września 2024 roku.
obligacje.pl, PKO Bank Hipoteczny wyemituje zielone listy zastawne
Nowe listy warte będą 250 mln zł. Podczas środowej budowy księgi popytu ich oprocentowanie ustalono na WIBOR 3M plus 0,6 pkt proc. marży przy terminie spłaty ustalonym na 30 września 2024 r.
obligacje.pl, Zielone listy zastawne debiutują na Catalyst
W ciągu roku od zamknięcia emisji bank będzie musiał opublikować raport z alokacji środków pozyskanych z emisji zielonych listów zastawnych.
Brookfield Properties
Bloomberg, Brookfield Lands Green Loan in Perth as Asian Market Expands, Mariko Ishikawa
Brookfield Properties, a subsidiary of Brookfield Asset Management Inc., got the A$880 million ($608 million) loan to refinance facilities that were used for the two energy-efficient office towers in Perth in Western Australia.