Posted: Feb 4, 2019 by Mariana Caminha
In this month's media digest: green bond market forecast by Moody's, HSBC, S&P and Climate Bonds Initiative, 2018 sustainable debt products performance by Bloomberg New Energy Finance, City's first green bond, planned green bond from Egypt, FTSE index tracking Chinese green bonds, Climate Bonds Standard certified bonds and much more market and Asia news.
MARKET
Moody's latest report forecast 20% green bonds market growth in 2019 - to $200 billion. HSBC predicts $180 in line with S&P Global Ratings.
Moody's
Forbes, Green Bond Market Poised To Hit A Mammoth $200B Valuation in 2019, Gaurav Sharma
In a client report published on Thursday (January 31), Moody's Investors Service has forecast a 20% annualized jump in issuance to $200 billion in 2019, citing continued issuer diversification and greater clarity around standards that have been providing a boost to the market.
Thomson Reuters Zawya, Moody's expects green bond issuance to reach $200bln this year, Nina Chestney
Moody's said investor demand for "green" and sustainable products was outpacing the supply of such products and increasing government commitments to address climate change would sustain growth in the green bond market.
CNBC, Moody's expects green bond issuance to reach $200 billion this year
The forecast is above expectations by HSBC of $140-180 billion and S&P Global Ratings of $180 billion this year.
HSBC
Reuters, Global green bond issuance forecast at $140-$180 bln this year
Supply growth should reignite when EM markets stabilise and as green capex rises in response to climate change damage," HSBC analysts said.
Environmental Finance, HSBC predicts up to $250bn in green, social and sustainability bonds in 2019
HSBC expects a boost in supply of green, social and sustainability (GSS) bonds in 2019, with as much as $250 billion in total GSS bonds, up from $199.5 billion in 2018.
S&P
Think Advisor, The Growing Global Supply of Green Bonds, Bernice Napach
Global issuance of green bonds, which fund environmentally beneficial projects, is expected to increase to a record $180 billion in 2019, up 8% from last year, while new issuance in the broader bond market is unchanged, according to a new report from S&P Global Ratings
Funds&Markets, Las presiones regulatorias darán alas a los bonos verdes
En opinión de S&P Global Ratings, los sólidos fundamentales del mercado y un flujo continuo de nuevos emisores e instrumentos de financiación pueden impulsar la emisión verde a alrededor de 180.000 millones de dólares en 2019 desde un récord de 167.000 millones en 2018, según Climate Bonds Initiative.
AllNews, Les green bonds loin de pâlir cette année
Selon S&P Global Ratings, les émissions d'obligations vertes pourrait atteindre 180 milliards de dollars en 2019, et résister à la baisse du marché mondial des titres à revenu fixe après un niveau record de 167 milliards en 2018.
——
Analysis from Bloomberg New Energy Finance showed that overall issuance of sustainable debt products in 2018 surged 26 per cent with green bonds making up the largest part of the market.
Business Green, Record year: Sustainable debt market surges forward in response to growing global demand, James Murray
However, with experts warning green investment levels need to continue to grow rapidly throughout the 2020s in order to meet global targets set by the Paris Agreement and UN Sustainable Development Goals, observers will be hoping the green bond market accelerates again during 2019.
PV Magazine, New products contribute to another record year for sustainable finance, Max Hall
While the volume of green bonds issued rose just 5% on 2017, to reach $182.8 billion – compared to growth of 68% 12 months earlier – BloombergNEF said today that the volume of sustainability-linked loans  was up 677% year on year, to $36.4 billion.
Energy Live News, Green bonds and loans market shoots to record activity, Jonny Bairstow
The sector is made up of bonds and loans that finance projects with green and social benefits – total green bond issuance amounted to $182.2 billion (£141bn), 5% lower year-on-year than in 2017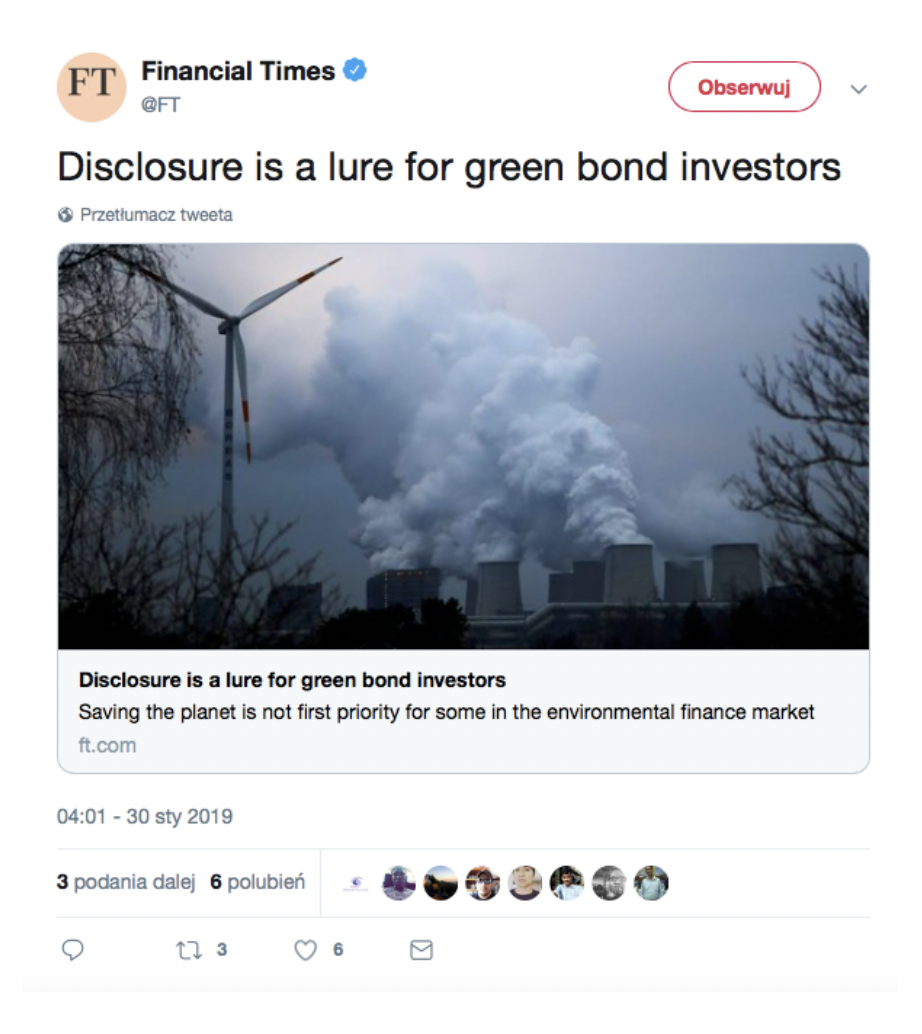 Energias Renovables, Récord de emisión de deuda sostenible en el mundo en 2018
El mercado financiero sostenible se disparó en 2018, con un récord de instrumentos de deuda con temática de sostenibilidad. La emisión de bonos verdes ascendió a 182.200 millones de dólares en 2018, mientras que un nuevo producto, los préstamos vinculados a la sostenibilidad, alcanzó los 36.400 millones
———
More in the market news
Financial Times, Disclosure is a lure for green bond investors, Kate Allen
Kate Allen explains how selling the green bond creates a valuable dialogue between borrowers and lenders.
For some investors, the growing popularity of green bonds is primarily about corporate disclosure rather than saving the planet. Some in the bond markets admire the level of engagement companies have with their shareholders. From this vantage point, the process of assessing green credentials is a healthy example of the emergence of activist investing in the debt markets.
El Economista, Bonos verdes volverán a la senda del crecimiento, Judith Santiago
El Economista quotes Swedish bank SEB and Climate Bonds Initiative both predicting 2019 to be a year of new impetus in green bonds issuance.
Sin dejar de mencionar que se prevé que las políticas públicas para impulsar la innovación y el financiamiento verdes en algunos países den un nuevo impulso durante el 2019. En este sentido apunta a un potencial de crecimiento de entre 210,000 y hasta 240,000 millones para todo este 2019.
Ozy, How islamic finance could save the planet, Sophia Akram
Green sukuk story that starts with the world's first Islamic green bond issued by Malaysia in 2017.
It isn't surprising that the first Islamic green bond took place in Malaysia. After Japan and South Korea, the country is Asia's third-largest bond market as a fraction of GDP. It is also the world's largest sukuk market.
Eco-Business, Climate action barometer: 12 charts explain where we are today, and where we need to be in 2020, Kelly Levin and Katie Lebling
The Mission 2020 campaign lists milestones in six areas that have to be achieved in order to avoid warming beyond 1.5°C target. One of them is finance with critical role of green bonds.
Important signals toward this milestone include a 10-fold increase in philanthropic funding for climate action and in green bonds; taking climate-related financial risks fully into account; eliminating fossil fuel subsidies; canceling capital expenditures for coal, oil and gas production; and implementing carbon pricing in all major economies.
ETF Trends, The World's First Green Bond
ETF Trends shares a video from the World Bank that recounts an insider story of the first green bond ever issued. It provides insight to how emergence of green bonds impacted the financial community of today.
"What we see has happened in the market is that green bonds catalysed a change in investors' behaviors. They want to know where the money is going - not only for labelled bonds that they're buying. Not only for green bonds, for social bonds, for sustainable bonds, but they're asking questions about everything they're buying". [Heike Reichelt. Head of Investor Relations. World Bank]
Renewables Now, Green bond issuance inches up to USD 167bn in 2018 - prelim
Summary of Climate Bonds Initiative's report "2018 Green bonds market summary".
Financial corporates issued USD 49 billion worth of green bonds, or 29% of the 2018 volume. Climate Bonds pointed out that this is the first time since market inception that financial corporates have the largest share of annual volumes.
Truth Dig, The Financial Secret Behind Germany's Green Energy Revolution, Ellen Brown
Author argues US needs a public development bank to help funding country's infrastructure needs and quotes the success example of Germany's public sector development bank KfW that issued multiple green bonds and financed country's transition to renewable energy.
The [green] bonds are financed by KfW from the proceeds of its loans, which are also in high demand due to their low interest rates, which the bank can offer because its high ratings allow it to cheaply mobilize funds from capital markets and its public policy-oriented loans qualify it for targeted subsidies.
Mondaq, Green Bonds Series: Part 3 - How green is your green bond?, Clare Corke and Julie Myers
Authors of the article explain how the certification under the Climate Bonds Standard works.
The most prominent standard used to verify the status of bonds as 'green' is the Climate Bonds Standard published by the Climate Bonds Initiative (CBI). (…) These are based on industry consultation and practical learnings experienced by issuers, verifiers and investors in green finance.
The Punch, Experts want more products in capital market, Feyisayo Popoola
The Punch summarises discussion that took place at Climate Finance Accelerator Workshop in Lagos.
The Africa Programme Manager, Climate Bonds Initiative, Olumide Lala, stated that there was a need to focus on investments in green bonds.  He said investor demand was driving the growth of green bonds in the country.  According to him, green bonds can be used as a tool to shift debt capital markets to climate solutions.
——
City issued its first green bond of €1 billion in January.
Euromoney, Citi issues its first green bond, Helen Avery
Citi issued its first green bond on Tuesday – a €1 billion three-year fixed-rate note. The bond was larger than anticipated, and oversubscribed, pricing at mid-swaps +58 basis points – in from the initial +75bp area.
Chief Investment Officer, Citigroup Launches Green Bonds, Chris Butera
The firm has put out €1 billion ($1,13 billion) for three-year fixed rate notes, which will fund renewable energy, water quality and conservations, green building projects, and other environmentally friendly missions.
Environmental Finance, Investment banking giant Citi issues first green bond, Michael Hurley
The three-year deal marks its first green bond issuance, and charts a new path for a bank that has been highly influential in the market's development.
——
Planned issuance of sovereign green bond by Egypt also made some media headlines.
Reuters, Egypt picks banks to manage international bond issues
Egypt plans to issue a number of dollar-denominated and euro-denominated bonds as well as green bonds by the end of this fiscal year in June, the finance ministry said on Monday.
Reuters, Egypt to offer foreign-currency bond this quarter, minister says
JP Morgan, HSBC and Citigroup will manage the dollar-denominated issue, the ministry said. BNP Paribas, Natixis, Alex Bank and Standard Chartered will manage the euro-denominated issue.
Ahram Online, Egypt to issue green and Asian currency bonds for first time in 2019
Egypt will issue new green bonds and Asian currency-denominated bonds for the first time in addition to dollar and Eurobonds in the fiscal year 2018/19, the finance ministry said on Monday.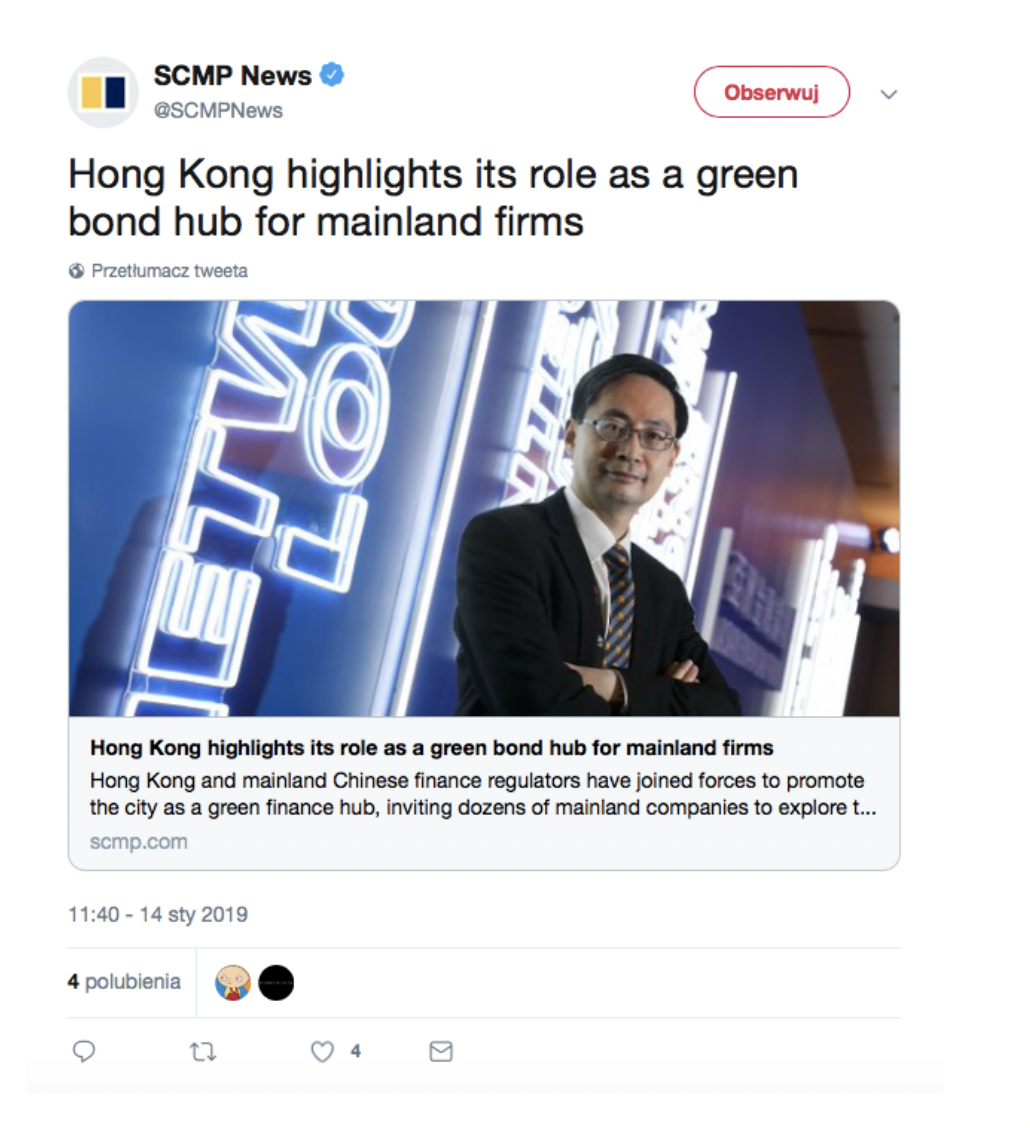 ASIA
South China Morning Post, Hong Kong highlights its role as a green bond hub for mainland firms, Eric Ng
In January, Hong Kong monetary officials invited more than 50 China's mainland banks and businesses to learn more about green debt issuance.
Hong Kong and mainland Chinese finance regulators have joined forces to promote the city as a green finance hub, inviting dozens of mainland companies to explore the benefits of fundraising with a view to ethical and social benefits.
The Asset, South Korea ups its sustainability drive, Darryl Yu
South Korea stands a change to become a sustainable finance leader in Asia.
(…) the future looks bright in South Korea, with the government focused on creating a cleaner environment by, for instance, pledging to reduce greenhouse gas emissions by 37% by 2030. According to the Climate Bonds Initiative, key factors supporting the growth of sustainable finance in South Korea are national green finance guidelines and tax incentives to incentivize environmental improvement.
——-
FTSE Russell, the global index, analytics and data provider, has launched a new index series tracking Chinese green bonds
I&PE, FTSE Russell finalises fixed income country classification framework, Susanna Rust
Separately, FTSE Russell has also launched a new index series tracking Chinese green bonds – "securities whose proceeds are specifically used to finance climate or environmental projects in mainland China". 
Global RMB, China Market Round-up: (…) FTSE Russel to launch series for Chinese green bonds, Rebecca Feng
There are 126 bonds already included in the main index in the new series, covering approximately 75% of all onshore bonds labelled green issued by the Chinese government.
Environmental Finance, FTSE Russell launches Chinese Green Bond Index Series
FTSE Russell has launched a Chinese Green Bond Index Series in response to strong growth in the country's green bond market.
China Knowledge, FTSE Russell launches new index series to track Chinese green bonds
The index will be measuring the performance of onshore yuan-denominated fixed income securities issued by the government, agencies and corporates that have been labelled as "green" by their issuer.
The Asset, FTSE Russell index to track Chinese green bonds launched
The FTSE Chinese Green Bond Index Series use evaluated prices from Refinitiv, an independent price provider. The indexes will be rebalanced once a month on the last business day of the month.
Asia Asset Management, FTSE Russell launches its first China green bond index
Figures from the index provider show that China's domestic green bond market grew at a compound annual growth rate of 65% since 2015 to approximately US$48 billion at the end of 2017.
THE STATE OF THE MARKET 2018 (Spanish version)
In January, Climate Bonds Initiative released Spanish version of the State of the Market 2018 report.
Dinero, Negocios y Finanzas, Emisión de bonos verdes etiquetados registró cifra récord a junio de 2018, Marcela Ojeda
De acuerdo con el reporte del Estado del Mercado de bonos alineados al cambio climático 2018, presentado por MÉXICO2 y por Climate Bonds Initiative (CBI), el universo de bonos alineados al cambio climático es de 1.45 trillones de dólares en circulación.
Informate, Climate bonds sugiere a méxico emitir bonos verdes para diversos proyect
Así lo aseguró la directora de Desarrollo de Mercados de Climate Bonds, Justine Leigh-Bell, quien destacó que hay algunos países en Latinoamérica que preparan ya su primera emisión de bonos soberanos para este año, y México podría quedar al final de la fila.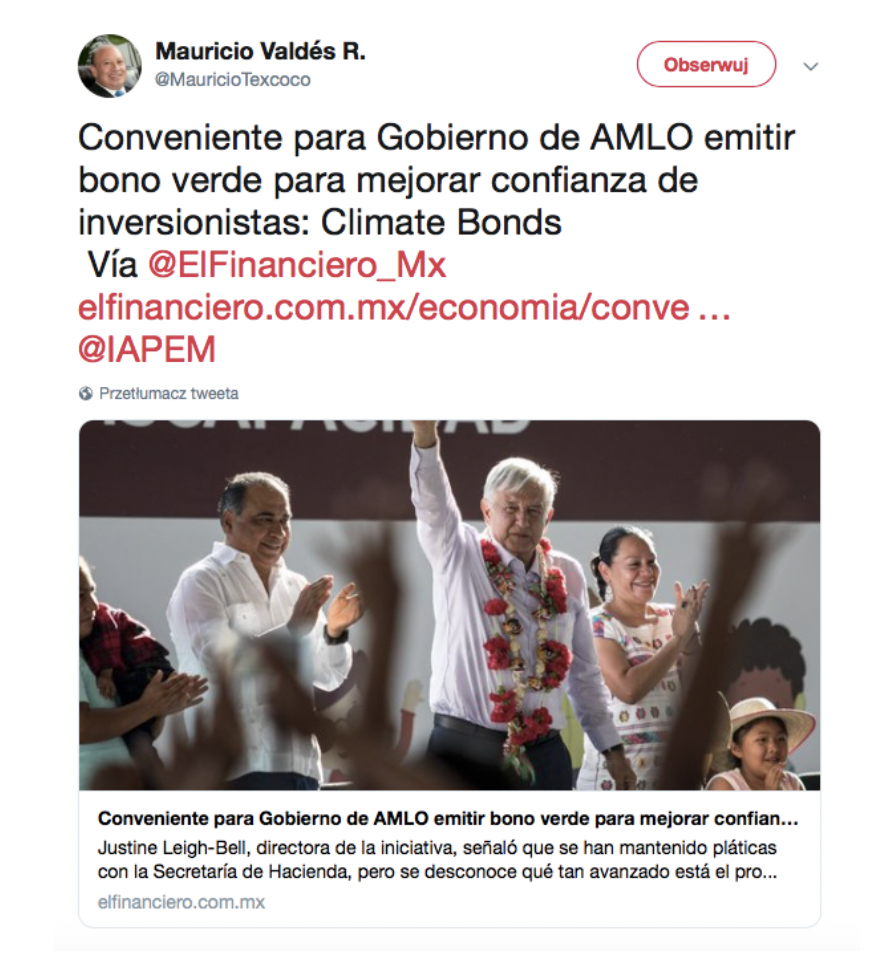 El Financiero, Conveniente para Gobierno de AMLO emitir bono verde para mejorar confianza de inversionistas: Climate Bonds, Clara Zepeda
Justine Leigh-Bell, directora de la Iniciativa de Desarrollo de Mercados de Climate Bonds, afirmó que es relevante mantener la confianza del inversionista, debido al tamaño del naciente mercado de bonos verdes en México y por el monto colocado de estos títulos en mercados internacionales para financiar la construcción del NAIM.
El Economista, Analiza gobierno de México emitir bono verde soberano, Judith Santiago
Leigh-Bell dijo tener conocimiento de algunos inversionistas tanto nacionales como internacionales que analizan conjuntamente con la Secretaría de Hacienda y Crédito Público distintos prospectos para emitir un bono verde soberano, aunque desconoce los términos y avances.
El Heraldo de Mexico, Sugieren a México emitir bonos verdes
El gobierno mexicano debe de incursionar en la emisión de bonos verdes para los proyectos, lo cual reduciría la incertidumbre generada por la cancelación de los bonos del NAIM, incluso ayudaría a impulsar el mercado en el pais, expuso la directora de Desarrollo de Mercados de Climate Bonds, Justine Leigh-Bell.
20 minutas, Climate Bonds sugiere a México emitir bonos verdes para diversos proyect
En conferencia de prensa, consideró que, a pesar de la cancelación del NAIM para el que se emitieron bonos verdes, estos títulos de crédito del gobierno mexicano serían bien recibidos por el mercado, debido a que hay un enorme apetito por este tipo de instrumentos.
CLIMATE BONDS STANDARD CERTIFIED BONDS
INVESTA
The Fifth Estate, Investa nabs first green loan, Climate Bonds Initiative-approved
Investa is laying claim to Australia's first green loan for a $170 million facility that is globally recognised by the Climate Bonds Initiative.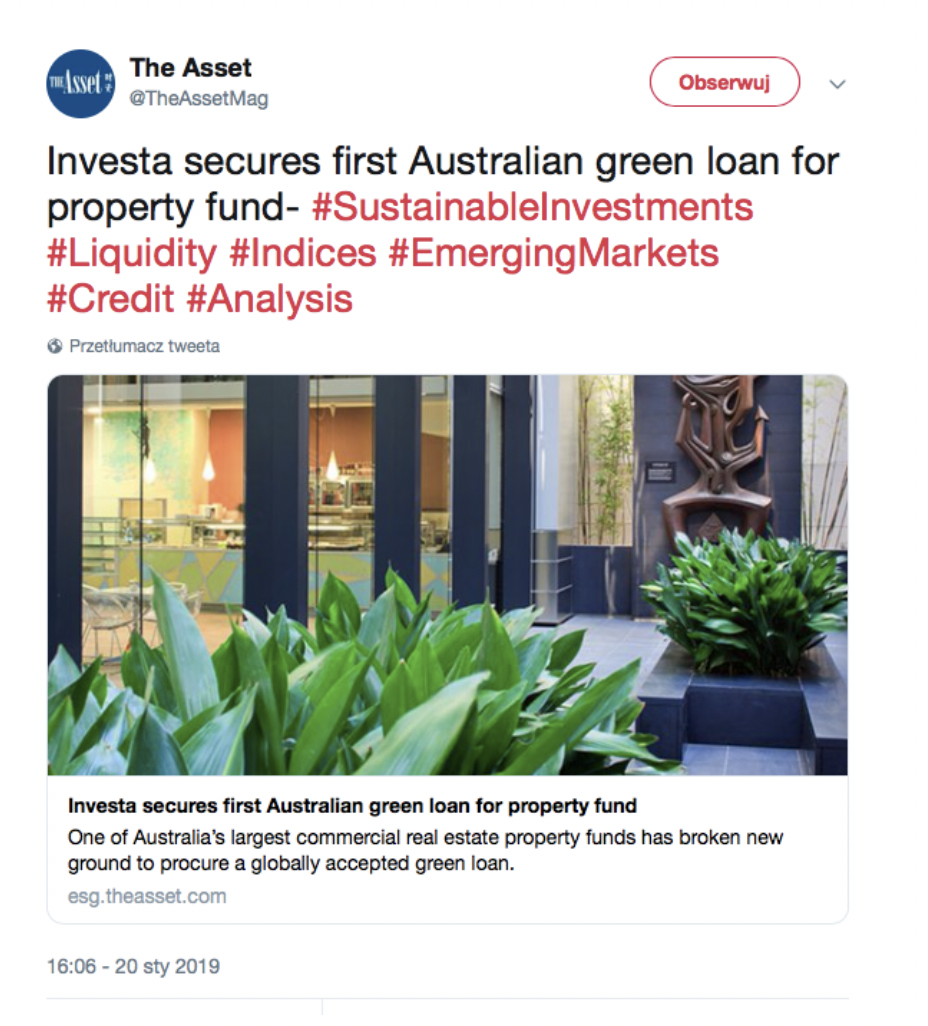 The Asset, Investa secures first Australian green loan for property fund, Tom King 
The London-based Climate Bonds Initiative, a not-for-profit organization which promotes large-scale investment into the low-carbon economy, has verified the loan.
Ecogeneration, Investa Commercial Property Fund closes $170m green loan, first for Australia
"We are very proud to be the first Australian fund to secure a green loan," said ICPF fund manager Jason Leong. "We've worked hard to ensure the whole portfolio meets the rigorous standards of the Climate Bonds Initiative, which optimises the application of the funds."
AC ENERGY
Business World, AC Energy raises $225M in green bonds, Arra B. Francia
The bonds have been certified as climate bonds as per Climate Bonds Standards set by the Climate Bonds Standard Board of the Climate Bonds Initiative (CBI). This indicates that any funds raised from the issuance of the bonds will be used fpr projects and assets that are "consistent with delivering a low-carbon and climate resilient economy."
Manila Bulletin, Ayala slates $225-M green bond issuance for expansion
As explained, the Climate Bond Standard certification sets out assurance "that proceeds from any issuance of bonds will be used to finance projects and assets that are consistent with delivering a low-carbon and climate resilient economy."
Power Philippines, AC Energy issues first green bonds, Meanne Rosales
Climate Bonds Standard (CBS) from the Climate Bonds Initiative (CBI) awarded a certification to the said bonds. It will be the first publicly syndicated CBI-certified dollar-denominated green bond in Southeast Asia.
The Philippine Star, AC Energy raises $225 million from maiden green bonds, Danessa Rivera
AC Energy's green bond framework sets out well-defined guidelines for use of proceeds for renewable energy projects, with comprehensive monitoring and reporting commitments.
Renewables Now, AC Energy to bankroll renewables growth with 1st green bond issue
The energy arm of Philippine group Ayala Corp (PSE:AC) has raised USD 225 million (EUR 196.8m) from its inaugural offering of senior green bonds that will help it expand its renewables business.