Posted: Jan 9, 2019 by Mariana Caminha
MARKET
Bonds&Loans, Green Bond Additionality: The Big Picture, Sean Kidney
Sean Kidney's answer to returning questions of green bonds' additionality. CEO of Climate Bonds Initiative explains the broad-ranging successes of the green bonds market in creating pre-conditions for large capital shifts to low-carbon and climate-resilient economy, larger systemic impact of this burgeoning market and how green bonds have been 'catalyst for a wider green finance expansion'.
Discussions of the additionality of green bonds tend to have a narrow focus, considering only the projects or assets that are funded by individual green bonds. The aim of the green bond market is wider; to create system level change to support a transition to a low-carbon and climate resilient economy. The next stage of the market, the coming five years, is when we can expect green bond additionality to materialise in the form of shifting capital at scale to green assets and projects that would not otherwise have been financed.
Future Power Technology, Global Green Bond Partnership: reinvigorating green energy investment, again, Heidi Vella
Daniel Farchy and Martin Berg of EIB talk to Power Technology about practical assistance that members of the Global Green Bond Partnership can offer to potential green bond issuers and long term objectives of the alliance.
"A large European bank can probably figure this out fairly easily," says Farchy. "But if you're a smaller bank in an emerging market or a medium-sized corporation, it may be more difficult. They may view it as more than they can realistically do, but having someone come in and offer financing or technical assistance can be really helpful."
Wall Street Journal, It Isn't Easy Being Green for a Bond ETF
Consider green bonds, issued by governments, banks, municipalities and corporations. The bonds aim to negate the effects of climate change by financing "green" assets in energy, water, heavy industry and the like. Over the past 11 years, some $500 billion in green bonds have been issued, including $138 billion in 2018 through November, the Climate Bonds Initiative says.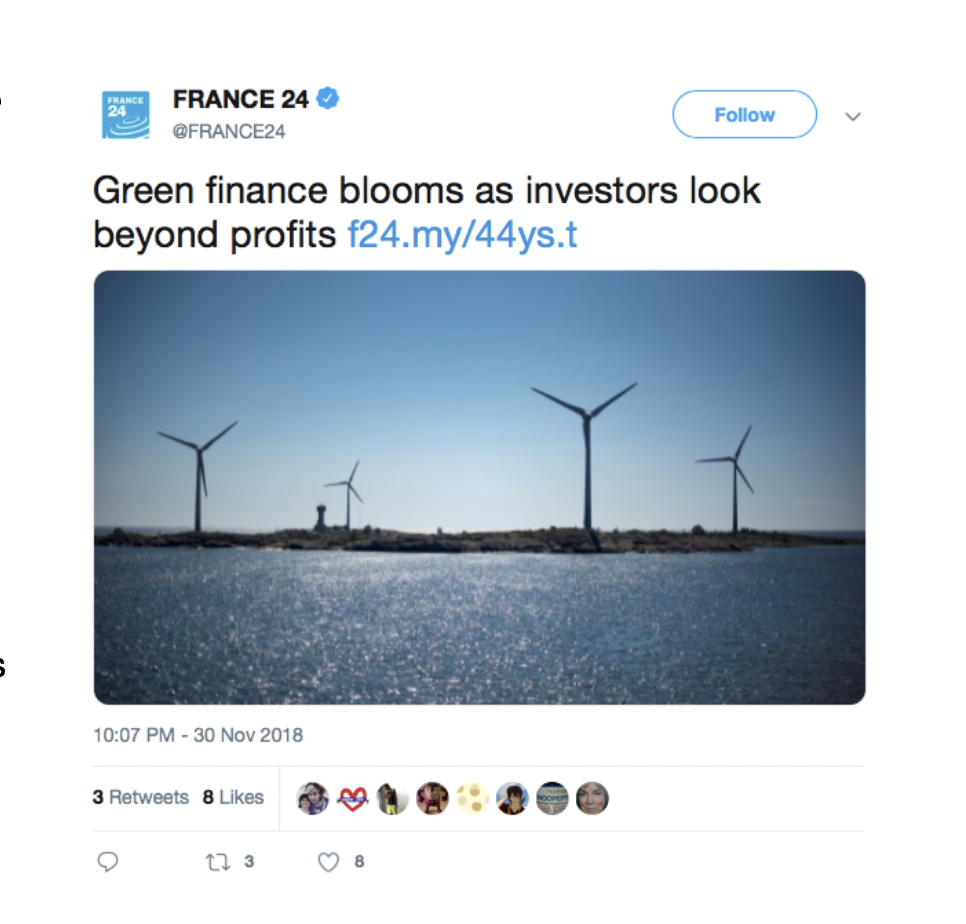 France 24, Green finance blooms as investors look beyond profits, Angélina Boulesteix
AFP journalist looks broadly at motivations of investors that wish to include green bonds in their portfolio and challenges surrounding the market.
A decade after the launch of the early green bonds -- long-term borrowing for environmental projects -- investors' options have grown dramatically, but the share of green instruments in global finance is still small.
Bloomberg, Europe Green-Bond Boom May Cool Next Year After Breakneck Growth, Emma Haslett
Although predicted market turbulences in 2019 might hurt green bond sales, Bloomberg interviewees say that green bond sales will still see 'double-digit growth'. Some also identify funding development of electric cars and sovereign/sub-sovereign issuance as potential growth drivers for GB market.
Bankers are also confident that green-bond sales will ride out the end of ECB quantitative easing due to growing interest in investments that consider environmental, social and governance factors, or ESG.
Financial Times, Niche markets in 2018: the bad and the bountiful
Compilation of noteworthy financial bets stories from 2018 includes green bonds coverage from Kate Allen. In her article, she looked at reasons behind issuance slow down.
The market for environmentally labelled debt has grown exponentially in the decade since it was first launched, but 2018 saw its first stutter. Sales of green bonds rose year on year, but the rate of growth dropped off sharply.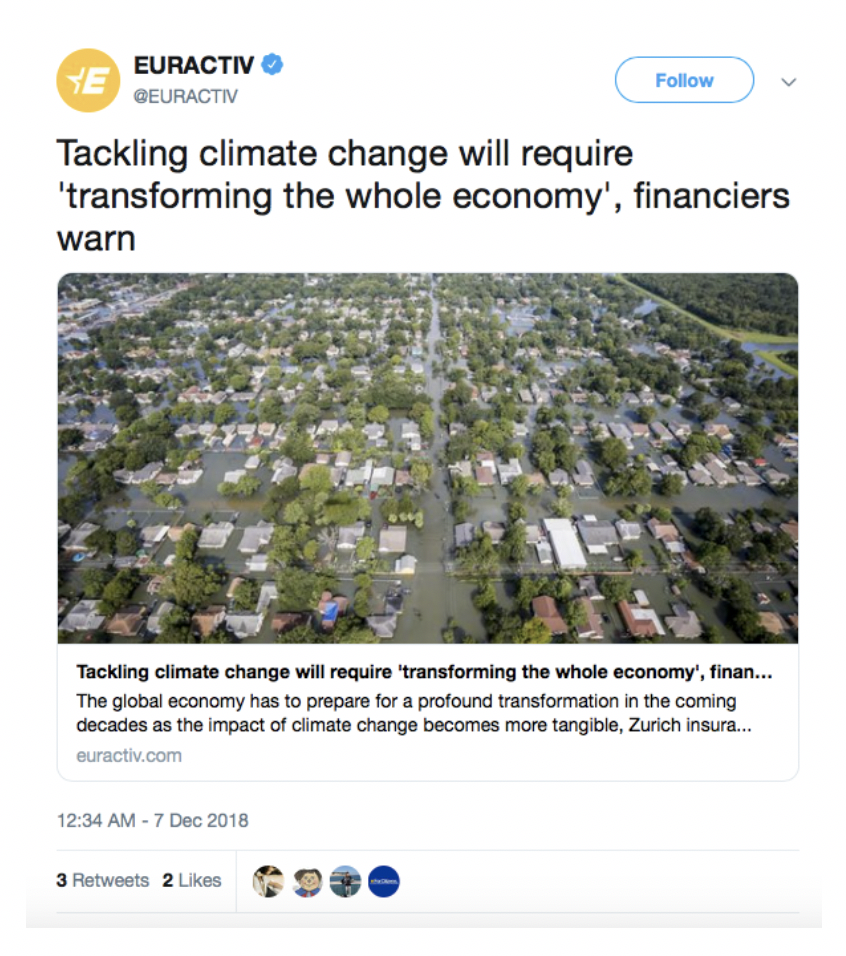 Euractiv, Tackling climate change will require 'transforming the whole economy', financiers warn, Claire Stam
Euractiv journalist reporting from COP24 in Katowice spoke to Zurch Insurance experts about climate change-related risks that businesses face and how their company readies for impact of climate change (this includes building a strong green bonds portfolio).
Köb [the head of Responsible Investment at Zurich Insurance Group] put the focus on two specific financial tools Zurich is using: impact investing and green bonds. (…)  According to the Climate Bond Initiative, the green bond market has seen strong growth, with the market really starting to take off in 2014 when $37 billion was issued. In 2017 issuance reached $162.5 billion, setting yet another record.
World Finance, Green sukuk will be vital to achieving COP21 goals, Mourad Mekhail
Author promotes advantages that green sukuk presents for investors and advocates for a more rapid development of this financial product.
As defined by Climate Bonds Initiative, eligible assets for green sukuk include: solar parks, biogas plants, wind energy projects, renewable transmission and infrastructure projects, and electric vehicles. Equally, they can be used to subsidise a government's green payments.
UNDP Blog, How can we ensure environmental integrity for green bonds?, Alexandra Soezer
Author stresses that UNDP sees green bonds as critical tool to increase investment into low-carbon projects in emerging economies.
If designed in a way that gives greater assurance on the environmental integrity of the mitigation outcomes, green bonds can become a sustainable climate finance instrument under the Paris Agreement. This way, emerging market countries will be in a better position to mobilize climate finance and accelerate implementation of their NDCs (…)
The Fifth Estate, Water under pressure – and the promise of green bonds to help, Willow Aliento
Bridget Boulle of Climate Bonds Initiative talks to The Fifth Estate about how Australia could use green bonds to finance essential sustainability measures linked to water infrastructure.
The big wins would come from infrastructure projects that ensure we have climate-resilient and smart infrastructure for the future water system. But she notes that the projects are expensive and would most likely be financed by government. So they are not necessarily "low hanging fruit" but they would have a big impact.
LatinFinance, LatAm issuers line up green bonds for 2019, Ivan Castano
An article – based on an interview with Head of Market Intelligence at CBI – indicates that Argentina, Chile and Peru, are all likely to be a source of green bond issuances in 2019.
"The Santiago and Lima stock exchanges introduced green bond guidelines this year, and that is making us much more positive about next year's issuances," said Monica Filkova, the head of research at the Climate Bonds Initiative (CBI).
The Banker, Is sustainable profitable?, Brian Caplen
Author contemplates the statement by Hiro Mizuno of Japan's Government Investment Pension Fund, who claimed that green bonds are a 'lose-lose' product. He concludes that 'sustainability is now enhancing profits not reducing them'.
Several bankers at the UNEP financial institutions global roundtable, which saw the launch of the group's Principles for Responsible Banking, disagreed with Mr Mizuno's premise. They said that demand for green bonds far outstripped supply and cited examples of pricing coming in at or below that of more conventional bonds.
PV-Magazine, EBRD unveils new energy strategy without coal or oil, looks to mobilize €1 billion in private sector capital, Mark Hutchins
(…), at an event held this week alongside the COP24 talks in Katowice, Poland, the EBRD announced plans for a direct investment framework targeted at financial institutions, through which it plans to raise €1 billion in private sector investment over the next three years, through the issuance of green bonds.
Business Green, Green bond market tipped to return to strong growth in 2019
The green bond market should return to impressive growth in 2019, following a year of "healthy consolidation with more modest growth".
ASIA
Nikkei Asian Review, Chinese bonds struggle to go green, Michael Edesess
Author looks at a Chinese quandary; country with ambitious climate goals needs foreign investors to digest the large volume of its green bond issuances, but Chinese definition of green remains unsatisfying for Westerners.
According to S&P Global Ratings, only 62% of the $37.1 billion in Chinese green bonds issued last year met international definitions. (…) The Climate Bonds Initiative, for example, only counts bonds where at least 95% for the proceeds go to approved uses and no more than 5% is allocated for working capital.
The Business Times Singapore, More needed to scale up sustainability in businesses, Here Cho
Author – Head of Sustainable Finance, Asia Pacific, at ING – says that focusing on sustainability is both: a financial opportunity and a risk management exercise. He lists measures undertaken in various Asian states that aim to mainstream sustainable finance. He also has some suggestions for corporations that want to embark on a more sustainable business journey.
An example of an innovative green bond was how Sindicatum Renewable Energy Company Pte Ltd, a Singapore-based developer and owner and operator of clean energy projects in Southern and South-East Asia, issued two green bonds this year, the first one denominated in Indian rupee and the second in Philippine peso. The specifically-designed guaranteed structure of these issuances meant they had access to a wider investor base.
Eco-Business, Why is green bond growth in Southeast Asia so weak?, Hannah Fernandez
Eco-Business interviewees stress the role of IFC in adding credibility to green bond issues from ASEAN countries whose banks are largely unfamiliar for foreign investors.
The inclusion of IFC as a major investor in a bank's green bond serves as a "signaling mechanism" to foreign investors that the bank is credible, added Amatong.
The Straits Times, In Asia, bonds are finding it's easier being green, Jeffrey Hutton
Author of The Straits Times article says that enthusiasm and appetite for green bonds in South-East Asia finally started to pick up.
"There is a revolution afoot," said Mr Sean Kidney, chief executive of the Climate Bonds Initiative, an NGO focused on green bonds. "People want cleaner air, cleaner water and that is going to take financing."
New Security Beat, More than Just a BRI Greenwash: Green Bonds Pushing Climate-Friendly Investment, Alan Meng
An article by Climate Bonds Initiative market analyst looks at the role of green bonds in mobilizing capital to fund green infrastructure investments under China's Belt and Road Initiative (BRI).
In October 2017, the Industrial and Commercial Bank of China brought $2.14 billion Climate Bonds Certified green bonds through its Luxembourg branch, marking the first ever dedicated "Green Belt and Road Bond."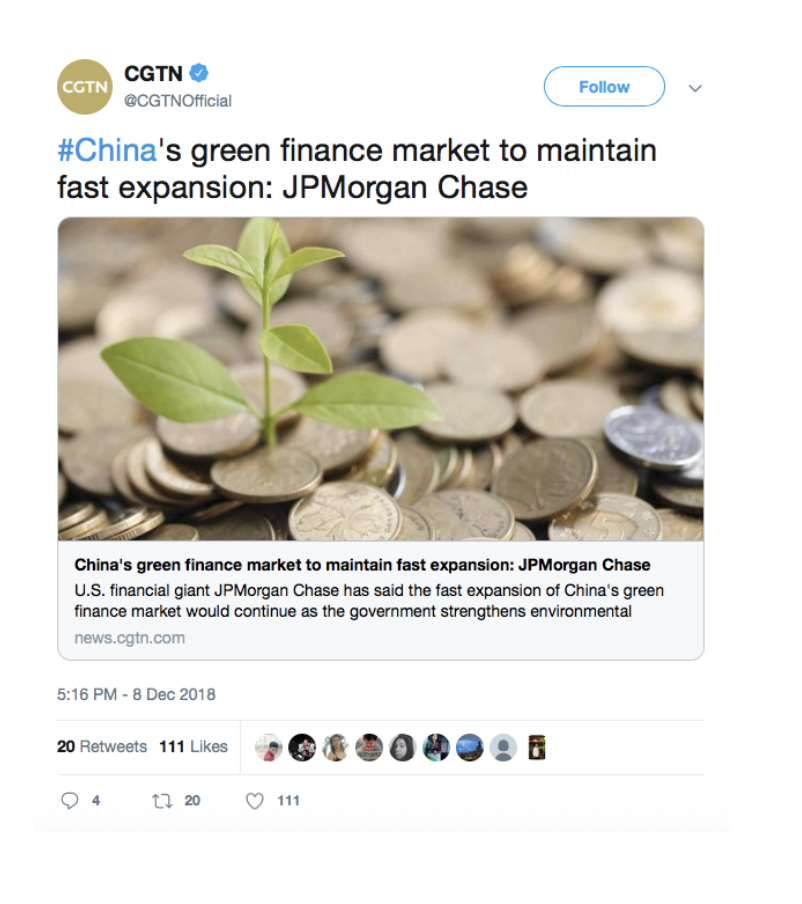 Xinhua, China's green finance market to maintain fast expansion: JPMorgan Chase
In an interview with Xinhua, Head of Global Sustainable Finance at JP Morgan said China's green bonds will continue to expand strongly.
Data from the Climate Bonds Initiative and China Central Depository & Clearing Co. showed green bond issuance from China reached 37.1 billion U.S. dollars in 2017, up 4.5 percent from the previous record-breaking year. Of the total, 22.9 billion dollars are aligned with international definitions, accounting for 15 percent of the world's total and making China the second largest green bond market in the world.
Devex, When it comes to climate finance, a tale of two Chinas, Michael Igoe
Author points to China's double standards; country encouraging sustainable growth at home and one of world's largest issuer of green bonds, does not follow the same standards in its offshore investments.
While multiple policies and guidelines govern environmental and climate-related protections in domestic finance, only two — the 2013 Guidelines for Environmental Protection in Overseas Development Finance and the 2017 Guiding Opinions on Promoting the Green BRI — apply to China's overseas investments (…)
The Asset, Overcoming the challenges of green finance, Chito Santiago
The IFC has been instrumental in the groundbreaking issuances of green bonds in the Philippines. In June this year, it issued the first internationally-rated AAA peso-denominated green bonds, equivalent to about US$90 million, to support the local capital market and renewable energy projects in the Philippines.
FOREIGN COVERAGE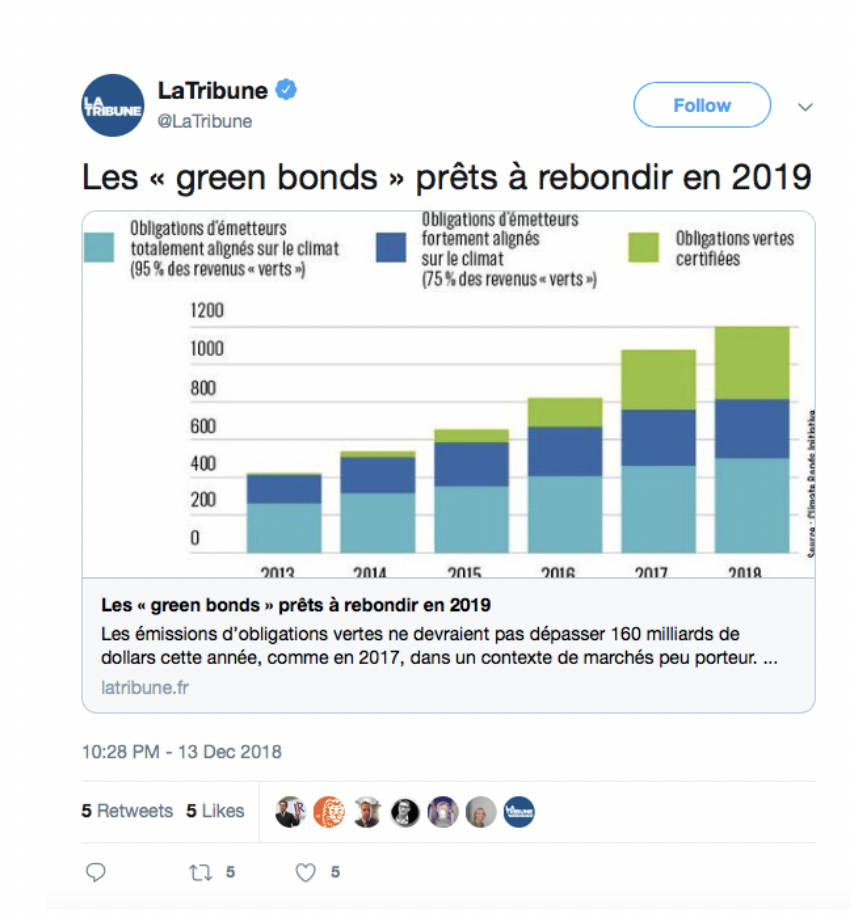 La Tribune, Les « green bonds » prêts à rebondir en 2019, Delphine Cuny
La première obligation verte de la Banque mondiale a rencontré un franc succès auprès du marché et éveillé l'intérêt d'autres acteurs, notamment ceux intervenant dans le domaine des politiques climatiques tels que le Ceres et la Climate Bond Initiative.
Les Echos, Comment investir vert?, Jennifer Nille
Echos presents green bonds as one of the sustainable investment options for Belgian investors.
Pour la Belgique, il relève quatre obligations vertes en cours: une de l'État belge, une de KBC et deux d'une société spécialisée dans les eaux usées basées à Artselaar, Aquafin.
El Economista, Mercado verde se desacelera en el mundo:CBI, Judith Santiago
El Economista Mexico explores reason behind the issuance slow down in 2018.
La organización internacional que promueve las finanzas verdes [Climate Bonds Initiative] estimaba una recaudación global de 210,000 millones de dólares parael año.No obstante, la cifra actual de financiamiento es casi similar a lo visto en el 2017, cuando se llegó a una recaudación total de 162,000 millones, el máximo alcanzado desde el 2007, cuando nació este mercado para financiar proyectos y actividades que ayuden a combatir el cambio climático.
Bizz Energy, Europäische Zentralbank hält massenhaft Green Bonds, Thomas Bauer
Sean Kidney, Vorsitzender der Climate Bonds Initiative, beteuert stets, dass grüne Anleihen mindestens so sicher seien wie konventionelle – wenn nicht sogar sicherer, da zukunftsorientierter. Als Beleg dafür wertet er die niedrigen Renditen von grünen Anleihen, die sich inzwischen auf dem Niveau von Staats- und Unternehmensanleihen höchster Güte bewegen.
CLIMATE BONDS STANDARD CERTIFIED BONDS
The Bond Buyer, South Carolina capital sets a precedent with green bond deal, Shelly Sigo
Columbia, South Carolina, successfully tested the waters in issuing its first green bond deal. The city Dec. 6 priced $38 million of stormwater revenue bonds certified by the Climate Bond Initiative.
Environmental Leader, Columbia Issues First-Ever 'Green Bonds' to Fund Stormwater Improvements, Sustainability, Jennifer Hermes
The City of Columbia, South Carolina, is issuing its first-ever green bonds to improve its stormwater system; the $37.9 million in bonds – sold by Siebert Cisneros Shank & Co. (SCSCO) and certified by the Climate Bond Initiative – will be used to upgrade and improve the city's stormwater system.
PV Tech, ADB invests US$155 million in B. Grimm's green bonds for Thai solar projects, Tom Kenning
The Asian Development Bank (ADB) will invest THB5 billion (US$155 million) in Thai firm B.Grimm Power's maiden 5-year and 7-year green bonds – the first certified climate bonds to be issued in Thailand – in order to finance renewable energy projects in the Southeast Asian country.
Power Technology, ADB invests $152m in B.Grimm Power's green bonds
"ADB's support was invaluable to ensure the bonds comply with the International Capital Markets Association Green Bond Principles and Climate Bond Initiative standards, building on a long-standing relationship we have forged through multiple transactions."
PV Magazine, ADB invests $155 million in Thai green bonds, Marian Willuhn
The Asian Development Bank (ADB) plans to invest 5 billion Thai baht (US$155 million) in Thailand-based B.Grimm Power Public Company Ltd via five- and seven-year green bonds. Reportedly, the bonds are the first certified climate bonds issued in the country.
Devidscourse, ADB to Invest $155 mln in B.Grimm Power to develop renewable energy in Thailand
Proceeds will finance renewable energy projects in Thailand, helping to establish a low-carbon pathway for sustainable economic growth.
IJ Global, ADB sole investor in B Grimm's first green bonds, David Doré
The Asset, Thailand's first certified climate bond issued, Chito Santiago
Nikkei Asian Review, Thai group eyes ASEAN solar plants after first 'green bond', Apornrath Phoonphongphiphat
Renewables Now,  ADB buys B.Grimm green bonds to back Thai solar capacity
SEC green bond rules
In December The Securities and Exchange Commission of Nigeria ("SEC") officially launched the Green Bonds Issuance Rules. Read more in our media release.
The Guardian Nigeria, SEC unveils guidelines on green bond issuance in capital market, Helen Oji
Uduk [Acting Director-General, SEC] stressed that the commission has collaborated on several occasions with the Green Bonds Market Development Programme, a programme supported by the Climate Bonds Initiative (CBI), the FMDQ OTC Securities Exchange (FMDQ) and the Financial Sector Deepening Africa (FSD Africa) to support the development of a non-sovereign green bond market in Nigeria.
Independent Nigeria, SEC Launches Green Bonds Issuance Rules For Economic Development
Also, Mr Olumide Lala, Africa Markets Programme Manager, Climate Bonds Initiative, said that the launch of the rules would bring much needed clarity and guidance on the issuance of green bonds.
Business Green, Global briefing, Michael Holder
New Telegraph, SEC inaugurates green bond rules
The SEC according to a statement, had collaborated on several occasions with the Green Bonds Market Development Programme, a programme supported by the Climate Bonds Initiative(CBI), the FMDQ OTC Securities Exchange (FMDQ) and the Financial Sector Deepening Africa (FSD Africa) to support the development of a Non-Sovereign Green Bond market in Nigeria.
New Telegraph, Making green bond issuance a reality, Chris Ugwu
Mr. Olumide Lala, Africa Markets Programme Manager, Climate Bonds Initiative who was also present at the launch ceremony, stated : "The launch of the rules brings much-needed clarity and guidance on the issuance of green bonds. Adopting the tenets of the Green Bond Principles and Climate Bonds Standard makes it easier to attract foreign investment where needed."
Vanguard, SEC unveils Green Bond rules
The Securities and Exchange Commission, SEC, yesterday, launched the Green Bonds Issuance Rules, following series of engagements with stakeholders and capital market operators.
The Nation, SEC launches green bond rules, Moses Emorinken, Abuja
The Sun, SEC green bonds issuance rules officially kicks off
The Eagle Online, SEC Inaugurates Green Bonds Issuance Rules
Nairametrics, A look at SEC's newly launched Green Bonds Issuance Rules, Emmanuel Abara Benson
Punch, SEC launches guidelines on green bonds issuance, Feyisayo Popoola
TVC Nigeria, SEC introduces green bonds issuance rules