Green finance markets in ASEAN: Foundations for green growth and low carbon infrastructure 
Opportunities emerge
Since the initial 2016 green bond deals in the Philippines and Vietnam, ASEAN green bond market stakeholders have laid some solid foundations, culminatining in total issuance of USD5bn as of the end of November 2018.
We foreshadowed a further focus on SE Asia following the release of May 2018's Green Infrastructure Investment Opportunities - Indonesia (GII0) report with it's specific focus on low carbon infrastructure projects and development of long term investment pipelines. We're now following up with two new reports reviewing and promoting green finance in ASEAN nations: the ASEAN Green Finance - State of the Market 2018 and the ASEAN Green Financial Instruments Guide.
The ASEAN State of the Market 2018 report looks at regional themes in green bond issuance and provides country overviews for Indonesia, Singapore, Malaysia, the Philippines, Thailand and Vietnam. It also identifies ASEAN issuers of vanilla bonds in industry sectors conducive to green bond issuance including rail transport and outlines potential avenues for domestic market growth and development.
The ASEAN Green Financial Instruments Guide, a Climate Bonds' first, highlights financial instruments and mechanisms available from and for public and private entities in the ASEAN region looking to fund green assets. Funding deals for such can entail a combination of different sources of financing, depending on the company, asset characteristics and macroeconomic factors.
The publication covers public-private partnerships (PPP) and other equity instruments, but has a significant focus on debt financing, particularly green bonds, sukuk and loans.
It also provides information on credit enhancement mechanisms and specialist funds which can help issuers access the debt capital markets, and provides brief case studies to demonstrate how some of them have been used by green bond issuers.
Transitioning to a green, climate resilient economy is key to achieve sustainable growth
The ten members of the Association of Southeast Asian Nations (ASEAN) – Brunei, Cambodia, Indonesia, Laos, Malaysia, Myanmar, the Philippines, Singapore, Thailand and Vietnam – taken together, represent the sixth largest economy globally.
However, growth in the region has come at great environmental expense. Air pollution, water contamination and deforestation are just a few of the pressing issues that affect ASEAN countries. It is estimated that around USD3tn in green investments will be required between 2016 and 2030 to fill the funding gap needed for the region to achieve a low carbon transition.
The involvement of both public and private investors will be essential to meet the investment targets. Currently, public finance accounts for three fourths of infrastructure investments in ASEAN, but this share is projected to drop to 40% in the future. Private finance will have to scale up rapidly to ensure the availability of sufficient green capital flows.
Green bonds as a means to finance the low-carbon transition
'Green' labelled bonds, sukuk and loans have become globally recognised as an effective mean of directing investment capital towards climate mitigation, resilience and adaptation projects.
The first ASEAN country to enter the green bond market was the Philippines, with AP Renewables' PHP10.7bn (USD226m) Climate Bonds Certified green bond of 2016, which financed geothermal assets. Since then, issuers from Indonesia, Singapore, Malaysia, Thailand and Vietnam have issued green debt for a cumulative total of USD5bn, as of the end of November 2018. Climate Bond's newly launched ASEAN State of the Market 2018 report provides further information and identifies untapped potential for upscaling future green bond issuance in the region to fund the low carbon transition.

ASEAN Green Finance - State of the Market 2018 report key findings:
Indonesia, Singapore and Malaysia are the top three countries for labelled green bond issuance in the region

Indonesia was the 5th country globally to issue a green sovereign contributing 25% to total ASEAN issuance

81% of ASEAN green bonds by volume have an external review, which demonstrates best practice

AP Renewables (Philippines) was the first company globally to obtain Climate Bonds Certification under the Geothermal Criteria

Buildings is the largest category financed by green bonds (43% of the market by volume), followed by energy at 32%

Transport is the largest sector financed by unlabelled climate-aligned issuance with USD7.4bn outstanding, in front of energy at USD1.3bn outstanding

A step-by-step guide to green financing
The ASEAN Green Financial Instruments Guide is a useful resource for public and private entities in the ASEAN region which are considering green projects and assets and entering the green finance market. It provides a general step-by-step guide, an overview of the whole issuance process from asset identification to deal structuring and post-issuance reporting. There is also a guide on how to issue a green bond.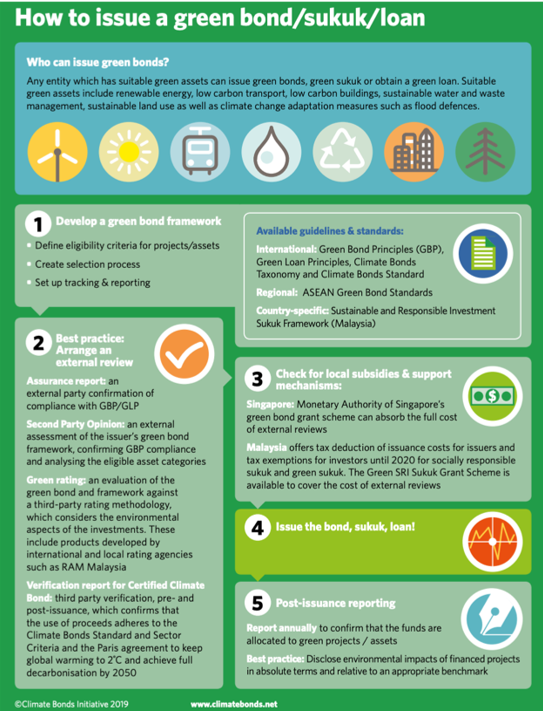 The Last Word
Transitioning to a green, climate resilient economy is paramount to ensure that the region can reduce its GHG emissions, better hedge against climate change risks and thrive as low carbon nations. Green investment in the ASEAN region represents a huge opportunity.
Regional and national policies which provide green bond market incentives and guidelines are key to market growth. The ASEAN Green Bond Standards is a major ASEAN initiative, but incentive schemes in Malaysia and Singapore, Indonesia's sustainability roadmap and State Bank of Vietnam's Directive on Promoting Green Credit all have a positive impact. We expect to see continued evolution in the green finance landscape.
The sovereign issuance from Indonesia also provides an example which local governments and other sovereigns can follow to stimulate local green bond market development.
This is also supported by development finance institutions (DFIs) and finance facilities, in their capacity as 'anchor investors' for local issuers. Supranationals are supporting market development more widely by creating credit enhancement mechanisms and setting up specialised funds, contributing to scaling the bankability of projects through a blended finance approach.
Together, both publications, offer a comprehensive picture of current green investment flows and avenues for further market developments towards filling the financing gap to achieve national climate action goals in the ASEAN region.
Download the ASEAN State of the Market 2018.
Download the ASEAN Green Financial Instruments Guide.
'Till next time,
Climate Bonds