Posted: Oct 15, 2018 by Andrew Whiley
Quarterly Highlights:
USD29.7bn of issuance*, 

79 issuers from 27 countries

293 green bond issues with 212 from the USA, 18 from China and 13 from Sweden

46 market entrants from 18 countries bring the total number of green bond issuers to 553

52 green bond markets reached, with the first issuer from Uruguay debuting in Q3

4th tap of the Republic of France's sovereign Green OAT, taking the total to EUR14.8bn (USD16.7bn)

Natixis leads Quarterly Green Underwriters Table followed by Cit and BAML. 
Green bonds in Q3 2018 totalled USD29.7bn, a 23% drop compared to Q3 2017. Looking at issuance since the beginning of the year reveals a more reassuring trend, with the cumulative annual issuance for 2018 at USD108.3bn less than 1% behind the 2017 figures for the same period. 
Q3 volumes were driven by both banks and corporates, which accounted for 18% each. Government-backed entities were also active in the market representing 16% of the total, with issuance equally split between developed and emerging markets.
As of Q3 2018, USD66bn worth of green ABS have been recorded in the CBI Green Bond Database, and that represents 14% of cumulative green bond issuance. Covered bonds account for just under 2% of the market with USD7bn, while other secured bonds (including debentures) represent a 1% share of cumulative issuance at USD3.8bn. An in-depth analysis of the diverse bond structures to which the 'green' label has been applied to date is available on pages 22-27 of our recently released flaghsip State of the Market 2018 report. 

State of the Market 2018: The scale is there in Developed Markets but where are the green bonds?
Climate Bonds' recently launched Bonds and Climate Change: the State of the Market 2018 report identified a climate-aligned bond universe of USD1.45tn, made up of USD1.2tn from fully-aligned, strongly-aligned and green bond issuers, plus USD250bn outstanding bonds from US Muni fully-aligned issuers.
Green bonds account for a third of the USD1.2bn total – or USD389bn – pointing to a large pool of issuers financing green infrastructure through unlabelled bonds. This highlights the extensive opportunities for growing and diversifying the green bond market.
As underlined by the recently published IPCC special report, upscaling investment flows directed towards financing the low carbon transition is an urgent imperative if we are to achieve net-zero CO2 emissions by 2050.
Developed markets account for 62% of aligned outstanding figures in the climate-aligned universe. Over 50% come from fully-aligned issuers, 15% from strongly-aligned issuers and 35% from green bonds.
The top 10 developed countries represent the majority of volumes (87%). If scale is what we are looking for, then this seems like a good place to start.
We picked the three countries with the largest bond markets among the top 10 DM ranking to highlight opportunities for catalysing green debt issuance: USA, UK and Japan. Read more on pages 3-4 of the Q3 summary.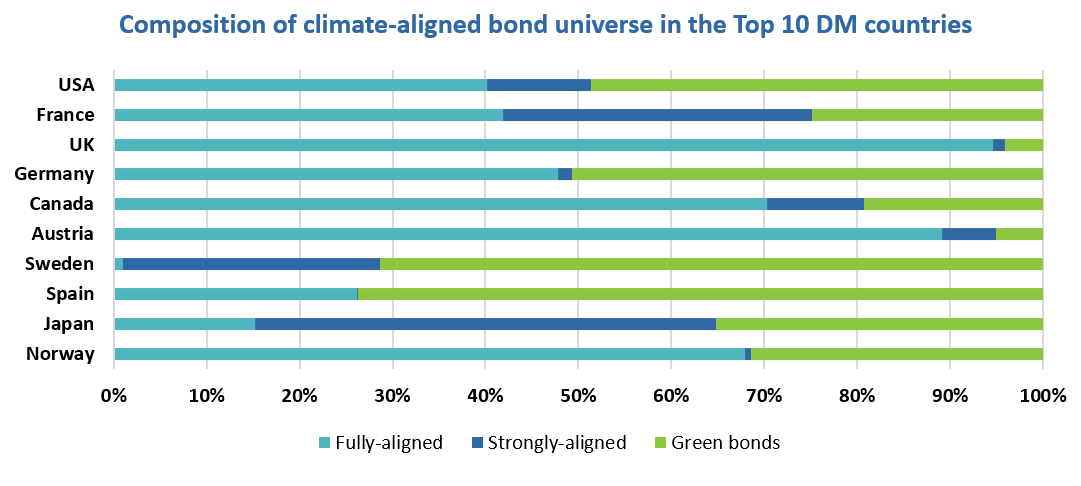 Green Bond Second Party Opinion (SPO) league tables
CICERO is largest Second Party Opinion provider with Vigeo EIRIS ranking second for Q3 2018 volume.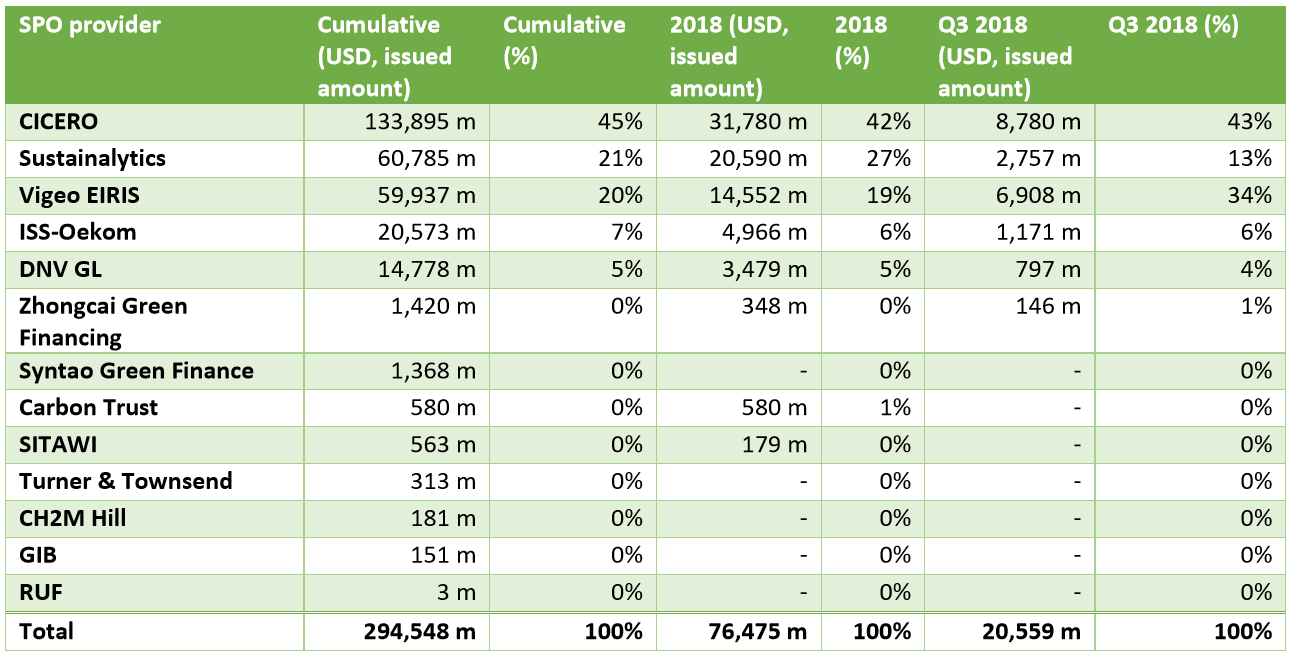 Methodology note: The ranking is only for external reviews which are second party opinions. In addition, external reviews can be provided in the form of verification for Certified Climate Bonds, assurance reports and rating agency green bond assessments/evaluations.
Green Bond Underwriters League Table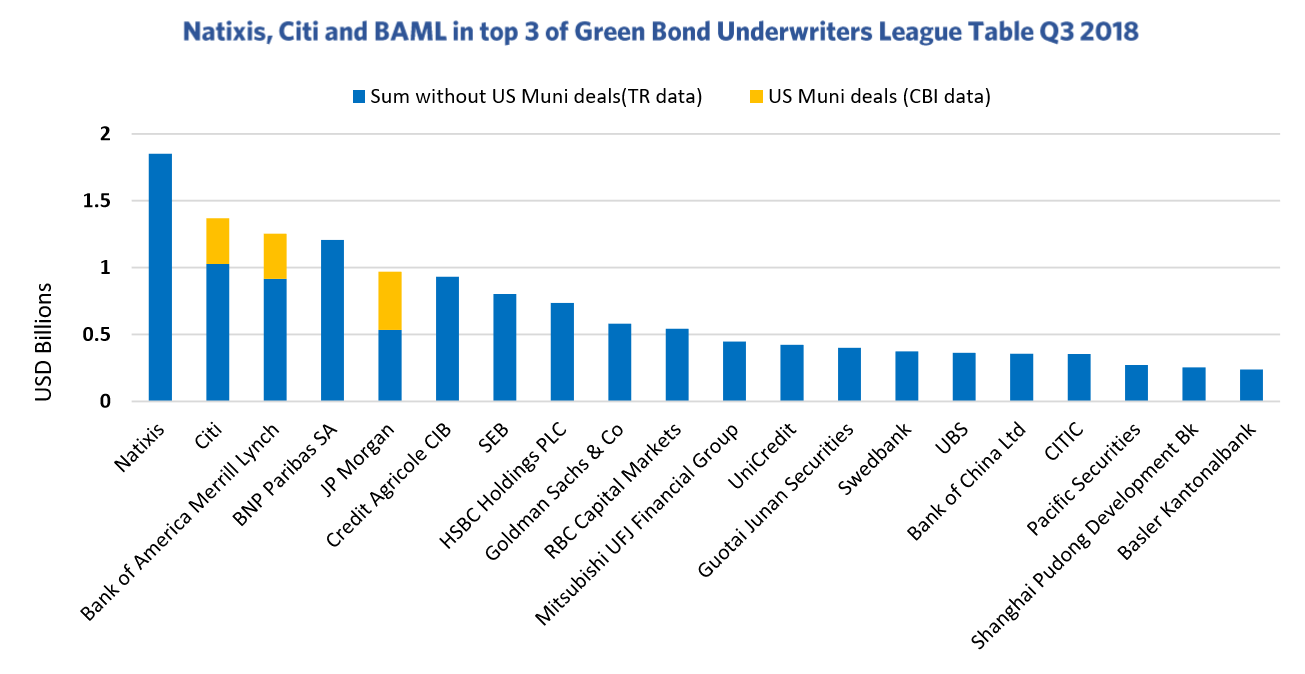 Q3 2018 Underwriter League Table shows Natixis steadily climbing to the top, from 7th place in Q2 and 15th in Q1.  Citi moved into to 2nd place and Bank of America Merrill Lynch retaining a top 3 spot. 
Amongst new new entrants for the quarter were Chinese players Guotai Junan Securities, Bank of China and Shanghai Pudon Development Bank.  
Citi and BAML saw US Muni deals in the mix, similar to last quarter, though JP Morgan deal volume shows a significantly higher US Muni share compared to Q2. Previous league tables are available here.
Natixis duly deserves applause this quarter since their volume climbed from just under USD500m in Q1 of 2018 to over USD1.8bn in Q3.
Trading Venue League Table
In Q3 2018, USD20.5bn worth of green bonds has been listed on a variety of trading venues, accounting for 69% of the total green bonds issued in the same period.
In the trading venue league table below, we have grouped venues under the same stock exchange group. The numbers on top of the bars indicate the rankings of the top 20 venues. 
Luxembourg Green Exchange tops Q3 trading venue rankings, followed by London Stock Exchange.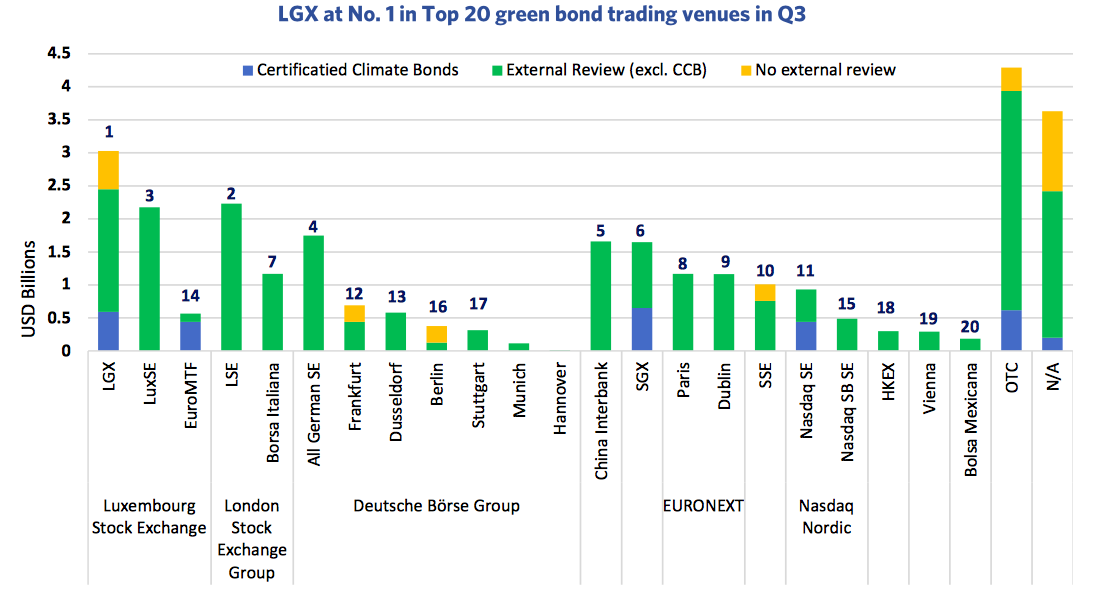 Download the quarterly report here.
To stay up-to-date on the latest trends and global green bond market developments, issue analysis & green gossip; subscribe to our Blog.
'Till next time,
Climate Bonds
* All charts and analysis are based on preliminary figures for Q3 2018 issuance volume and number of deals, pending the inclusion of Fannie Mae's September Green MBS deals and 32 deals still under assessment for inclusion in the CBI green bond database.
Note: Underwriters' Methodology and Data
Since Q3 2016, the underwriters league tables are collated using data from Thomson Reuters except for US municipal bonds which are calculated by the Climate Bonds Initiative. As such, ranking volumes differ from Thomson Reuters tables. Volumes may differ from other league tables as they include all ABS deals and US municipal bonds and exclude bonds which have less than 100% of proceeds going to environmental assets/projects or aren't within the Climate Bonds taxonomy.
Methodology notes from Thomson Reuters
Primary Issuance only

Underwritten transactions only

Thomson Reuters data excludes tax exempt Muni bonds

The global table includes transactions that mature at least 360 days after settlement, for international 18 months and above.

Transactions that mature or are callable/puttable less than 360 days after settlement are excluded, for international 18 months and above.

Self-funded straight debt transactions are excluded (excluding mortgage and asset securitizations) unless two or more managers/underwriters unrelated to the issuer are present. The unrelated firm in a self-funded transaction with only two Book runners in the syndicate will receive league table credit.

Transactions with an issue size of less than USD 1 million (equivalent) are included, sole led MTN take owns with a minimum size of USD 50m for core currencies are included, USD 10m for non-core.

Deals must be received within five business days of pricing to be eligible.

For a transaction to be green league table eligible, deals must have 100% of proceeds formally earmarked for green projects.

Issuances where there is a mixed use of proceeds designated across different projects, are not eligible for example, ESG bonds that combine both social and green projects.
For further queries please contact ian.willmott@thomsonreuters.com