New sectors & clearer definitions mark new version of global definitions bible for green issuers, investors and regulators
Next step in Climate Bonds 2018 program to prepare for a trillion $ market
Today, we are pleased to announce the launch of the updated Climate Bonds Taxonomy 2018: A Guide to Climate Aligned Assets and Projects.
To meet the demand in the green bond market, Climate Bonds has been expanding the scope of its Sector Criteria and reviewing its green bond definitions.
The updated Taxonomy is a milestone is this process. Next we will see the new Climate Bonds Standard V3 umbrella standard launched during Q4.
All this is in preparation for green finance market out to 2020 driven by new players, new products and increasing institutional investor interest.
What's new?
First launched in 2013 with periodic updates, the 2018 Guide incorporates a full update of both the content and the format. It is the most detailed climate aligned criteria available in the market and provides guidance to issuers, investors, governments and municipalities interested in addressing the negative impacts of climate change.
And, as if that weren't enough, we're launching both English and Chinese versions.

Why a Taxonomy?
The green bond market has been growing rapidly since 2015. Projections for 2018 issuance range in excess of $200bn. The milestone of $1trillion in green finance by end 2020 is increasingly being seen as a target for global finance and corporations to deliver.
Against this backdrop, issuers, investors and policy makers want improved guidance on what assets or projects should be financed with green finance, and what should not.
The Taxonomy identifies the assets and projects needed to deliver a low carbon economy and gives screening criteria consistent with limiting warming to 2-degrees; i.e. in-line with the Paris Agreement
The 2018 version of the Taxonomy has been developed based on the latest climate science including research from the Intergovernmental Panel on Climate Change (IPCC) and the International Energy Agency (IEA). 
It has also benefited from the input of hundreds of technical experts from around the world who work with us to identify assets and projects that are aligned with a 2-degree trajectory via sector specific Technical and Industry Working Groups.
The combination of these sources and research has been fed into the updated guide.
The Taxonomy can be used by any entity looking to identify which assets, projects or activities are compatible with a 2-degree trajectory. 
Reading the Taxonomy
The format of the Taxonomy has been greatly improved from the previous version allowing for easy interpretation. It uses a traffic light system to indicate eligible assets and projects.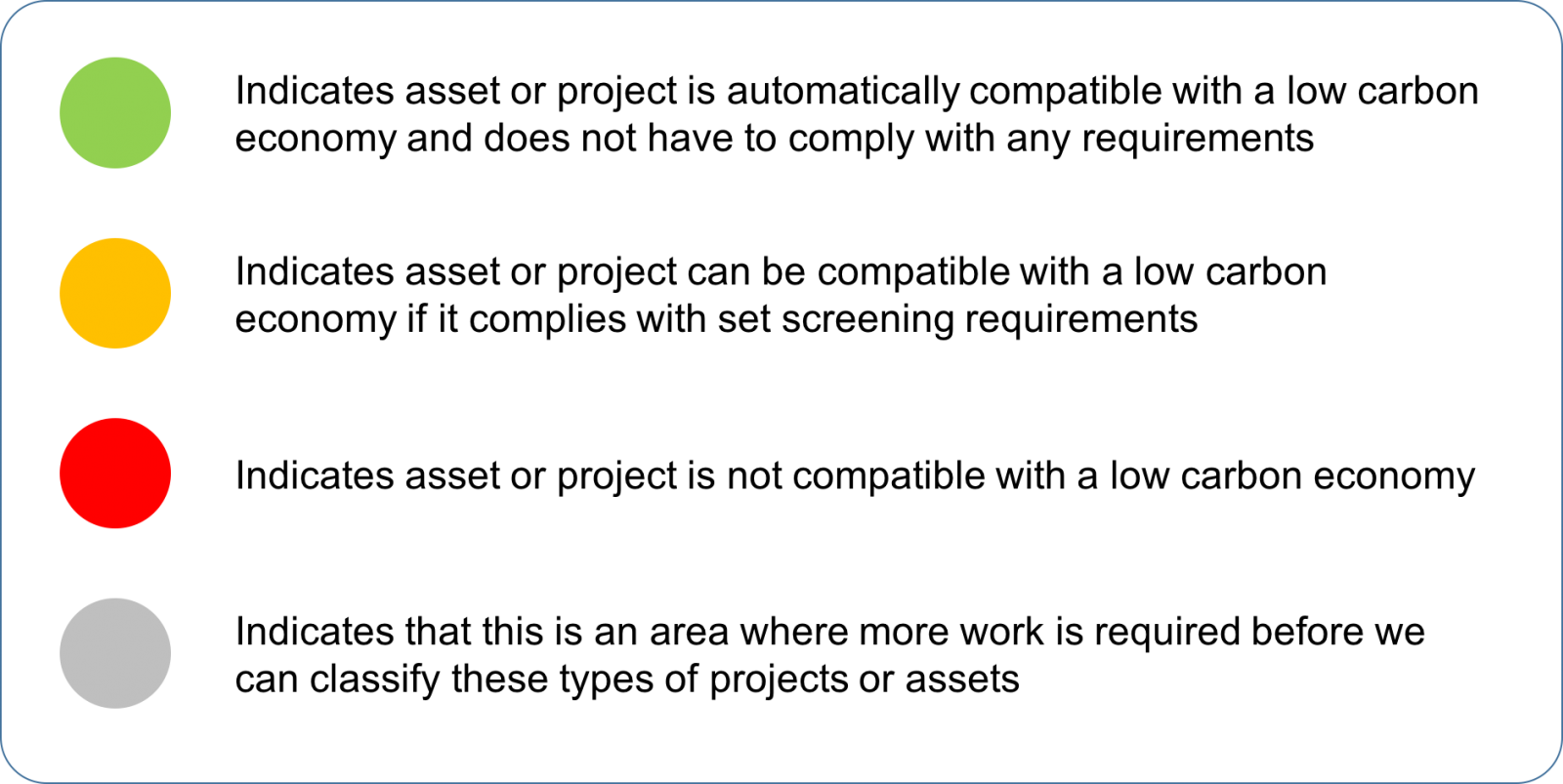 What does it cover?
The 2018 Taxonomy is split into 8 sectors:

Under each sector there are subsectors, asset types and asset specifics listed and the traffic light system indicates whether they are 2 degree compliant or not.
Who should use the Taxonomy?
The Taxonomy has been designed for all stakeholders of players in the market:
Issuers of green bonds, loans and other green debt products

Institutional investors

Verifiers, second opinion providers, advisers, green auditors and analysts

Regulators, policy makers, stock exchanges, treasury and finance departments
It offers guidance to green bond issuers about what can be included in green finance. It demonstrates to investors where they can invest in green and climate aligned investments. Governments and municipalities can use the Taxonomy to define and assess potential green infrastructure pipelines and it can be used to tag green assets on balance sheets.
Previous versions of the Taxonomy have been used as guidance or adopted by the French Government, index providers, second-party opinion providers and the ChinaBond Climate Aligned Bond Index.
Sean Kidney, CEO, Climate Bonds Initiative
"Improved guidance goes hand in hand with market frameworks that supports accelerated growth. The new Taxonomy is foundation for major stakeholders, regulators, banks and corporations to expand green programs, increase climate based investment and reflect the brown to green transition on their balance sheets."  
Hear it from the experts!
We are doing a tour of the Climate Bonds Taxonomy with webinars and seminars to give you the opportunity to hear about it and ask your questions live.
Brussels was lucky enough to get an exclusive preview on Monday.
New York is next up with Justine Leigh-Bell, Director of Market Development, and Sean Kidney, CEO, speaking at the following events:
London, Japan and other European dates will be announced soon, as will webinar times – watch this space!
If you would like to host a briefing in your home town, get in touch with Katie House to discuss.
'Till next time,
Climate Bonds