Posted: Feb 8, 2018 by Andrew Whiley
Indonesia: IDX Partners with CBI: Meanwhile EBA & PINA sign new MoU with CBI, join forces on green infrastructure investment
Twin events in Jakarta signal momentum on green finance

What's it all about?
Indonesian Bourse Joins Partner Program
The Indonesia Stock Exchange (IDX) has become the first Exchange in Southeast Asia to join Climate Bonds Initiative Partner Program.
IDX are the 6th exchange to partner with Climate Bonds in a diverse grouping that includes London Stock Exchange, Luxembourg Green Exchange, Deutsche Börse, Bolsa Mexicana and Nasdaq Nordics.
Sean Kidney, CEO Climate Bonds Initiative and Tito Sulisto, President IDX sealed the new partnership in Jakarta yesterday, jointly hosting a roundtable discussion for prospective Indonesian green bond issuers.
IDX are now part of of a leading group of exchanges who are committed to playing a greater role in the development of global and national green finance, with a particular focus on green bonds – which reached a record US$155.5bn issuance in 2017, up 78% on 2016 figure of US$87.2bn.
Who's saying what? 
Tito Sulisto, President, Indonesia Stock Exchange:
"IDX will be taking an increasing role in green finance as the market develops, both in Indonesia and across the region. Working with Climate Bonds Initiative gives us a unique opportunity to step up our efforts in this fast-growing market and help to meet Indonesia's green infrastructure and sustainable investment needs."
"This partnership will be instrumental in helping to increase engagement with key domestic and regional stakeholders and develop joint initiatives to spur market growth."
Sean Kidney, CEO, Climate Bonds Initiative:
"Indonesia Stock Exchange can play a vital role in bringing policy makers and market participants together, helping to shift investment and capital towards low-carbon assets and green projects in Indonesia. With this partnership we now have a strong foundation to work jointly and promote collaboration, knowledge sharing and the expansion of green finance and green investment."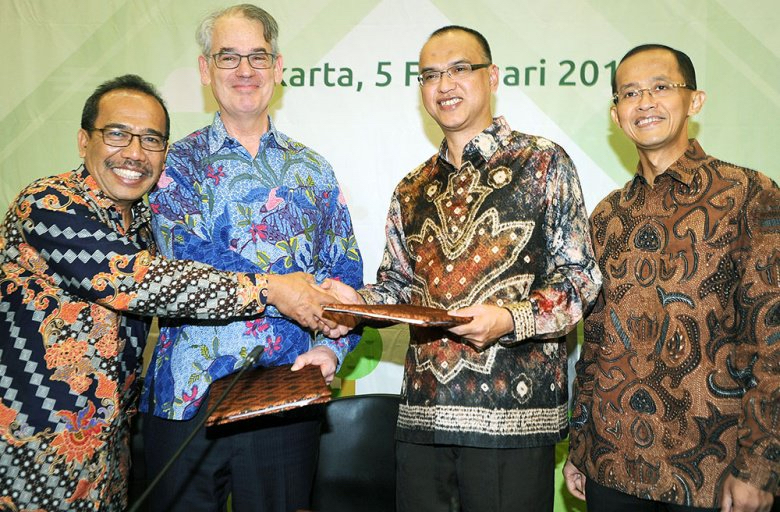 New MoU with EBA and PINA focused on green insfrastructure investment
On the same day green bonds advisory firm PT.EBA Indonesia (EBA), nand Pembiayaan Investasi Non-Anggaran Pemerintah (PINA) signed an Memorandum of Understanding (MoU) with Climate Bonds to cooperate on the promotion of Indonesian green infrastructure investment and in particular green bonds, to international investors.
Yudhi Ismail, President Director, PT.EBA Indonesia and Ekoputro Adijayanto, CEO, PINA Sean Kidney, CEO, Climate Bonds Initiative, signed the MoU in Jakarta on 5 February 2018 at a pre-event ceremony to the 1st Indonesia Securitization Summit
EBA focuses on promoting green bonds & asset securitization in the Indonesian market, PINA focuses on raising capital from alternative sources for the financing of national strategic infrastructure projects.
Who's saying what? 
Yudhi Ismail, President Director, PT.EBA Indonesia:
"Indonesia shares the same infrastructure challenges as many other nations, ensuring all new infrastructure is green and matching investors to the many opportunities that exist. Starting with the coming the 1st Indonesian Securization Summit, our work with Climate Bonds will help generate the investment momentum we need around green infrastructure."
Ekoputro Adijayanto, CEO, PINA:  
"This MoU is another step in achieving our mission to build alternative sources of investment for infrastructure projects that meet national priorities and development goals."
"We will now work together with Climate Bonds and EBA Indonesia on activities that contribute to increasing finance and international capital for environmentally sound infrastructure."
Sean Kidney, CEO, Climate Bonds Initiative:
"We are excited to launch this MoU in partnership with EBA Indonesia and PINA. If we are to create sustainable economic growth in Indonesia and address the nation's climate change goals and objectives, we need vast green infrastructure projects. This will require capital from overseas investors as well as domestic finance. The partnership is about getting capital moving into multiple green investments."
The Last Word
Both announcements have generated media interest, if your Bahasa Indonesian is good you can find some coverage here, here, here and here. 
As a G20 nation, the world's fifth largest carbon emitter and possessing the world's fourth largest population at around 260 million, Indonesia achieving its NDC and climate goals definitely counts.
The two agreements announced on Monday in Jakarta are small steps in a much larger and longer process for Indonesia, put them together with recent green finance developments in Japan, Hong Kong, Malaysia, Singapore, Fiji and even far way New Zealand, nations in the Asia Pacific are beginning to stir. 
'Till next time 
Climate Bonds