Posted: Jan 30, 2018 by Andrew Whiley
USD11.05bn in green muni issuance in 2017: Contributes 26% of US USD42.2bn total green bonds for the year
New York and California vie for No1 spot amongst top 10 states. NY wins!
Forecast for 2018 is USD20bn? as US states & cities link climate action and investment
New Green Muni Record
Annual US green municipal bond issuance reached a new record in 2017, passing the symbolic USD10bn mark. New York retook the lead from California and ended the year with bragging rights as the US state with the highest issuance of municipal green bonds during the year, and the highest cumulative issuance to date.
Climate Bonds Initiative is forecasting $20bn of green municipal issuance in 2018 as US cities and states ramp up climate action.
Our latest analysis of US muni issuance finds the total on December 31st stood at an annual record of USD11.05bn, up from USD7.11bn in 2016. New York has the highest 2017 total at USD4.49bn, and California followed with USD4.32bn for the year.
Internationally, our Climate Bonds 2017 Highlights report shows a whopping USD155.5bn in green bonds were issued in 2017 with the US leading the global Top 10 at USD42.4bn, almost double that of China (USD22.5bn) and France (USD22.1bn), in second and third place respectively. 
At USD11.05bn green municipal bonds comprise 26% of the 2017 US total muni issuance.
New York MTA a world scale issuer
A December, a USD2.17bn issuance confirmed the NY Metropolitan Transportation Authority (MTA) as the leading municipal green issuer to date, and was the sixth largest green bond issued globally during 2017.
Repeat green issuance from MTA totalling USD5.52bn (Climate Bonds Certified via our streamlined Programmatic option for ongoing issuers) helped New York regain first place over California.
Other notable issuance in 2017 included California Health Facilities Financing Authority, Massachusetts Water Resources Authority, State of Connecticut, Iowa Finance Authority, San Francisco BART, San Francisco PUC and New York State Finance Housing Authority.
You can find the full table here.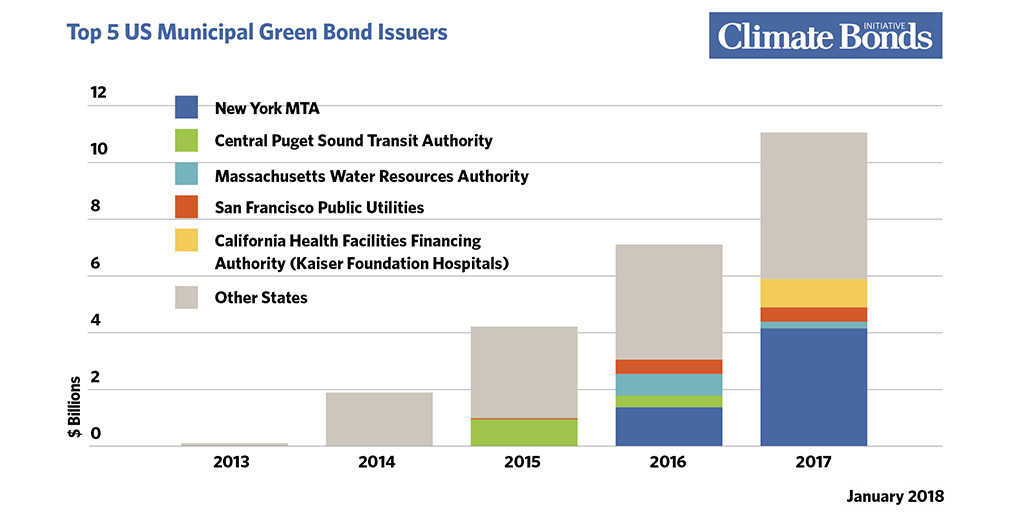 Water and Rail/Urban Transit dominate
Sustainable water management reached a cumulative total of $9.22bn at the end of 2017, raising over $3bn in the last two years.
Helped by smaller bond issuances in California, the transport sector has come close to passing sustainable water as the largest overall segment of municipal green bonds with more than $8.54bn cumulative issuance into the market. $5.39bn of this was issued in 2017 alone, more than double the $2.08bn issuance of 2016.
65% of the projects financing low carbon transportation come from New York, 16% from Washington and 15% from California.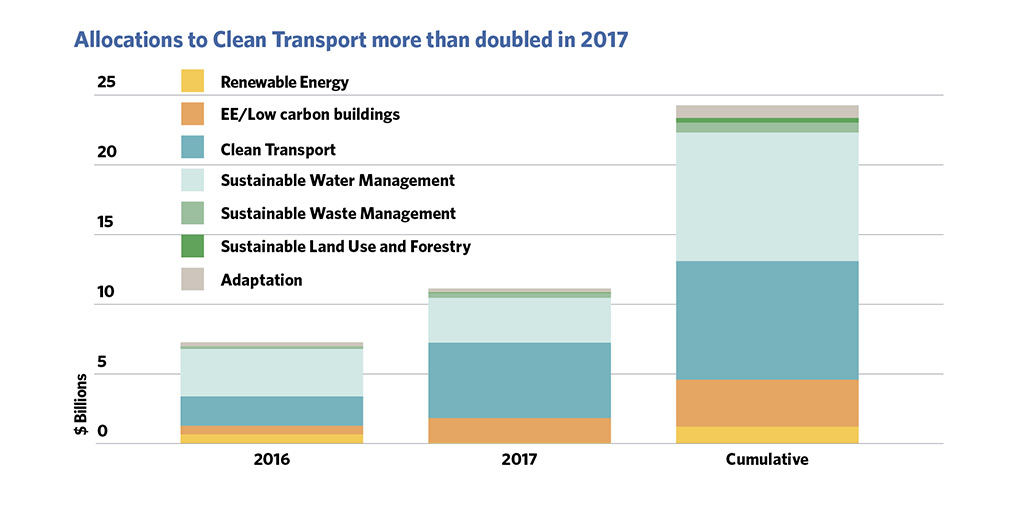 Who's saying what?
Patrick McCoy Director of Finance, New York MTA
"Everything the MTA does to operate an efficient public transportation system helps reduce the amount of carbon emitted into the atmosphere. CBI Certification provides a form of recognition for the sustainability embodied by operating our transportation network, and CBI Certified MTA bonds are a vital tool for its capital investment."
Justine Leigh-Bell Director of Market Development Climate Bonds Initiative
"It is encouraging to see US cities and states making strong commitments to implement their own climate action plans in light of Washington's retreat from the Paris Agreement. This will lead to a growing interest in leveraging green bonds as a valuable tool for States and cities to finance their climate strategies. Climate action plans will increasingly be connected debt capital raising strategies and infrastructure investment."
"The US continues to lead the way globally in green muni bond issuance. The next stage is to effectively link this new wave of green finance to real and measurable impacts."
"More than 10 new US municipalities entered the green muni market in 2017. We expect this trend to sharpen as institutional investors increasingly seek green investment products for their portfolios."
"New York and California have been leading issuers of green bonds, notably in key sectors such as water and transport."
"We expect we will see more examples of these types of investments following the State Treasurer's February Green Bonds Symposium and Governor Brown's September Global Climate Action Summit. California will look to position itself as the State paving the way on US climate action and working to stimulate sub national green issuance.
Flashback! 2013: Massachusetts was first to move
Massachusetts was the first state to enter the green muni market in 2013 with a USD100m green bond. Issuance in New York and California started in 2014, the first CA issuer being California State (USD300m) and the first NY issuer, New York State Environmental Facilities raising USD213.6m.
Examples of significant US municipal issuers to date include the Central Puget Sound Transit Authority who have raised USD1.34bn, Massachusetts Water Resources Authority with USD1.04bn, San Francisco Public Utilities Commission USD1.04bn and California Health Facilities Financing Authority USD983.4m.
Overall Muni Top Ten
After the big two, Massachusetts, Washington, Connecticut, Iowa, Indiana, Colorado, District of Columbia, and Illinois filled out the remaining Top Ten states for total cumulative issuance from 2013 to December 31st. 
Despite its smaller size, Massachusetts has maintained its position in the top three as the market has accelerated in the last two years.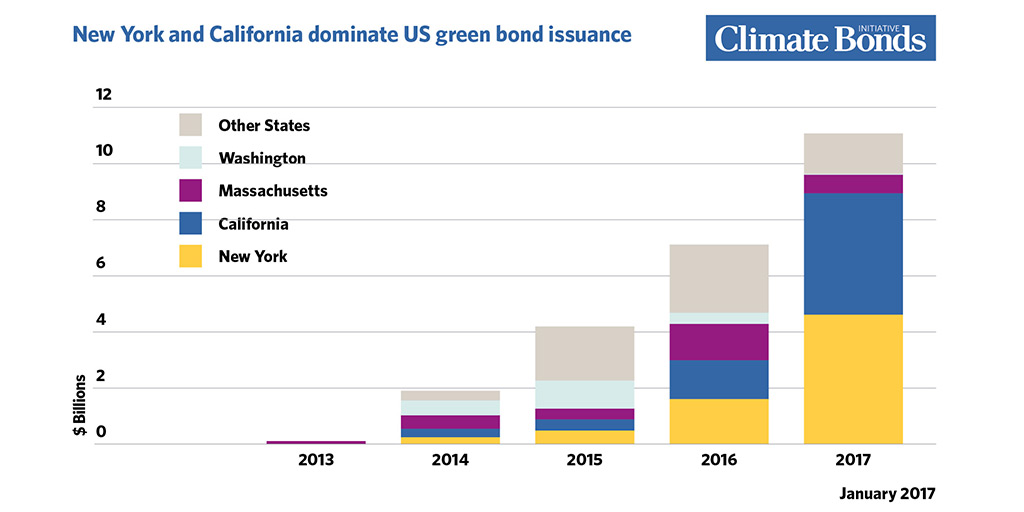 Top 10 US Municipal Green Bond Issuers cumulative total and rank table here.
The Last Word
USD20bn forecast for 2018
Climate Bonds is forecasting green municipal issuance to almost double in 2018 and reach USD20bn.
Drivers of growth will include:

Increasing emphasis on infrastructure spending and the need for need climate aligned infrastructure.
Increasing institutional investor demand for green and ESG based investments. Other sub national based climate actions will also have an impact. The two-day California Green Bond Symposium on Feb 27-28 convened by State Treasurer John Chiang is sure to have a ripple effect.
If you can make it to Santa Monica next month, don't miss Our Director of Markets Justine Leigh-Bell on the agenda.
Who will win in 2018? More green muni bonds are on the way, the race for 2018's top spot is well and truly on!
'Till next time,
Climate Bonds
Disclaimer: The information contained in this communication does not constitute investment advice in any form and the Climate Bonds Initiative is not an investment adviser.  Any reference to a financial organisation or debt instrument or investment product is for information purposes only. Links to external websites are for information purposes only. The Climate Bonds Initiative accepts no responsibility for content on external websites.
The Climate Bonds Initiative is not endorsing, recommending or advising on the financial merits or otherwise of any debt instrument or investment product and no information within this communication should be taken as such, nor should any information in this communication be relied upon in making any investment decision. 
Certification under the Climate Bond Standard only reflects the climate attributes of the use of proceeds of a designated debt instrument. It does not reflect the credit worthiness of the designated debt instrument, nor its compliance with national or international laws.
A decision to invest in anything is solely yours. The Climate Bonds Initiative accepts no liability of any kind, for any investment an individual or organisation makes, nor for any investment made by third parties on behalf of an individual or organisation, based in whole or in part on any information contained within this, or any other Climate Bonds Initiative public communication.