The MoU marks the start of a close collaboration between one of Korea's largest bond underwriters and Climate Bonds to build green finance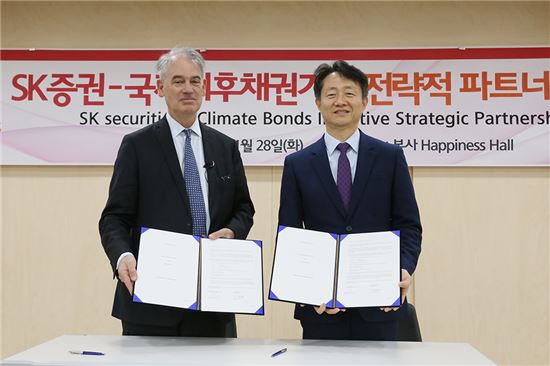 Seoul: Sean Kidney, CEO of Climate Bonds Initiative (left) and President Kim Shin-soo of SK Securities (right) at MoU signature ceremony.
What's it all about?
SK Securities and Climate Bonds Initiative have today signed a Memorandum of Understanding (MoU) in Seoul with the aim of advancing green economic development and expanding South Korea's nascent green bond market.
SK Securities is a leading Korean financial services firm and one of the largest bond underwriter in Korea and a member of SK Group, one of the top 3 conglomerates in Korea. The Korean bond market stands at USD 2 trillion - the third largest in Asia after China and Japan. 
Korea's snapshot 
Korea has already started actively implementing climate mitigation policies, becoming the first Asian country to implement an ETS in 2015. The G20 nation is among the most industrialised economies, has a large well-established debt market and a steady investor demand.
In combination, these features place Korea in an optimal position to become a leader in Asian green bond markets.
Korean Green Bond Market as of 26/11/17
Six green bonds have been issued by four different issuers to date (see table below), to the value of USD2.05bn since 2013. This places Korea in fifth place for green bond issuance in Asia - after China, India, Japan and Hong Kong.
Korean power utility KEPCO has just announced its intention to issue a green bond before the end of the year, however detail is limited at this stage.

Who's saying what?
Kwangyul Peck, Senior Advisor SK Securities
"The awareness and acceptance of climate change in Korea is one of the highest in the world. Korea is the only country in Asia with an ETS approved in 2012 and the Korean ETS is now the second largest in the world after the EU ETS comprising a 600-million-ton market with carbon price of USD20. Korea also has a well-developed multi-trillion bond market."
"Against this background, SK Securities in partnership with Climate Bonds, will work to help the Korean climate and green bond market become a major presence in the investment world."
"We want to lead on developing climate finance & green growth using our expertise and knowledge as the leading financial services provider in Korea."
Sean Kidney, CEO Climate Bonds Initiative
"There are enormous low carbon investment opportunities for South Korea. Implementation of climate plans, sustainable development and green infrastructure domestically and across Asia provides many directions to develop green finance."
"This Memorandum of Understanding is a sign of the future. In partnership with SK Securities, our two organisations will cooperate to build new markets and opportunities in Korea and throughout the region." 
The Last Word
Korea's outstanding unlabelled green bonds – bonds that are financing low projects but are not labelled as green - totalled USD18bn in 2017. This is one measure of the potential magnitude of Korea's green bond market.
However, the growth prospects could be greater given this measure does not capture financial institutions and commercial and residential buildings, which may be the source of a significant amount of future domestic green bond issuance.
Korea has been an early adopter of carbon pricing and ranks in the Asian Top 5 for green bond issuance. Its current market characteristics signal that it's also well positioned to move up in global rankings.
That's a firm platform upon which to build green finance as SK Securities has noted.
Together Climate Bonds and SK Securities hope to build from these foundations and have more market players in Korea and across the region shift capital allocations towards green finance.
We'll have more to say on Korea early in 2018, in the meantime, our congratulations to SK Securities, we look forward to a successful partnership. 
'Till next time,
Climate Bonds
Disclaimer: The information contained in this communication does not constitute investment advice in any form and the Climate Bonds Initiative is not an investment adviser.  Any reference to a financial organisation or debt instrument or investment product is for information purposes only. Links to external websites are for information purposes only. The Climate Bonds Initiative accepts no responsibility for content on external websites.
The Climate Bonds Initiative is not endorsing, recommending or advising on the financial merits or otherwise of any debt instrument or investment product and no information within this communication should be taken as such, nor should any information in this communication be relied upon in making any investment decision. 
Certification under the Climate Bond Standard only reflects the climate attributes of the use of proceeds of a designated debt instrument. It does not reflect the credit worthiness of the designated debt instrument, nor its compliance with national or international laws.
A decision to invest in anything is solely yours. The Climate Bonds Initiative accepts no liability of any kind, for any investment an individual or organisation makes, nor for any investment made by third parties on behalf of an individual or organisation, based in whole or in part on any information contained within this, or any other Climate Bonds Initiative public communication.