Posted: Oct 4, 2016 by Andrew Whiley

"The market needs strong leadership now. 2016 will be a tell-tale year for Canada. With leadership, 2016 can be the year Canada's green bond market really goes mainstream."
Michelle Brownlee, Smart Prosperity
Toronto Launch-Canada Edition 'State of the Market' Report
Yesterday saw the 2016 Canada Edition State of the Market report launch with our long term partner the Smart Prosperity Institute, kindly hosted by HSBC and supported by Corporate Knights.
What's it all about?
The report marks specific highlights from the current year, emerging trends, and identifies specific opportunities for market development of green bonds in Canada.
Highlights:
Canada is the 5th largest country of issuance in our climate-aligned universe with nearly C$33bn outstanding.

Both the full climate-aligned universe and the C$ 2.9bn labelled green segment of the Canadian market have grown over the past year, though less quickly than had been expected.

Leaders include the Province of Ontario with repeat issuance in 2016 and the European Investment Bank (EIB) with its Canadian-denominated green bond, indicative of investor demand in Canada.

The energy theme accounts for 61% of the climate-aligned universe while the transport theme accounts for 28%.

Other examples of green bond issuance in 2016 include CoPower's C$300,000 retail bond financing community-based clean energy projects.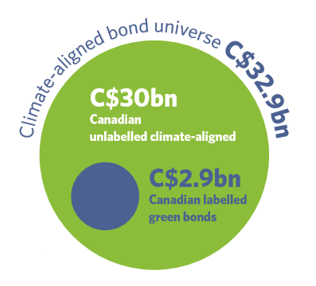 Canada's climate aligned bond universe
The new Canadian government is demonstrating strong leadership on climate action:
By committing to reduce GHG emissions by 30% below 2005 levels by 2030

Allocating funding in its 2016 Budget to invest in renewed infrastructure, climate mitigation efforts and to support clean innovation and new jobs.

Committing to green bond issuance – new Prime Minister Trudeau's mandate letter to the Minister of Infrastructure and Communities directed him to work with the Minister of Finance to prepare for "the launch of a new Canadian Green Bond"
Five Public Policy Action Points
The report identified five major public policy actions points that would help expand Canada's green bond market and urges national and provincial governments to act on their implementation:
Strategic issuance from public entities

Supporting market standards

Improved green bond risk-return profiles

Targeted tax incentives

Strong market signals from Central banks
Ontario leads, announces third green bond issuance at launch
Speaking at the launch, Yvan Baker MPP announced on behalf of the Minister for Finance that Ontario would issue its third green bond during the current fiscal year. 
Ontario made its inaugural CAD 500m green bond issuance exactly 2 years ago with the proceeds allocated to public transit projects, in particular the Eglinton Crosstown light rail in Toronto, as well as to other projects under their green bond framework including green buildings, clean energy and technology.
For its second CAD 750m green bond issued earlier in 2016, the Province will use the bond's proceeds to finance eight environmentally-friendly infrastructure projects including the Eglinton Crosstown, the GO Transit Regional Express, Next Bus Rapid Transit and other green projects. 

New Ontario infrastructure 
Who's Saying What?
Michelle Brownlee, the report's co-author and Director of Policy at the Smart Prosperity Institute.


"Green bonds have the potential to be a key tool to help finance Canada's transition to a low-carbon economy and to meet global, national and local sustainability objectives. The market needs strong leadership now. 2016 will be a tell-tale year for Canada."
"With leadership, 2016 can be the year Canada's green bond market really goes mainstream."
"With a number of major investments required in Canada in the coming years in the areas of clean water, public transit, clean infrastructure, climate adaptation, climate mitigation and eco-innovation, now is the time to understand how green bonds can be used to raise capital."
Sean Kidney, CEO Climate Bonds Initiative


"Canada has a unique opportunity advance on green finance. Large pension fund investors, and a well-developed banking and insurance sector can act as building blocks for a domestic green bonds market, to help Canada meet its climate objectives and emissions goals."
"This report identifies the key policy shifts that advance investment in smart, clean and green infrastructure on a national scale using green bonds as a financing mechanism."
While Canadian issuance is not as large as was expected – the stage is set for growth…
2016 remains an important opportunity for the federal and provincial governments to take action and show the leadership necessary to accelerate market growth.
Ontario is now well in the lead with plans to issue its third green bond.

The Last Word
This is our 5th State of the Market Report and our 5th Canadian edition of the report. Thanks to the foresight of the Smart Prosperity Institute, Canada was the first special market report from Climate Bonds way back in 2011. 
Together, we are committed to growing green finance opportunities and sustainable investment in Canada.
PS: Let's not forget Canadian born banker Mark Carney and his Berlin call to action on green bonds and green finance; see our last blog for the highlights.
Till next time,
Climate Bonds.
Disclaimer: The information contained in this media release does not constitute investment advice and the Climate Bonds Initiative is not an investment adviser. Links to external websites are for information purposes only. The Climate Bonds Initiative accepts no responsibility  for content on external websites.
The Climate Bonds Initiative is not advising on the merits or otherwise of any investment. A decision to invest in anything is solely yours. The Climate Bonds Initiative accepts no liability of any kind for investments any individual or organisation makes, nor for investments made by third parties on behalf of an individual or organisation.