Posted: Jul 26, 2017 by Andrew Whiley
Leading hydropower operator China Three Gorges Corporation (CTG) has issued its first offshore green bond, raising EUR650 million for wind projects in Germany & Portugal
Strong Investor Demand
The June issuance from CTG attracted investors worldwide and saw 3.1 times oversubscription, bringing in price benefits alongside its positive environmental impact.  
The bond was also the first from a Chinese issuer to be Certified by the Climate Bonds Initiative, and also the first Euro-denominated green bond from a Chinese corporate.
CTG's issuance has attracted a wide base of investor support with buyers from Germany, France, Switzerland, UK, Italy, Norwayy, Netherlands, Portugal, Spain, UAE, Singapore, South Korea, Japan and Malaysia.
In terms of price benefits, the coupon rate of CTG's euro green bond was set lower than that of the seven-year ordinary euro bond it issued in 2015, due to lower interest rate environment and tighter spreads, translating into an annual cost savings of EUR3 million, and an aggregate amount of EUR21 million, equivalent to RMB150 million, can be saved throughout the bond duration.
Rise in off-shore issuance
The seven-year Certified Climate Bond was listed on the Global Exchange Market of the Irish Stock Exchange (ISE).  Due to the fully state-owned background of CTG, the green bond was rated A1/A+ by Moody's and Fitch Ratings, with coupon rate of 1.3%.
EY has provided an external review and issued an Assurance Report on the issuance.
CTG is no stranger to the green bond market: it has issued in China's onshore market CNY6 billion of green corporate bonds and a CNY2 billion green MTN.
This latest bond is the debut offshore green bond issuance of China Three Gorges. It follows in the footsteps of others who have tapped international green bond markets over the last two years: Agricultural Bank of China, Bank of China, (both listing their greenbonds on the LSE), Xinjiang Goldwind Science & Technology and Zhejiang Geely Group.
The total issuance size of offshore Chinese green bonds amounts to nearly USD6 billion, compared to over USD41 billion of onshore green bond issued.  
Zhejiang Geely Group, owner of the London Taxi Company attracted worldwide attention in 2016 with the issuance of a $400m green bond to fund development of a new low emission model of the iconic London black cab.
Chinese issuers going offshore showcase the process of green bond issuance in the international market and at the same time, help engage international investors, building familiarity with Chinese issuers. The latest China-HK Bond Connect Scheme opens up China's bond markets to international investors, complements China's effort to deepen the domestic green bond market.
First Chinese green bond to gain Certification under the Climate Bonds Standard
As disclosed in the prospectus, CTG will allocate the proceeds to two wind power projects, including an offshore wind project in Germany and onshore wind farms in Portugal. It is estimated that these two projects can reduce up to 1,250,000 and 960,000 tonnes of CO2 emission respectively.
This use of proceeds meets the Climate Bonds Standard Wind Criteria, and CTG has also complied with other requirements from the Climate Bonds Standard on project selection and evaluation process, use/management of proceeds, and regular reporting.
EY, an Approved Verifier under the Climate Bonds Standard, provided assurance on CTG's compliance with the Standard. All the requirements around international best practice in green bond issuance were met.  
Certification and international markets
The Climate Bonds Standard and Certification Scheme aims to provide the green bond market and institutional investors with the trust and assurance in the environmental credentials of a bond. The Standard convenes experts around the world to develop science-based criteria about "what is green" and guidance on how to assess the climate credentials of assets and projects.
The associated Certification scheme provides assurance on environmental credentials of green bonds with associated verification, transparency and disclosure requirements around use of proceeds.
The Certification allows Chinese issuers to clearly demonstrate to overseas investors that their bond meets international industry standards for environmental integrity. It also makes it easier for international investors to identify and invest in quality green bonds from Chinese issuers, reducing the need for expensive due diligence.
Certification is increasingly being adopted in major green bond markets. The chart below reflects the 2016 status.
The path to Certification
Chinese issuers of green bonds need to obtain domestic Chinese regulatory approval to issue and label their green bonds, which is similar to the process under the Climate Bonds Standard & Certification Scheme.
Chinese green bond issuers can receive the Climate Bonds Certification with only a small amount of additional preparation and administrative work. The Certification can be done in parallel with domestic approvals, or it can be done after the domestic process is finalised.
The process is summarised below.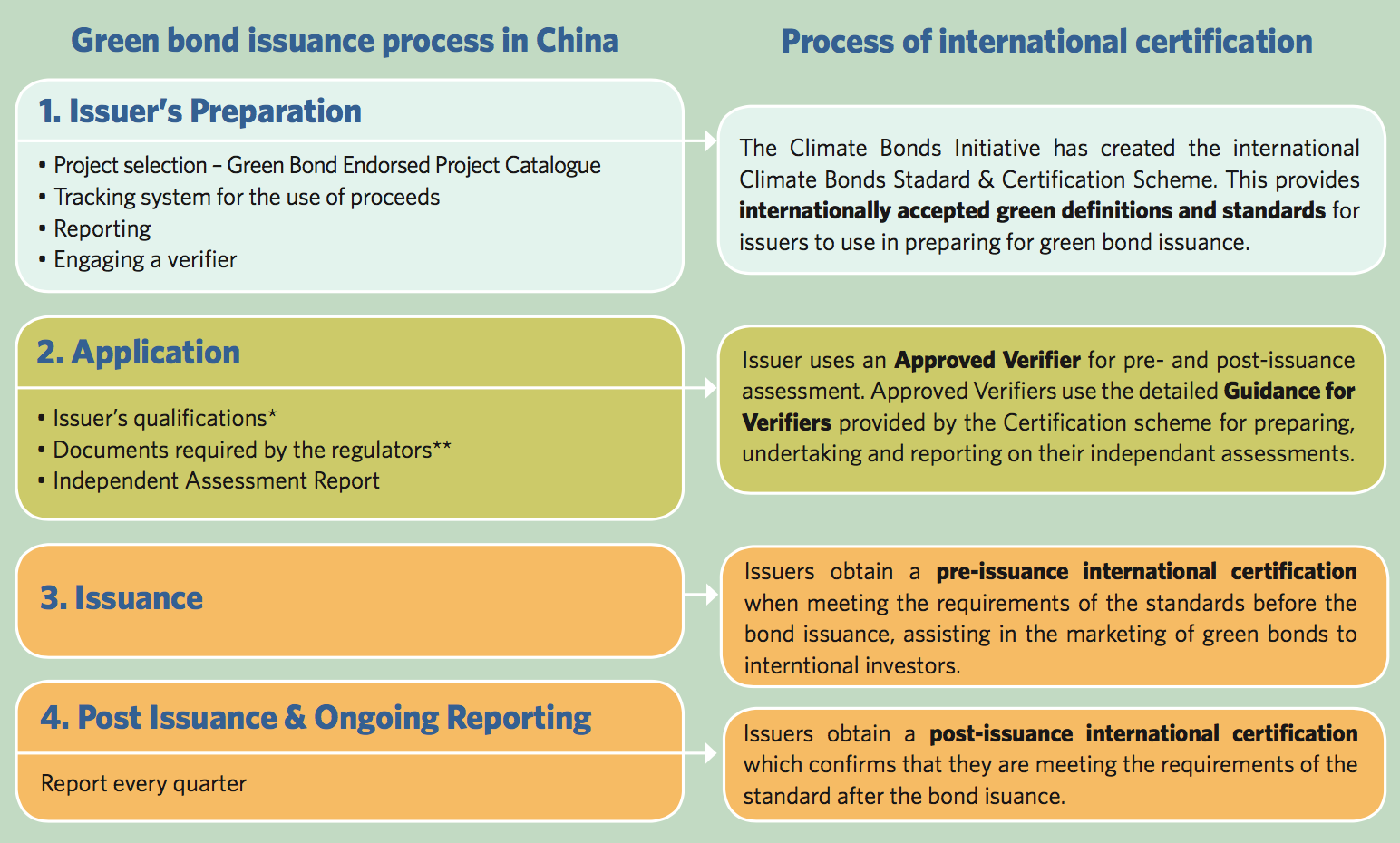 The Climate Bonds Standard & Certification Scheme also provides detailed guidance and procedures for approved verifiers to conduct third-party verification of green bonds.
The standardised approach removes the need for verifiers to develop their own methodologies or make subjective decisions on the eligibility of the assets being financed by the green bond. This reduces the effort and costs for issuers and verifiers for them to go through the verification process.
Going global
For Chinese green bond issuers that plan to go global, aligning with a credible international standard gives confidence in the international green bond market on the environmental credentials of the bonds. 
Put all the parts together, well governed companies, quality bond offerings, internationally recognised certification, then the shape of China's offshore green bond opportunity begins to emerge. 
'Till next time
Climate Bonds
​
Note: Original text published in Chinese. English translation by Ivy Lau and Lily Dai from Climate Bonds with additional editing by Andrew Whiley.
Disclaimer: The information contained in this communication does not constitute investment advice in any form and the Climate Bonds Initiative is not an investment adviser. Any reference to a financial organisation or debt instrument or investment product is for information purposes only. Links to external websites are for information purposes only. The Climate Bonds Initiative accepts no responsibility for content on external websites.
The Climate Bonds Initiative is not endorsing, recommending or advising on the financial merits or otherwise of any debt instrument or investment product and no information within this communication should be taken as such, nor should any information in this communication be relied upon in making any investment decision.
Certification under the Climate Bond Standard only reflects the climate attributes of the use of proceeds of a designated debt instrument. It does not reflect the credit worthiness of the designated debt instrument, nor its compliance with national or international laws.
A decision to invest in anything is solely yours. The Climate Bonds Initiative accepts no liability of any kind, for any investment an individual or organisation makes, nor for any investment made by third parties on behalf of an individual or organisation, based in whole or in part on any information contained within this, or any other Climate Bonds Initiative public communication.