Posted: Jun 28, 2017 by Andrew Whiley
CBI latest report focusses on post-issuance, issuer best practice, impact reporting trends and steps to improve market integrity
What's it all about
The Climate Bonds Initiative has today released its latest report: Post Issuance Use of Proceeds – Trends and Best Practice  in Frankfurt am Main at a Berlin Hyp green bonds event hosted by Crédit Agricole.
The report has been published in partnership with Berlin Hyp, BlackRock Inc., and Luxembourg Green Exchange and is Climate Bonds Initiative's first in-depth analysis of current practice around post-issuance reporting of green funding and monitoring of green bond allocation.
Its launch marks another stage in Climate Bonds work in building market integrity around green capital investment, ranging from science based standards and issuer guidance to national development programs and climate finance advocacy.
The new report sheds light on a subject on which there has been little research and analysis to date.
Dataset
Post-Issuance Use of Proceeds – Trends and Best Practice contains data from 146 issuers (Corporate 43%, Municipal 38%, Commercial Banks 12%, Government agencies and entities 4% and ABS 3%) and 191 green bonds issued up to 1 April 2016 to the value of USD 66bn (Figure 1).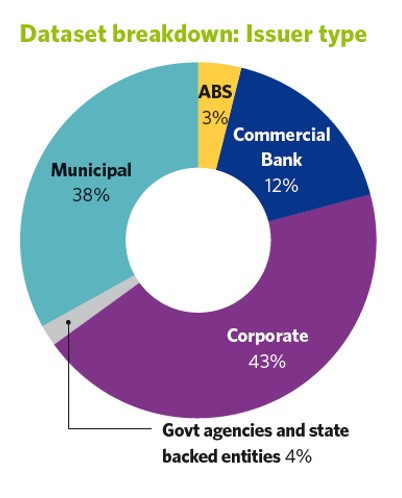 (Figure 1)
Overall findings at a glance
The study highlights that most issuers provided a degree of public information after issuance, with 74% of bonds complying by number or 88% by value within the dataset (Figure 2).
The report also provides examples of best practice by country and by issuer.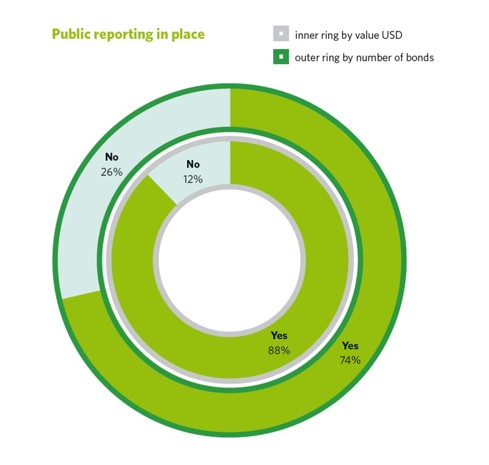 (Figure 2)
Impact reporting
The report reflects that impact reporting is a growing feature of reporting. It's is now in place for 38% of bonds (Figure 3 below).
This trend is increasing year on year: rising from 33% in 2013 to 47% in 2016.
The term 'impact reporting' indicates any type of reporting that looks to quantify the climate or environmental impact of a project or asset numerically.
Impact reporting can be extremely useful to investors when looking to measure the positive externalities through their investments.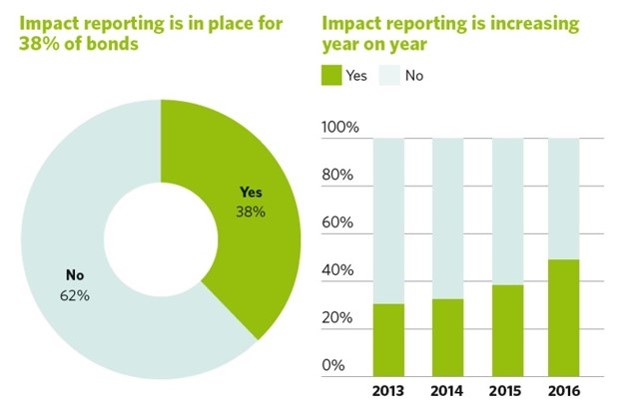 (Figure 3)
Further detail on the various metrics used to quantify impact reporting in contained in the report.
Key recommendations
Whilst observing an improving trend in transparency, Post-Issuance-Use of Proceeds – Trends and Best Practice makes recommendations for the market to maintain its integrity and build investor confidence as it grows towards a USD $1tn by 2020 green finance ambition.
Core recommendations are set out for both issuers and regulators around:
Comparability

Meeting recommended guidance

Failure to report

Leadership by large issuers

Regulator market guidelines

Common databases and basic reporting templates
Who's saying what?
Gero Bergmann, Member of the Board of Management of Berlin Hyp:
"Transparent and solid reporting are a robust foundation for integrity in the green bond market. If we want to continue sustainable growth in the market and contribute to mobilizing urgently needed private capital for environmental & climate-related projects, we should secure investors' confidence in green bonds by supporting quality in green bond reporting. This report clearly assists in achieving that goal."
Ashley Schulten, Director & Head of Climate Solutions, Fixed Income, BlackRock:
"Impact reporting has been a focus of our work on Green Bonds at BlackRock for several years. 
"Today, this Use of Proceeds report from Climate Bonds Initiative reflects the tremendous progress the market has made in this area. "  
"The development of harmonized reporting guidelines supported by the Green Bond Principles, increased comfort from issuers around disclosure, and positive feedback from investors has paved the way to a significant pick up in quality of environmental reporting on Green Bonds."  
Jane Wilkinson, Head of Sustainable Finance at Luxembourg Stock Exchange:
"Transparent and comparable reporting on use of proceeds and project impact is a critical component to boosting investor confidence, hence building scale in the green bond market. This Climate Bonds report reflects there are still areas for improvement." 
"The mandatory requirements for green bonds admitted to the Luxembourg Green Exchange (LGX) is a fantastic way for LGX to promote more widespread reporting. And issuers have embraced this initiative. To date, all green bonds displayed on LGX have submitted post-issuance reporting within the relevant reporting deadline."
"Regular reporting and consistent disclosure are amongst the practices that the report recommends should be more widely embedded in green bond markets."  
The Last Word
We leave the last word to Sean Kidney:
"International green bond markets need to accelerate in depth and diversity to meet country climate finance goals. This report reflects the best practice examples by market leaders and where progress is still needed."
"Wider adoption of its recommendations as the standard by regulators, issuers and potential issuers will strengthen market guidance."
"This give institutional investors the confidence to commit long term capital allocations at the scale now required to meet global emissions reduction targets."
Download the full report here.
Till next time,
Climate Bonds
Disclosure: Several organisations named in this communication are Climate Bonds Partners. A full list of Partners can be found here.
Disclaimer: The information contained in this communication does not constitute investment advice in any form and the Climate Bonds Initiative is not an investment adviser.  Any reference to a financial organisation or investment product is for information purposes only. Links to external websites are for information purposes only. The Climate Bonds Initiative accepts no responsibility for content on external websites.
The Climate Bonds Initiative is not endorsing, recommending or advising on the merits or otherwise of any investment or investment product and no information within this communication should be taken as such, nor should any information in this communication be relied upon in making any investment decision. 
A decision to invest in anything is solely yours. The Climate Bonds Initiative accepts no liability of any kind, for any investment an individual or organisation makes, nor for any investment made by third parties on behalf of an individual or organisation, based in whole or in part on any information contained within this, or any other Climate Bonds Initiative publicly communication.