Posted: Jun 14, 2017 by Louise Patzdorf

Résultats du T1 2017
Le volume des obligations vertes au premier trimestre 2017 en provenance de France a dépassé la barre des 11 milliards de dollars, tandis que les États-Unis obtiennent la deuxième position avec 3.1Md$.  
Un élan français sans précédent: le podium des souscripteurs d'obligations vertes au T1 2017 accueille trois français!
Depuis quelques années, le Crédit Agricole CIB a régulièrement figuré parmi les 3 plus importants souscripteurs d'obligations vertes; cependant, c'est la première fois qu'il partage le podium avec deux de ses pairs français, à savoir BNP Paribas et Natixis.
Tous trois ont participé à la souscription du plus important emprunt obligataire vert émis à ce jour, l'OAT verte de l'État français, s'élevant à un montant de 7Md€ (lancée en janvier 2017). Cela leur a notamment permis d'occuper cette position phare au T1 2017.
Classement des souscripteurs d'obligations vertes - T1 2017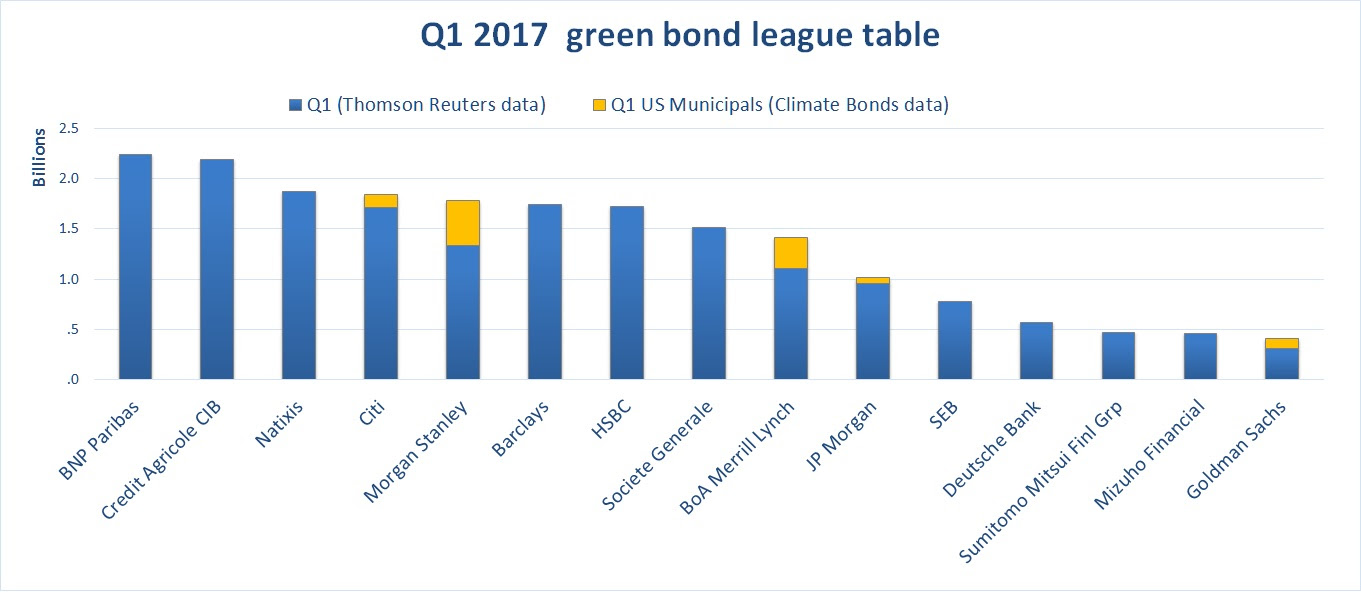 Consultez ce lien pour le classement T2 2017; il sera disponible à partir du mois prochain.
Les classements antérieurs y sont également communiqués.
Le mot de la fin…
Pour un retour aux évènements français qui nous ont marqué: nos publications de septembre 2016, décembre 2016 et février 2017.
Le nouveau chef d'État français Emmanuel Macron travaille sans relâche afin de "Rendre à notre planète sa grandeur", et nous sommes heureux de proclamer une fois de plus…
Vive la France!
A bientôt!
Climate Bonds 
Méthodologie et remarques à propos des données
Depuis le troisième trimestre 2016, le classement des souscripteurs d'obligations vertes est effectué à partir des données de Thomson Reuters, à l'exception des obligations municipales américaines, qui est calculé par la Climate Bonds Initiative.
La méthodologie détaillée de Thomson Reuters est disponible ici.
Pour d'autres questions, merci de bien vouloir contacter  ian.willmott@thomsonreuters.com
Disclaimer: The information contained in this communication does not constitute investment advice in any form and the Climate Bonds Initiative is not an investment adviser.  Any reference to a financial organisation or investment product is for information purposes only. Links to external websites are for information purposes only. The Climate Bonds Initiative accepts no responsibility for content on external websites.
The Climate Bonds Initiative is not endorsing, recommending or advising on the merits or otherwise of any investment or investment product and no information within this communication should be taken as such, nor should any information in this communication be relied upon in making any investment decision. 
A decision to invest in anything is solely yours. The Climate Bonds Initiative accepts no liability of any kind, for any investment an individual or organisation makes, nor for any investment made by third parties on behalf of an individual or organisation, based in whole or in part on any information contained within this, or any other Climate Bonds Initiative public communication.