Posted: Apr 21, 2017 by Sean Kidney
Latest OECD report studies green bonds' potential to finance the transition to a low-carbon economy. Examines policy measures to grow the market from billions to trillions over next decades.
What's it all about?
On Wednesday the OECD (Organisation for Economic Co-operation and Development) released a new report: 'Mobilising bond markets for a low-carbon transition'.
What does the report cover?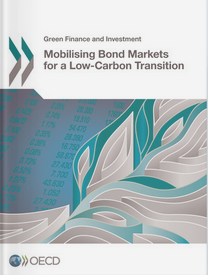 The report provides an excellent overview of:
-        Global green bond market developments to date
-        Barriers to growth
-        Policy tools that can be applied to scale the market further
-        Quantitative scenarios for green bond market growth from 2015 to 2035.
We recommend you take a look at the full thing, its only 100+ pages, but in case you're short of time, we've extracted a few high-level takeaways.
The potential: US$ 4.7-5.6 trillion + of green bonds in 2035
The OECD estimates that the green bond market could ramp up to a whopping US$4.7-5.6 trillion in outstanding bonds by 2035, with annual issuance reaching a healthy US$620-720 billion.
These estimates are based on a two-degree scenario; the most central areas of low-carbon investments (energy, energy efficiency and low-emission vehicles), and the potential growth prospects of the four largest bond markets (China, the European Union the United States and Japan).
While green bonds originating from the first three nations are familiar to Blog readers, Japan is a relative newcomer with the Ministry of Environment only just releasing new Green Bond Guidelines.
The future global green bond potential is even larger when we add green bonds for climate adaptation, and the issuance from economies outside the big four bond markets; already we have seen issuance from a total of 39 countries from all corners of the globe.
How to move from billions to trillions: standardisation is crucial
An excellent snippet from the report: "Convergence towards commonly accepted definitions will be essential to maximise the effectiveness, efficiency and integrity of the market."
Policy support: applying existing tools to green
In the words of Robert Youngman and Hideki Takada, OECD Environment Directorate, commenting on the report:
"A key challenge for policy makers is to understand how to make best use of available policy levers to help accelerate this shift towards low-carbon investment."
This Blog Post goes into more detail. The principal author was Christopher Kaminker.
The Last Word
We hope to see this report stimulate further green bond action from governments around the world.
At G20 level in maintaining the momentum on green finance from the Hanzhou Summit  and the GFSG Synthesis Report.
In OECD member countries and beyond – as the report makes clear – policy support is crucial for green bonds to help meet global low-carbon investment needs.
You can be a part of further discussions on the topic in OECD's upcoming webinar:
'Green finance and investment: Using policy levers to accelerate green capital flows'
13:30 CEST on 28 April.
Registration details are here.
We'll be listening in, we hope you can too.
'Till next time,
Climate Bonds
Disclaimer: The information contained in this communication does not constitute investment advice in any form and the Climate Bonds Initiative is not an investment adviser.  Any reference to a financial organisation or investment product is for information purposes only. Links to external websites are for information purposes only. The Climate Bonds Initiative accepts no responsibility for content on external websites.
The Climate Bonds Initiative is not endorsing, recommending or advising on the merits or otherwise of any investment or investment product and no information within this communication should be taken as such, nor should any information in this communication be relied upon in making any investment decision. 
A decision to invest in anything is solely yours. The Climate Bonds Initiative accepts no liability of any kind, for any investment an individual or organisation makes, nor for any investment made by third parties on behalf of an individual or organisation, based in whole or in part on any information contained within this, or any other Climate Bonds Initiative public communication.