Posted: Dec 18, 2015 by Sean Kidney
Corporate green bonds
BPCE, one of the largest banks in France, issues €300m ($328.6m) inaugural green bond -  (1.125%, A/A2, 7yrs)
BPCE, France's second largest bank, issued its inaugural bond of €300m for renewable energy projects in the country. Rated as A (S&P, Fitch) and A2 (Moody's), the bond comes in €300m ($328.6m), offering 1.125% coupon and 7-yr tenor. Natixis is the sole underwriter for this issuance.
The bond was over-subscribed at the total of €1.2bn by over 100 investors demonstrating continuing investor excitement for green bonds.  
In addition to the ex-ante second review prepared by Vigeo, there will also be annual third-party verification by an auditor on tracking proceeds and compliance of projects with selection criteria.
The bank also commits to prepare a dedicated green bond report on proceeds allocation every year, disclosing a list of eligible projects, outstanding and allocated proceeds amount, output and impact indicators of eligible projects, financing vs refinancing.
The bond has a special setup as proceeds will be managed and allocated to green projects/assets, not by the issuer but its subsidiaries. BPCE will grant proceeds as loans to Natixis Energeco, BPCE's subsidiary, which will allocate the proceeds to its own green pure-play loan program, only targeting renewable projects in France. The projects include wind, solar PV, hydro and biomass (though it would have been good to know if the biomass uses certified feedstock; for example FSC certified wood). 
For those with concerned with ESG factors Natixis Energeco will further select eligible projects based on its own ESG Selection Criteria, including environmental impacts, local impact, ESG due diligence, business practices' review, supplier's audit, labour rights and social impacts, and underlying assessment methodologies and assumptions.
Great work BPCE, and welcome to green bonds! 
Corporate & development banks: Repeat issuance flooding the green bond market
We have been seeing more repeat issuance of green bonds. Over a quarter of the issuers have come back to the market!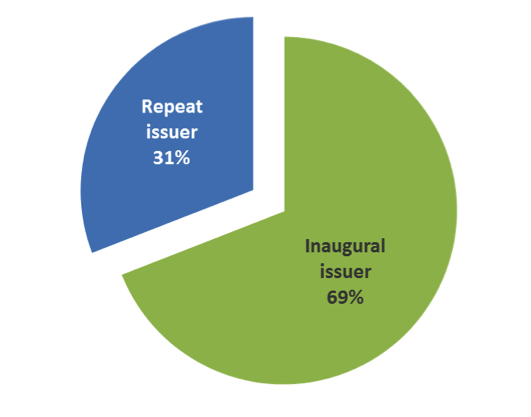 This is also prominent over the last week with the following 5 repeat green issuances:
Another green bond by Credit Agricole CIB: BRL30m ($7.8m) dual-currency Uridashi bond (10.32%, 3 yrs)! This dual-currency bond is issued in Brazilian real but will pay in Japanese yen. Offering a coupon of 10.32%, this bond will mature in 3 years and solely underwritten by the bank itself.
IFC issued ZAR 1bn ($66.33m) green bond, the first green bond to be listed in JSE. The bond offers a coupon of 8.72% and a 9-yr tenor, solely underwritten by the Rand Merchant Bank. We're excited to see green bonds picking up in emerging markets!
IDR 170bn ($12m) Uridashi green bond by European Bank for Reconstruction and Development (EBRD). This is its 10th issuance of the year, pushing the total 2015 issuance from EBRD to $124.9m. 
Repeated green bond issuance by KfW at SEK 1bn ($117.9m) under its Green Bond - Made by KfW program. This issuance comes with a 0.586% coupon, AAA rating and a 5-yr tenor. Deutsch Bank is the sole lead manager for this bond. As other green bonds by KfW, proceeds will be used to finance renewable energy projects.
Africa Development Bank (AfDB) issued its second green bond at $500m! See more details below.
Development Banks:
Africa Development Bank issued its 13th green bond at $500m, its first issuance this year (1.375%, AAA/AAA/Aaa, 3yrs)
Another boost on green bonds from emerging economy! Africa Development Bank (AfDB) issued its first 2015 green bond of $500m, marking its 13th green bonds put in the market since its first issuance back in 2010. The bond offers a 1.375% coupon, 3-yr tenor, and the ratings of AAA (S&P and Fitch) and Aaa (Moody's). Barclays, Credit Agricole CIB, and Deutsch Bank are the joint lead managers for this issuance. The bond is based on the Green Bond Framework, which CICERO provided a second review for.
Issued under its green bond program, proceeds of this bond will eligible project on:
Renewable energy generation
Energy efficiency (i.e. in lighting, grid, or vehicle)
Biosphere conservation (e.g. reduce emissions from reforestation and degradation of ecosystem)
Solid waste management (e.g. waste-to-energy)
Industrial processes
Fugitive emissions and carbon capture
Urban development (e.g. urban water drainage systems improvement)
Water supply and access (i.e. water saving measures)
Although this is the first new GB issuance by AfDB this year, the bank has been keeping up well with reporting on existing green bond program. It issued a second annual Green Bond Newsletter back in July, disclosing proceeds allocation of outstanding green bonds, project portfolio breakdown by sector and country, case studies for selected projects, and project impacts (i.e. GHG avoided and specific impact indicators). Fantastic disclosure for investors.
Welcome back to the green bond market AfDB!
Sustainability bonds (thematic bonds):
Schneider Electric tapped another €100m ($109.69m) climate bond to its inaugural €200m ($227.6m) issuance (1.841%, 10 yrs)
The French energy company, Schneider Electric, tapped another €100m climate bond to its inaugural €200m ($227.6m) issuance. Both taps offer 1.841% coupon and tenor of 10 yrs, while the latest tap is issued as private placement. Credit Agricole CIB and Natixis are the lead managers for both of these issuances. The inaugural issuance, rated as A- (S&P) and A3 (Moody's), is issued in a partnership with AXA Investment Managers (AXA IM), Mirova and Neuflize OBC Investissements. Vigeo also prepared a second review of the transaction in alignment with Green Bond Principles. – though being an R&D bond we don't actually know the green credentials of assets – but it's an extremely important area to finance in the coming decades.
The company commits to report ex-ante estimates on impacts, annual report and verification on proceeds allocation.  Proceeds of this bond will support Schneider's R&D program in developing new technologies in the area of energy efficiency, connection of renewable energy solutions to grid, low-greenhouse gases content, and low resource intensity. We would love to see more information on project selection process and criteria for the use of proceeds and see how closely this is to be a green bond.
Welcome to the climate bonds arena, Schneider!
Rhode Island Infrastructure Bank issued its second thematic bond of $22.64m for water and building projects (0.77 – 3.19%, 2-30 yrs)
The state agency Rhode Island Infrastructure Bank, formerly known as Clean Water Finance Agency, issued its second thematic bond of $22.64m to finance safe drinking water projects and an office relocation. This sustinability bond (although sold as green we can't find the details to qualify the green claim) closely follows its first green bond ($56m) issued earlier this year. 
The bond is rated as AAA by S&P and Fitch, issued across 21 tranches, offers coupons between 0.77% - 3.19% and tenors ranging from 2 to 30 years. Raymond James and Associate is the sole lead manager for this issuance.
The agency commits to report proceeds allocation in its annual report until all proceeds have been allocated. Proceeds of this bond will support two projects – replacement of water storage tank in town of Cumberland; and purchase and rehabilitation of the Central Operations Facility for Providence Water, including a water testing laboratory.
The first project is well aligned with our Taxonomy (green definitions) as it can be considered as water resilience infrastructure. However, the Providence Water project is a bit tricky to determine its green credenditals. Although it does include water testing laboratory into the facility project (so potentially there is a water pollution aspect to this investment), we would love to see more disclosure of the potential climate benefits of this facility relocation. On the surface this appears to be moving one office (of a water utlility) to another location. As a minimum we would expect to see either disclosure that the building will have a green certification (such as LEED or BREEAM).  
Green Bonds Gossip:
Blackstone issued pure-play unlabelled green bond for wind – €978m through WindMW GmbH to refinance loans for 288MW Meerwind project. We will cover more details soon!
ING Bank is issuing its third green bond of $50m! The bond will be closed on 29th December. Look out for more details from us soon.
Watch out for our Christmas Quiz in our blog tomorrow! We will be challenging your knowlege of the 2015 green bond market and there is an amazing prize on offer!
Getting excited for holidays? So is the green bond market! We will report year-round highlights and summary of the 2015 market at the end of the month. Stay tuned!