Last night (3 Feb) the Climate Bonds Initiative, in partnership with the London Stock Exchange Group, held the inaugural Green Bond Awards to celebrate the heroes and pioneers of this new market.
Justine Leigh-Bell, Standards Manager at the Climate Bonds Initiative, welcomed a bevy of bankers, investors and green bond issuers to begin the evening. Christiana Figueres joined Justine in greeting everyone to the ceremony "in a low carbon way" – as she put it herself.
Christiana Figueres:
"I applaud the effort to raise the profile of green bonds and acknowledge leaders in the sector. This is exactly what we need as a follow up to last years UN Climate Change Conference in Paris".
"Let me be one of the first to congratulate this year's first ever winners of the green bond awards. You are part of the real on-the-ground movement that will spur the transformation that spells success for the Paris agreement".
Nikhil Rathi, CEO of the London Stock Exchange PLC, then took to the stage to begin the Green Bond Award presentations (full list of award winners here).
Award Winners:
Corporate Green Bond Pioneer - Vasakronan
Green Covered Bonds (Green Pfandbrief) Pioneer - Berlin Hyp
Green Asset Backed Securities Pioneer - Hannon Armstrong
Pioneer in Green Bond Underwriting - Skandinaviska Enskilda Banken (SEB)
Pioneer in Green Bond Policy - Peoples Bank of China (PBoC)
First Municipal Green Bond - Ile De France
Pioneers in Emerging Markets- Yes Bank & Agricultural Bank of China
First Commercial Bank Green Bond - Bank of America Merrill Lynch
First Green Bond - European Investment Bank (EIB)
Global Market Development Pioneer - World Bank 
The full list of Awards and Recognition Certificates in each category can be found here.
Sean Kidney closed the ceremony saying:
"The award recipients are the pioneers of the market, organisations at the forefront of the global financial sector's response to the investment challenges posed by climate change."
"They are laying new foundations for the capital flows needed to achieve the commitments within the national climate change plans tabled at COP21."
"Behind each of the award winners in each category are other companies, municipalities, development and commercial banks all meriting recognition."
"Together all these organisations are making a leading contribution to developing green bond markets, creating new and innovative climate finance solutions. They are to be congratulated."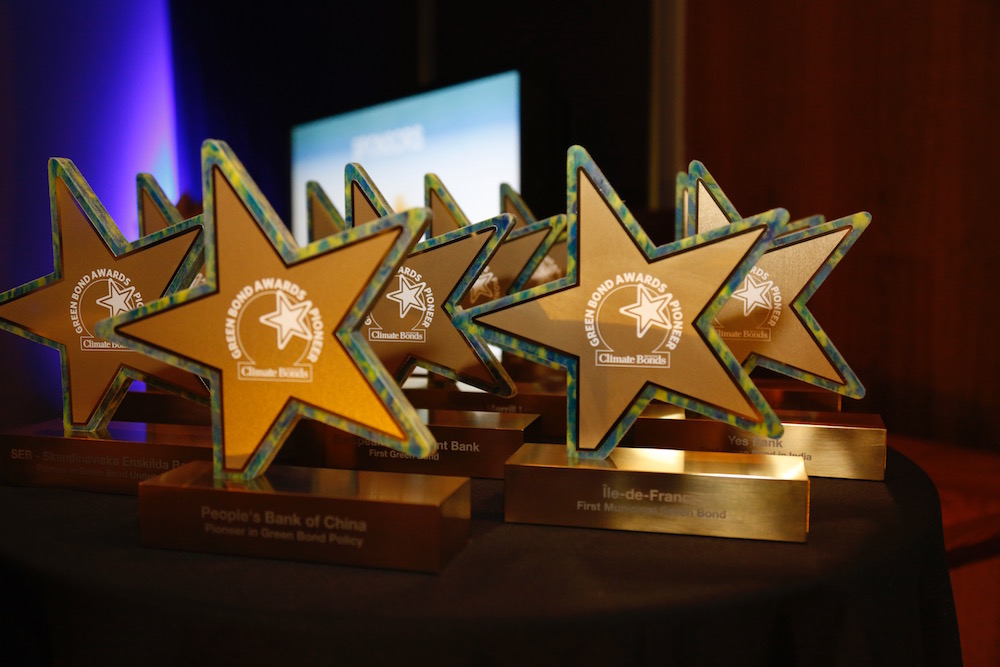 -----------------
The awards recognise organisations that have demonstrated the potential of green bonds, either by being first to market, or by positive example have called investors, governments and business to action.
The Inaugural Green Bond Awards were held in partnership with the London Stock Exchange Group. Foundation supporters included the PRI and ICMIF and Responsible Investor as media partner. And the event was kindly sponsored by PwC and UNEP Inquiry.