Posted: Jan 4, 2016 by Andrew Whiley
2015 was a magnificent year for green bonds (look out for our year-end market summary coming soon!). Q4 is in particular a busy quarter for green bonds – a total of $14.87bn were issued, and November was the largest monthly issuance EVER with $7.4bn of green bonds. The 3 largest individual issuances of the year also hit the market in Q4 with a €1.5bn ($1.66bn) bond issued by KfW, two tranche deal of €0.5bn and $0.8bn ($1.3bn) issued by ING Bank; and a green bond totalling $1.25bn from EDF.
Now, let's look at how the underwriters did in Q4. Top of the Q4 table is Credit Agricole CIB with its total Q4 underwriting deals of $994m dominated by issuances from development banks. Besides being the sole manager for two of its own green bond issuances, CACIB was also involved in various big issuances in the quarter such as green bond from EDF, KfW, Nafin, NRW Bank and ING.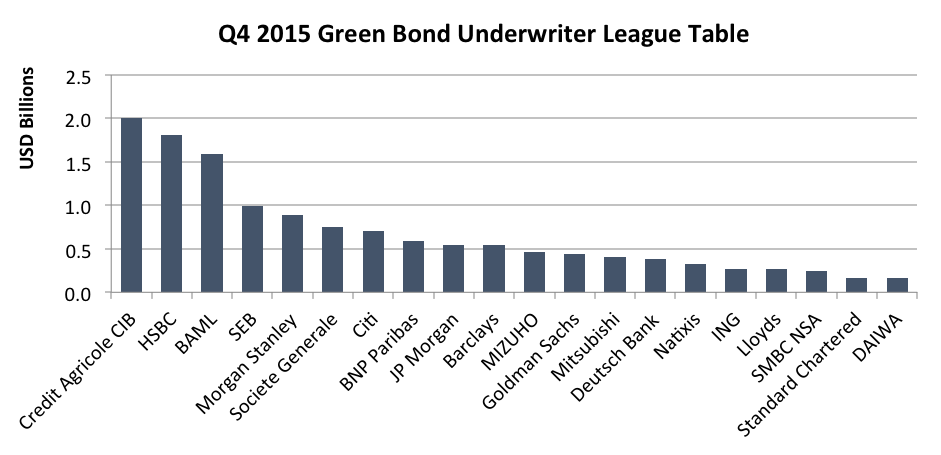 HSBC closely followed to take the second place in Q4 league table – greatly driven by its sole underwriting on its own inaugural green bonds as well as its involvement in NRW Bank issuance.
Bank of America Merrill Lynch (BAML) comes third in Q4, supported by involvement in issuances in a wide range of regions and markets. Deals included the green bonds from Agricultural Bank of China, Sumitomo Mitsui Banking Corp., NAFIN, U.S. muni bonds and Export Development Canada.
We also welcomed some new underwriters to the market in Q4! Both Agricultural Bank of China and Sumitomo Mitsui Banking Corp. are new underwriters of green bonds.
Now turning to our 2015 annual league table…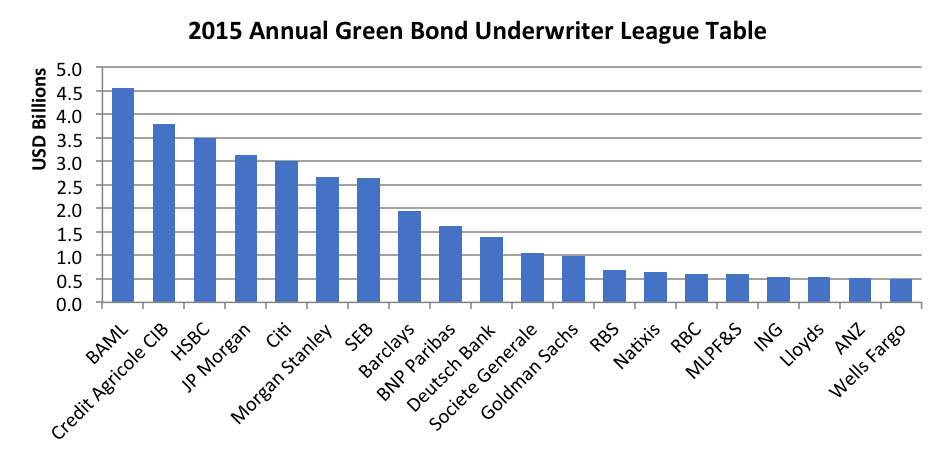 BAML took the crown of the top green bond underwriter of 2015! Always ranked in the top 5 throughout the year, the bank underwrote about $4.57bn in total. Almost 30% of its deals (in issued amount) are issued in the US, but the bank's involvement also reaches Europe, Canada, Mexico and Asia.
Credit Agricole CIB is ranked as the second largest green bond underwriter of the year. Underwriting nearly 50 deals, CACIB accounts for $3.79bn of green bond issuances in 2015. It showed significant progress towards the end of the year, as over half of its annual deals ($2.0bn) were generated in Q4.
Closely following, we have HSBC taking the third place in the annual league table, underwriting a total of $3.49bn green bonds in 2015. Similar to CACIB, the bank made the most progress towards the second half of 2015, getting into the top 5 in Q3 and Q4 league tables. HSBC's underwriting deals are almost 50:50 split between issuances by development banks and corporates (including banks), with about 3% is in municipal bonds.
JP Morgan came in forth with a total of $3.14bn deals this year thanks to its outstanding performance in Q1 and Q3; it topped the quarterly league table in both quarters. One of the highlights is its lead management on the largest municipal bond of 2015, $942.8m, by Central Puget Sound Transit.
Supported by its top 5 ranking in Q1-Q3, Citi is ranked as the fifth in the annual underwriter league table, underwriting a total of $3.02bn this year. Some of the highlights of its underwritten deals are the $1.25bn bonds by Toyota, $1.25bn by EDF, €0.5bn + $0.8bn ($1.3bn) by ING Bank, $479m by New York State Environmental Facilities, etc.
Understanding our league table
There are plenty of ways to make a league table and each bring with them different outcomes, so here are a few notes about our league table:
Graphs include only the largest 20 underwriters in each time period but there are many others that have underwritten deals
All data includes only bonds labelled and marketed to investors as 'green' or 'climate', the primary definition of this market. This means that figures do not include renewable energy projects or other bonds linked to green projects but not labelled and marketed as such
Totals are calculated by taking the total deal size divided by the number of lead managers as is the general practice (with exception of the US municipal bonds where the total deal size is allocated to the lead underwriter which follows the general practice in the US municipal bond market)
Other league tables representing a larger market would usually present data by issuer type, by currency or both. Given that the green bonds market is still relatively small, there is limited scope to break up the market at this stage
Some issuances fall on the cusp of the quarter in which case we use the announcement date as recorded on Bloomberg to determine its quarter
Exchange rates taken as the last price on the announcement date