Support for Green Bonds in Climate Finance Policy & Market Mix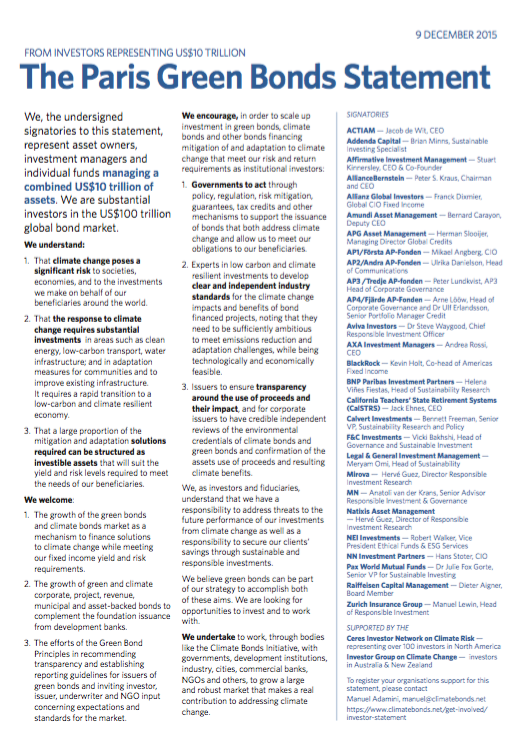 COP21: 9/12/2015: 1300 CET: Paris: Twenty-Seven global investors representing over USD 11.2 trillion of total AUM today issued the 'Paris Green Bonds Statement,' (PGBS). Signatories have committed to support policies that drive the development of long term, sustainable global markets in green bonds as part of climate finance solutions.
Paris Green Bonds Statement signatories undertake to work through bodies like the Climate Bonds Initiative, with governments, development institutions, cities, commercial banks, NGOs and others. They commit to working to "grow a large and robust market that makes a real contribution to addressing climate change."
The Paris Green Bonds Statement calls on;
Industry experts and stakeholders: To develop clear standards for the climate change impacts and benefits of bond financed projects;
Bond Issuers: To ensure transparency around the use of bond proceeds and their impact;
Governments: to develop projects that can be financed by green and climate bonds.
Past years have seen the rapid growth of a Green Bonds and Climate Bonds market as a mechanism to tap the global bond market to finance solutions to climate change.  USD 40 billion of Green Bonds have been issued this year, topping the USD 37 billion of 2014 issuance, and far above the USD 11 billion for 2013.  
The use of green bonds as a climate finance mechanism has been increasingly raised by delegates and presenters in a variety of COP21 fora over the last seven days.
Climate Bonds CEO, Sean Kidney:
"Enormous opportunity exists to deploy green bond financing, to renew existing, ageing urban infrastructure and also in emerging markets and economies that will be building new energy and urban networks in the coming years."
"The one hundred and eighty-five INDCs on the table here in Paris are one of the greatest achievements on the COP21 process.  They will need climate financing to help reach their expressed goals and objectives. The Paris Green Bonds Statement reflects widespread institutional investor views that green and climate bonds have a part to play in sustainable and responsible investment to address climate change. "
The PGBS was coordinated by the Climate Bonds Initiative.
Notes:
About the Paris Green Bonds Statement: The PGBS builds on earlier investor statements calling for increased use of green bonds in climate finance, actively policy by governments and increased participation by investors and stakeholders to build deep, liquid and robust green bond markets.  A full list of signatories is below.
Paris Green Bonds Statement Signatories:
ACTIAM -  

Jacob de Wit, CEO

Addenda Capital - 

Brian Minns, Sustainable Investing Specialist

Affirmative Investment Management - Stuart Kinnersley, CEO & Co-Founder
AllianceBernstein - 

Peter S. Kraus, Chairman and CEO

Allianz Global Investors - 

Franck Dixmier, Global CIO Fixed Income

Amundi Asset Management - Bernard Carayon, Deputy CEO
APG Asset Management - Herman Slooijer, Managing Director Global Credits
AP1/Första AP-Fonden - Mikael Angberg, CIO
AP2/Andra AP-Fonden - Ulrika Danielson, Head of Communications
AP3 /Tredje AP-fonden - Peter Lundkvist, Head of Corporate Governance
AP4/Fjärde AP-Fonden - Arne Lööw, Head of Corporate Governance & Dr Ulf Erlandsson, Snr Portfolio Manager Credit
Aviva Investors - Dr Steve Waygood, Chief Responsible Investment Officer
AXA Investment Managers - Andrea Rossi, CEO
BlackRock Inc - Kevin Holt, Co-Head of Americas Fixed Income
BNP Paribas Investment Partners - Helena Viñes Fiestas, Head of Sustainability Research
Calvert Investments - Bennett Freeman, Senior VP, Sustainability Research & Policy
California Teachers' State Retirement System CalSTRS - Jack Ehnes, CEO
F&C Investments - Vicki Bakhshi, Head of Governance & Sustainable Investment
Legal & General Investment Management - Meryam Omi, Head of Sustainability
Mirova — Hervé Guez - Director Responsible Investment Research
MN - Anatoli van der Krans, Senior Advisor Responsible Investment & Governance
Natixis Asset Management - Hervé Guez, Director of Responsible Investment Research
NEI Investments - Robert Walker, Vice President Ethical Funds & ESG Services
NN Investment Partners - Hans Stoter, CIO
Pax World Mutual Funds - Dr Julie Fox Gorte, Senior VP, Sustainable Investing
Raiffeisen Capital Management - Dieter Aigner, Board Member
Zurich Insurance Group - Manuel Lewin, Head of Responsible Investment

​
Supported by the:
Ceres Investor Network on Climate Risk - 

USA

Investor Group on Climate Change - Australia & New Zealand
​
For more information on the PGBS please contact:
Andrew Whiley,(link sends e-mail)Communications Manager, Climate Bonds Initiative (+44 (0) 7506 270 943)