Posted: Aug 3, 2015 by Sean Kidney
The green bond market stepped up a gear in Q2 with $11.9bn of deals; up from $7.1bn in Q1. Behind this resurgence of issuance are the underwriter banks that arrange and facilitate the green deals.
Top of the table in this busy Q2 is Bank of America Merrill Lynch, underwriting just over $2bn green bonds in the quarter. It's not the first time BAML takes one of the leading green bond underwriter spots: last quarter the Bank was the third biggest green bond underwriter, and for 2014 as a whole it came in second.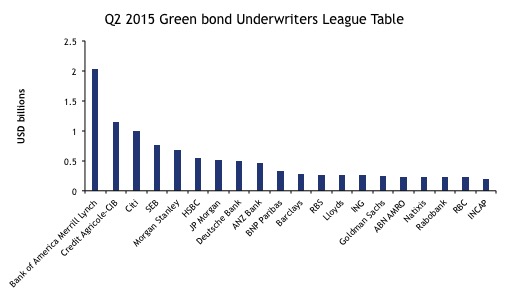 BAML's top spot come from underwriting a range of green bond corporate deals, varying from UK's Transport for London to Brazil's a first green bond from BRF SA. In the US market, it was involved in Digital Realty's corporate green bond and Toyota Finance's second asset-backed green bond. And BAML wasn't just busy on underwriting other banks' bonds: in Q2, BAML also issued its own second green bond. Great to see BAML setting the bar for other underwriters!
Hot on the heels of BAML is Credit Agricole CIB (CA CIB), coming in as the second biggest green bond underwriter in Q2 2015. European green bond deals that CA-CIB were involved in include the trailblazing Berlin Hyp covered bond and Climate Bonds certified green bond from ABN AMRO. CA-CIB were also active in underwriting green bonds from a variety of development banks, including EBRD, World Bank, Asian Development Bank and Nordic Investment Bank and Swedish Export Credit (SEK).
Citi Bank came in third for the quarter, having been involved in the Digital Realty and BRF green bonds in Q2. Amongst its other underwriting, Citi was involved in both of the ABS deals in the quarter; Renewfund and Toyota.
In fourth place was SEB, the green bond king of the Nordics. The bank was involved in almost all of the green bond deals in the region during Q2 including municipal green bonds from Stockholms Lands Landsting and the City of Gothenburg. SEB was also the underwriter for the first Latvian green bond from Latvenergo.
Following SEB in the rankings is Morgan Stanley, driven by its involvement in the Terraform Power Operating and BRF green bonds, as well as being the sole underwriter of Virginia State College's green bond.  Like BAML, Morgan Stanley also issued their own green bond in Q2, which they also underwrote.
New in the top 20 list of underwriters are ANZ Bank and ABN AMRO following the successes of their respective Climate Bonds certified green bonds. 
Top 10 green bond deals in Q2 2015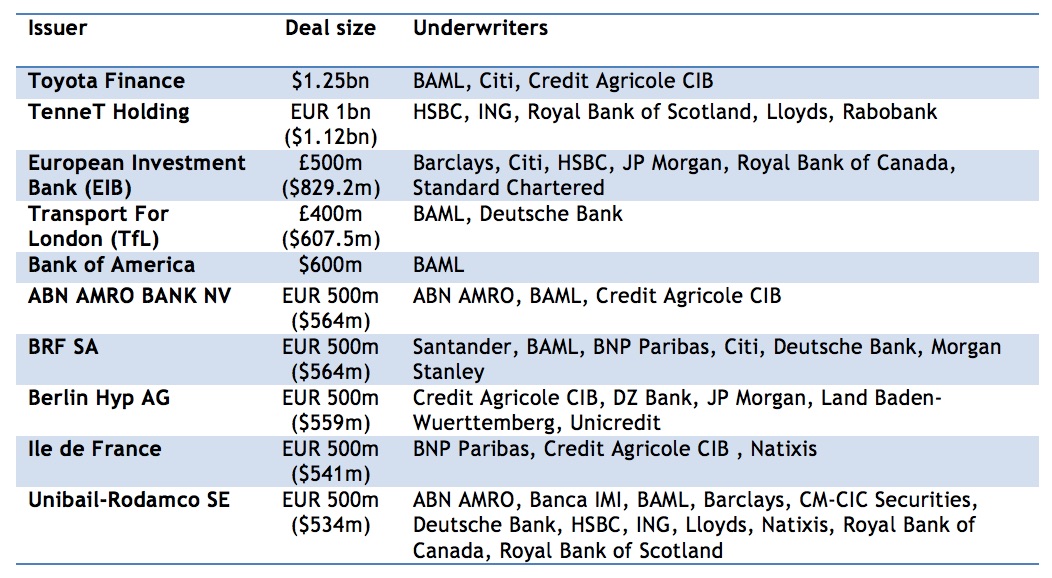 Toyota Finance's second issuance of green asset-backed securities snagged the top spot as largest deal of the quarter, underwritten by Bank of America Merrill Lynch, Citi and Credit Agricole CIB. The second largest green bond deal of the quarter, TenneT Holding, was underwritten by other top 20 underwriters: HSBC, Lloyds, ING, RBS and Rabobank. EIB's sterling green issuance was the third biggest at £500m with Barclays, Citi, HSBC, JP Morgan, RBC and Standard Chartered joint underwriting the deal.
---
There are plenty of ways to make a league table and each bring with them different outcomes, so here are a few notes:
Graphs include only the largest 20 underwriters in each time period but there are many others that have underwritten deals

All data includes only bonds labelled and marketed to investors as 'green' or 'climate', the primary definition of this market. This means that figures do not include renewable energy projects or other bonds linked to green projects but not labelled and marketed as such

Totals are calculated by taking the total deal size divided by the number of lead managers as is the general practice

Other league tables representing a larger market would usually present data by year, by currency or both. Given that this green bonds market is still relatively small, there is limited scope to break up the market at this stage

Some issuances fall on the cusp of the quarter in which case we use the announcement date as recorded on Bloomberg to determine its quarter

Exchange rates taken as the last price on the announcement date