Posted: Jul 8, 2015 by Sean Kidney
The Climate Bonds Initiative today launches its annual market sizing report 'Bonds and Climate Change: the state of the market in 2015'. View the report now (A4 version / A3 version).
This report is the fourth edition of the annual Bonds and Climate Change: state of the market report commissioned by the HSBC Climate Change Centre of Excellence.
It's the only publication that attempts to estimate the global flows of bond finance toward climate solutions. These flows are estimated by sizing the unlabelled climate-aligned bond market and the labelled green bond market. Unlabelled climate-aligned bonds are bonds whose proceeds are used to finance climate solutions but do not carry the green label.
>> Watch the video introducing key

findings of the report <<

The total climate-aligned bonds universe stands at $597.7bn - a 20% increase from last year. Almost a third of this year's increase ($95bn) was due to the rapid growth of the green bond market.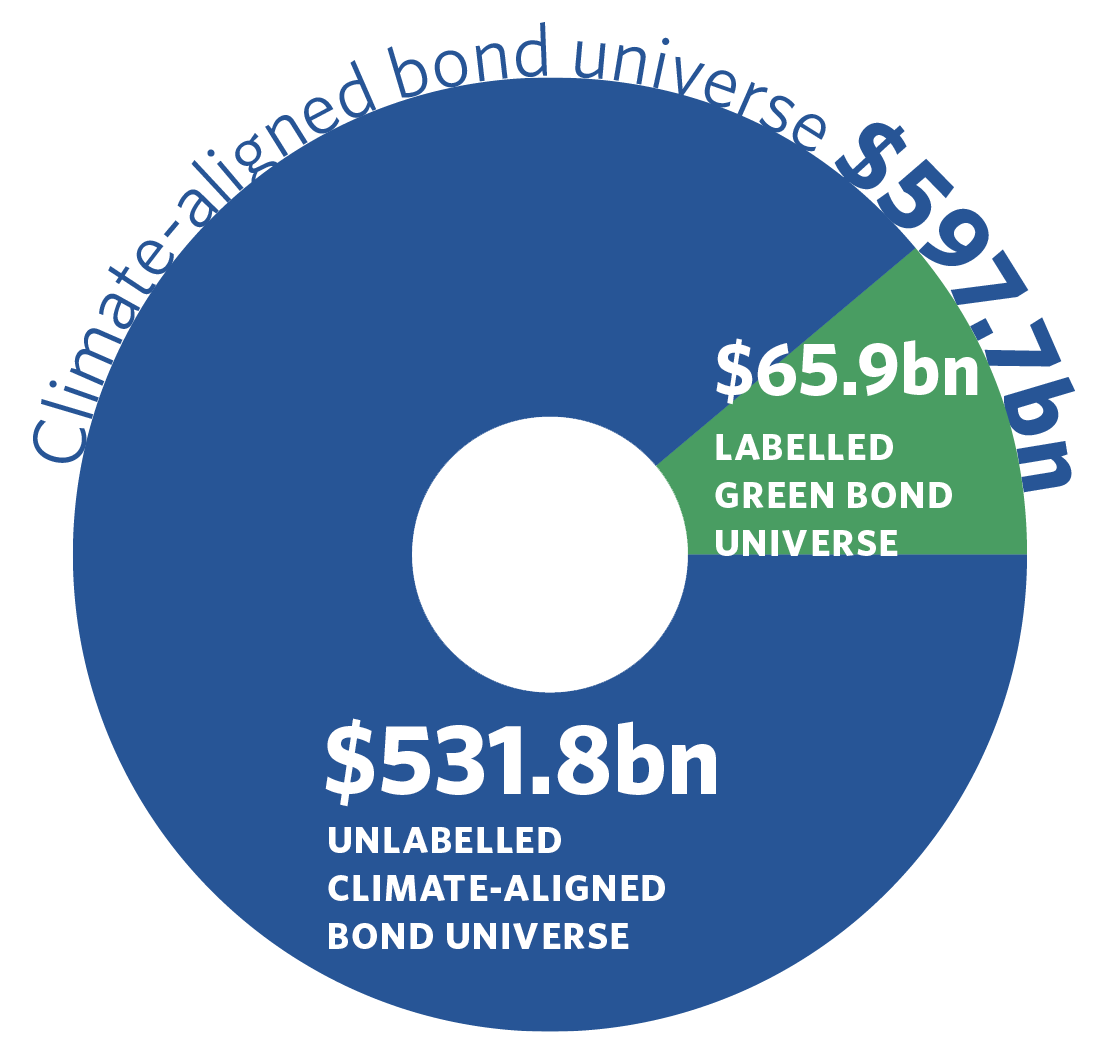 The climate-aligned universe has a range of maturities. The majority of outstanding issuances have tenors over 10 years. This reflects the long-term nature of climate assets such as rail infrastructure bonds. As in previous years the majority of climate-aligned bonds, $523.5m, are investment grade (BBB- or above).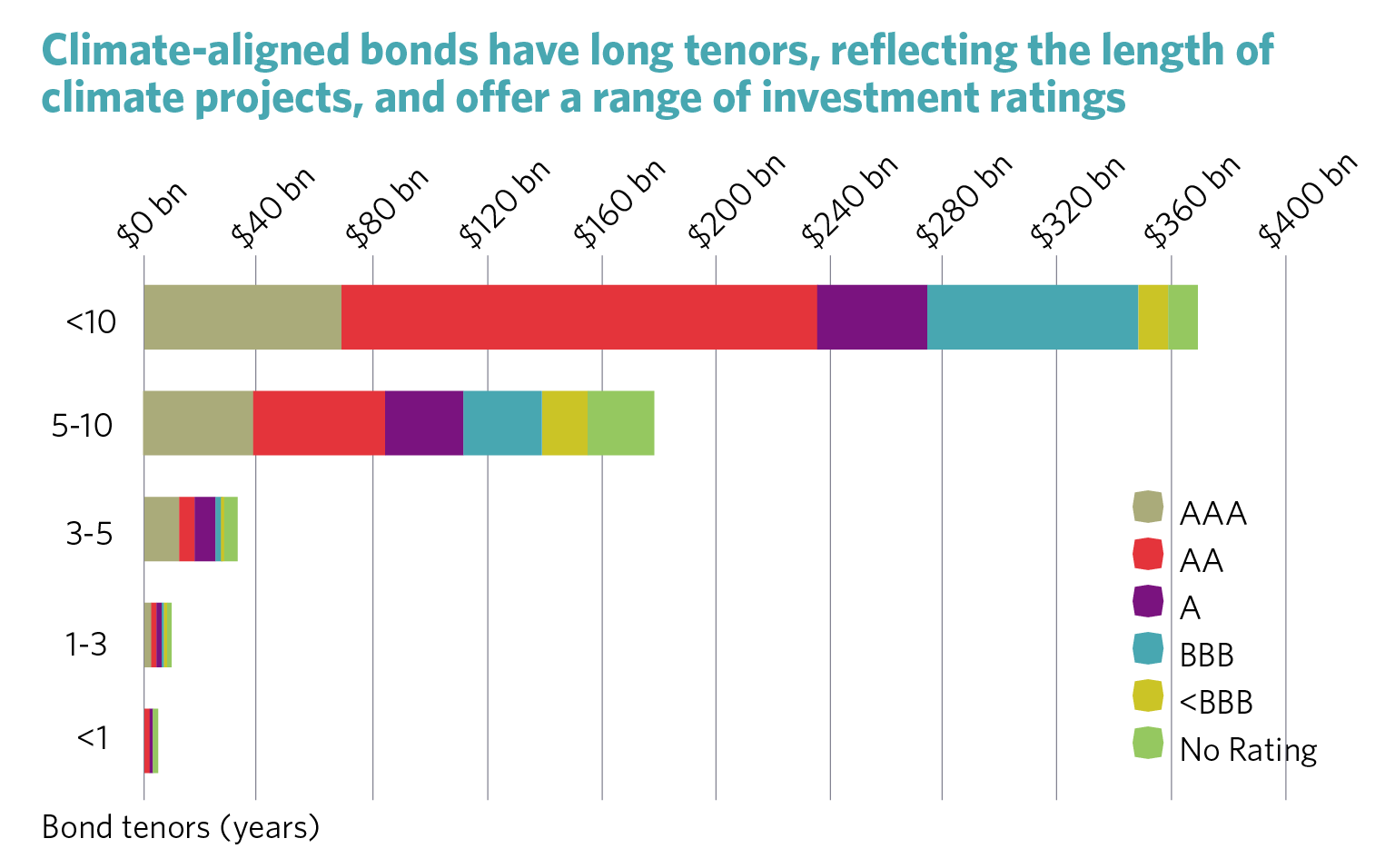 Low carbon transport accounts for $418.8bn (70%) of the total climate-aligned bonds universe followed by clean energy, which accounts for $118.4bn (20%). The remaining 10% of bonds fall into the Buildings and Industry, Agriculture and Forestry, Waste and Pollution or Water themes or are Multi-Sector bonds.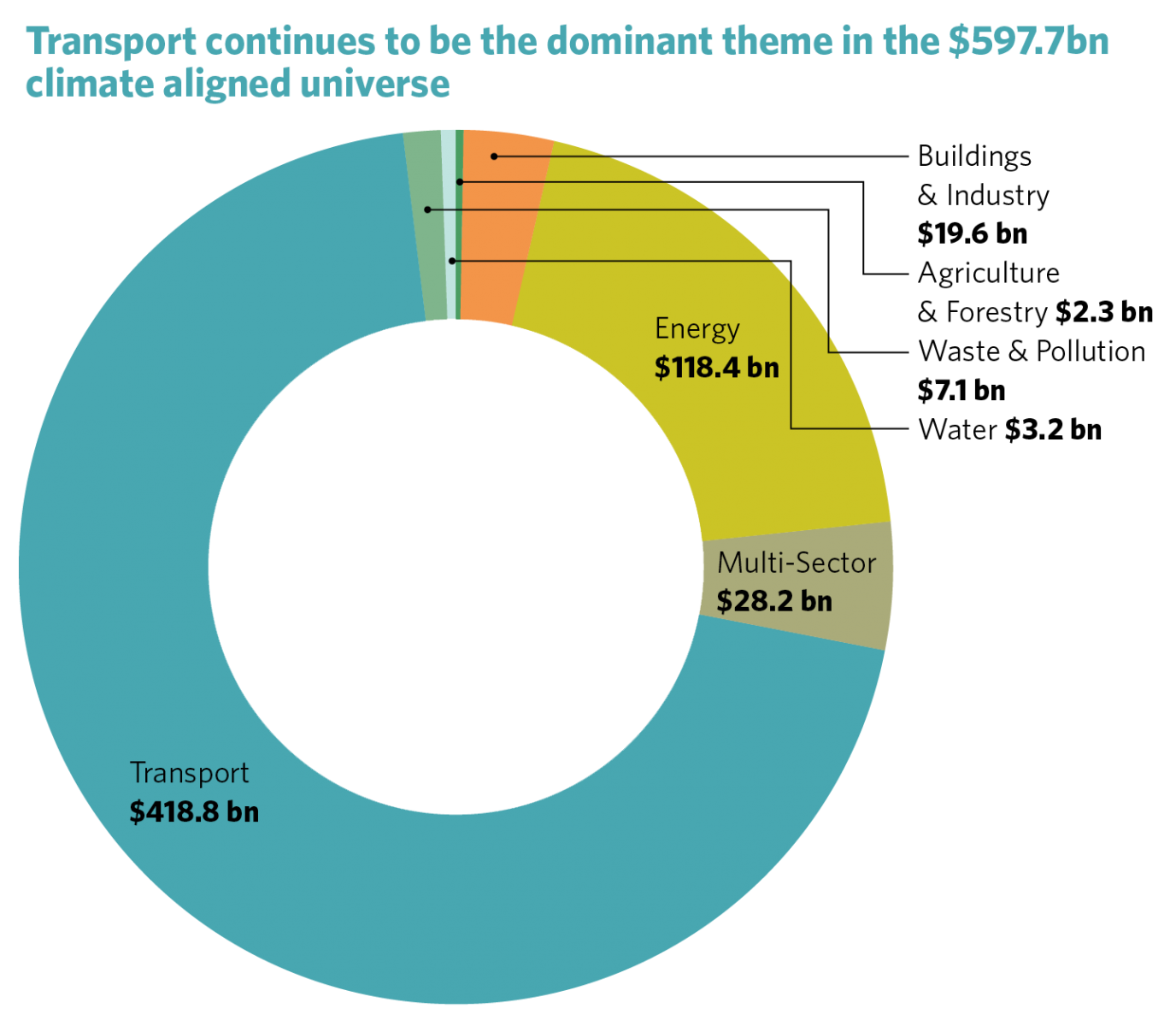 Mainstream indexes play an important role in investment management and determining what bonds mainstream investors invest in. Therefore we filtered the whole climate-aligned universe for:
Investment grade (>BBB-)
Minimum size of $200m
Mainstream currencies
$231.4bn meet these mainstream index filters. This still leaves a diverse range of bonds across the climate themes.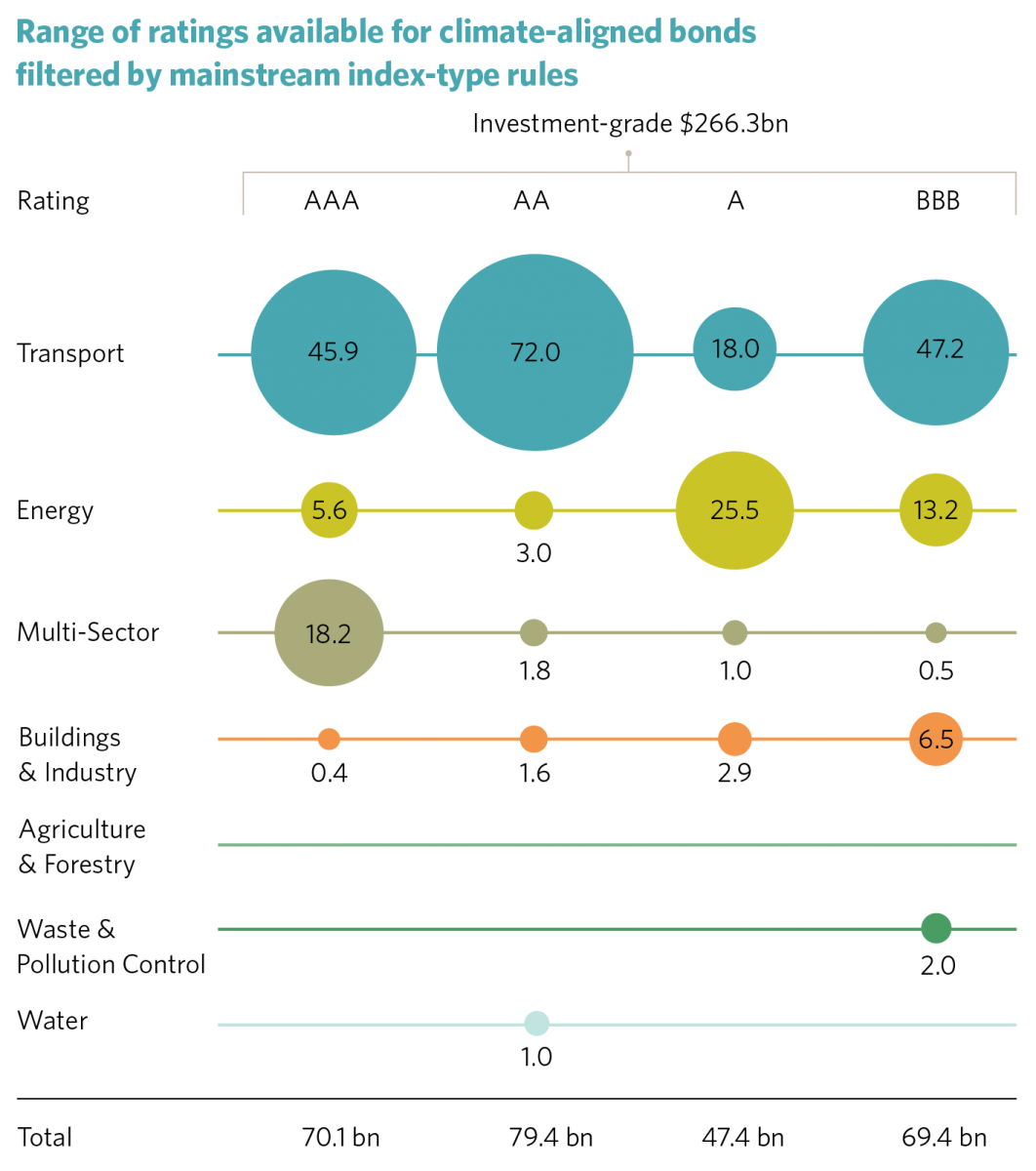 $36.6bn of green bonds were issued by the end of 2014, tripling the 2013 issuance total of $11bn. The Climate Bonds Initiative expects this growth to continue and green bond issuance in 2015 to reach $70bn, with a stretch target of $100bn.
As well as growing, the labelled green bond market is becoming more diverse, with corporate issuance in waste and transport sectors, the heating up of US municipal green issuance, the first green covered bond issues and more high yield green bonds.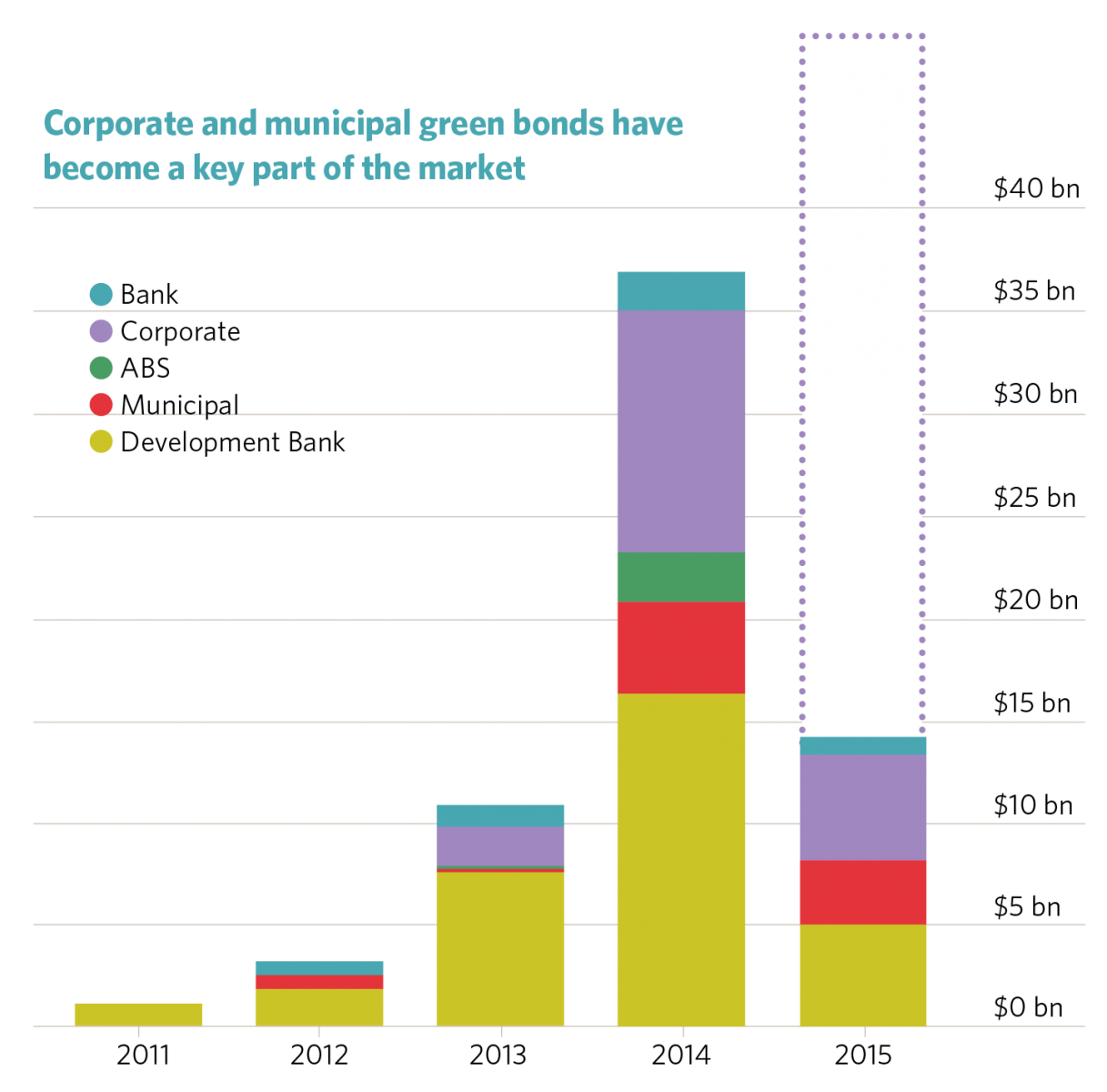 Another encouraging development is that green bonds have kicked off in emerging markets. India and China are leading the way and, judging by the size of the unlabelled climate-aligned bond universe, there is potential for plenty more issuance from these markets, particularly China.
Green bond proceeds are financing a range of eligible green projects. The majority of proceeds are financing renewable energy or energy efficiency (in Buildings and Industry). Though other project types (water, transport, waste, climate adaptation, and agriculture & forestry) are slowing making ground. The wider climate-aligned universe shows there is potential to significantly grow all areas of green bonds; in particular transport.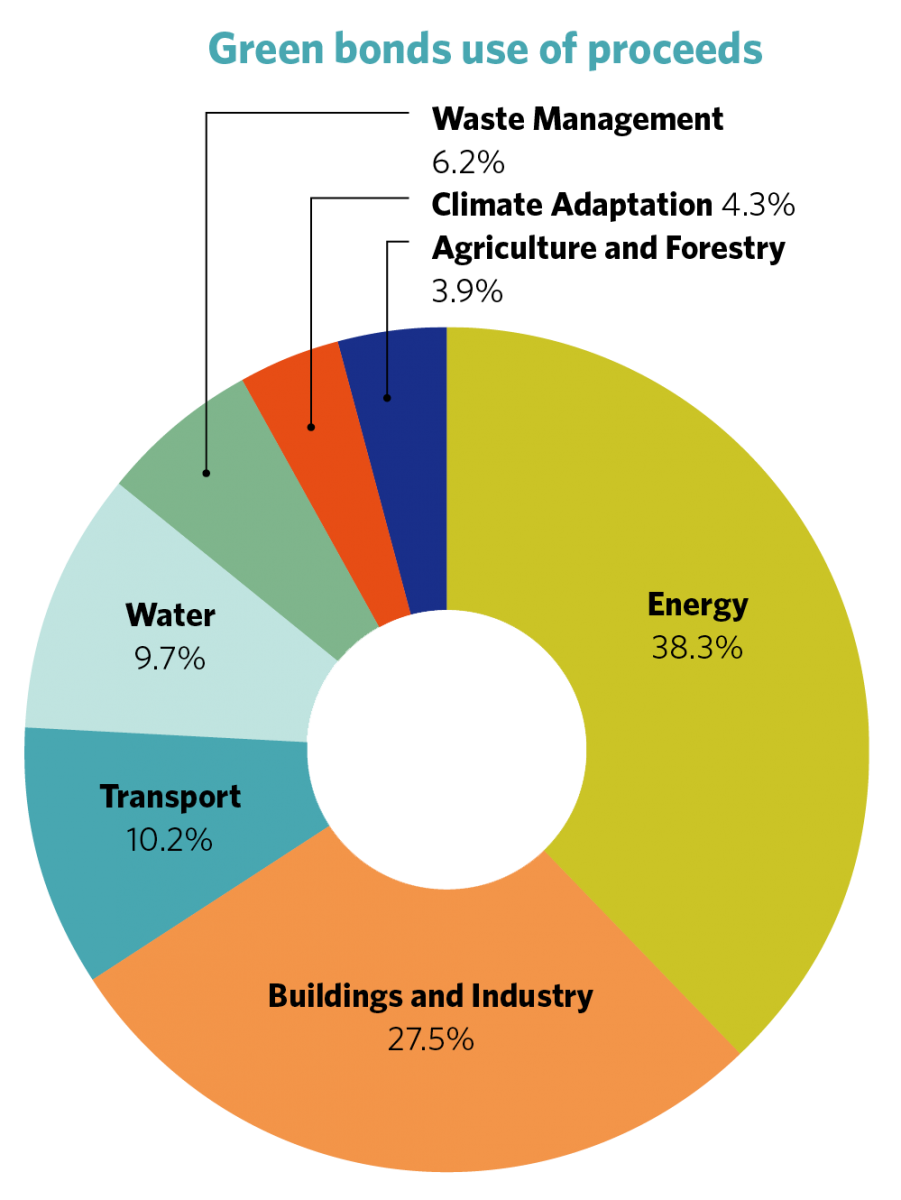 The report ends with a 10 point plan for governments
Strategic issuance from public entities
Strengthening planning and pipeline transparency of green projects
Improving the risk-return profile of green bonds: credit enhancement
Tax incentives
Boosting demand: domestic fund mandates
Central banks: boosting demand and convening power
Market integrity: Supporting standards development
Market creation and development: aggregation of small-scale green assets
Financial regulatory measures are important
International financial cooperation
Launch event today in Frankfurt is hosted by Allianz Climate Solutions
Today's launch event will include a presentation of report findings by Sean Kidney, CEO, and Tess Olsen-Rong, Market Analyst, of the Climate Bonds Initiative, and a panel discussion on opportunities in Europe and key issues faced by investors and issuers. The panel will include
Zoe Knight, HSBC Climate Change Centre of Excellence
Julien Bras, Allianz Global Investors
Karsten Löffler, Head of Allianz Climate Solutions