Posted: Dec 7, 2014 by Sean Kidney
Total of climate-themed bonds issued in Canada is up 78 per cent over 2013: to C$28 bn (US$26 bn).
Canadian companies now account for 5% of the total climate-themed bonds universe which stands at C$574 bn (US$502.6 bn).
90% of Canadian climate bonds issuance is investment grade
Three major Canadian issuers joined the labelled Green Bonds universe 
Investors embraced Canadian climate-themed bonds in a big way in 2014, pushing the total holdings of Canadian issuers to C$28 bn in funds that are aimed primarily at projects that combat climate change and mitigate its impact, according to Canadian companion to the third annual Bonds & Climate Change report prepared by the Climate Bonds Initiative in association with Sustainable Prosperity.  Download here.
Climate-themed bonds are used to finance or re-finance projects that address climate change. They range from wind, solar and hydropower plants, to rail transport and building sea walls in cities threatened by rising sea levels. Only a small portion of these bonds have actually been labelled as green or climate bonds by their issuers. The global total of climate-themed bonds grew by 45 per cent in 2014 to C$574 bn. 
The total investment in Canadian-issued climate-themed bonds in 2014 was recorded at C$28 bn, an increase of 78 per cent over 2013 in part due to the inclusion of C$15.7 bn in unlabelled bonds issued by Hydro-Quebec. Many large hydro companies were not included in previous reports due to concerns over assets in tropical areas. Hydro Quebec, which has no tropical hydro assets, is now included.
The SP/Climate Bonds report also found that there was a significant increase in Canadian-issued bonds labelled specifically as "green". Canadian-issued "green bonds" grew from zero in mid-2013 to C$1.4 bn by October 2014 thanks to three issuers: TD Bank, Export Development Canada and the Province of Ontario.  There are over C$58bn of labelled green bonds outstanding globally.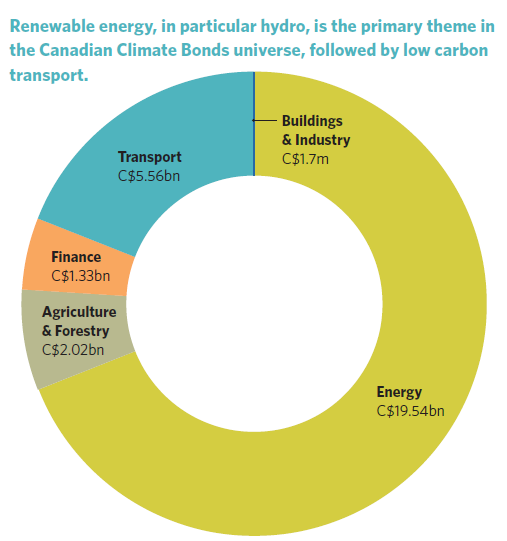 Sean Kidney, CEO of the Climate Bonds Initiative said '2014 has been a breakthrough year for green and climate bonds. We expect the labelled market to reach US$100-billion in 2015 and triple again in 2018. Canada has got a potential to have a big share of it'. He added: 'After the success of first Canadian green bonds that kick-started the local market, we expect more issuers to follow in 2015. Municipal and corporate issuance are likely to be the main growth areas.'
Alex Wood, Senior Director of Policy and Markets at Sustainable Prosperity says the explosive growth of green bonds over the past 18 months, particularly in Canada, shows that they are now mainstream investments. 
"We are seeing a whole new class of institutional and private investors coming into this space. Many are investors who understand the bond market, but have never considered green bonds until now, while others are traditional green investors who have never before considered bonds."
All three "green bond" issues in Canada in 2014 were over-subscribed, which indicates a pent-up demand for this type of investment. A big part of the attraction is the high quality of the Canadian issues, with 92 per cent rated as investment grade.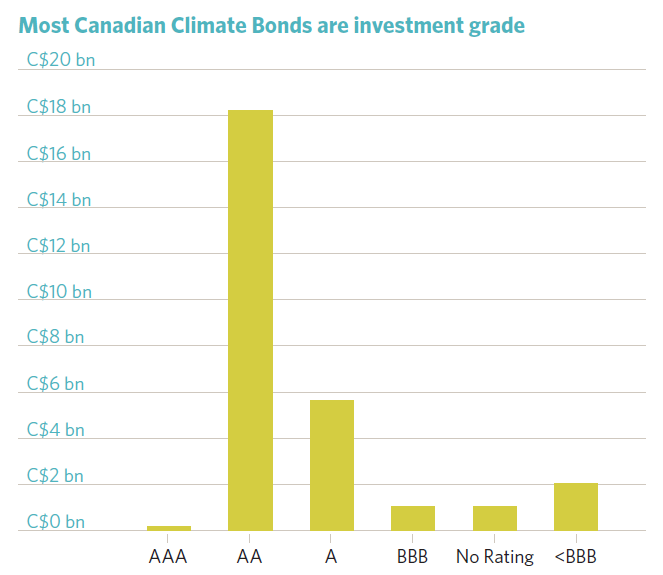 The success of the TD Bank and EDC issuances may spur other Canadian financial institutions to issue green labelled bonds as well. There are also opportunities for small scale green investments such as community bonds to finance local green infrastructure projects.
"In the year ahead there will be significant developments in Canada and the rest of the world," says Wood. "The challenge will be to ensure that all market operators work to demonstrate that the market is truly shifting capital to climate solutions rather than facilitating green wash. The Climate Bonds Initiative and Sustainable Prosperity will continue to work together to grow the scale of the market and the capital available to sustainable economic development in a way that is both rapid and credible."
The annual Bonds & Climate Change - The State of the Market in 2014  report has been commissioned by the HSBC Climate Change Centre of Excellence.
It is available at www.climatebonds.net/bonds-climate-change-2014
Sustainable Prosperity, is a national research and policy network  based at the University of Ottawa focused on market-based approaches to build a greener economy. It is made up of business, environment, policy and academic leaders.