Climate Bonds & UNDRR Present: The Power of Resilience: Developing Local Sustainable Finance
The Power of Resilience: Developing Local Sustainable Finance Webinar / New Date: 07 October, 2021 - Time: 11:00 AM - 12:30 PM (BST) - Format: Online via Zoom Free to attend

The Power of Resilience: Developing Local Sustainable Finance 
---
Climate Bonds Initiative (CBI) has joined the programme Making Cities Resilient 2030 (MCR2030), a 10-year long initiative to strengthen the resilience of cities around the world.  
This webinar brings together the main organisations supporting cities and municipalities around the world, as well as partners of the MCR2030. We will discuss how the challenges and opportunities for cities to become greener are impacted by the pandemic, and how resilience can set the tone and pace of developing sustainable finance.
New Date: 07 October 2021 Thursday 

Time:
11:00 - 12:30 London
12:00 - 13:30 Geneva/Cairo 
13:00 - 14:30 Nairobi 
17:00 - 18:30 Bangkok 
18:00 - 19:30 Beijing
19:00 - 20:30 Incheon 
Event Language: English
Format: Online via Zoom
Opening Remarks: Sanjaya Bhatia, Head of Office UN Office for Disaster Risk Reduction (UNDRR) Global Education and Training Institute (GETI)
 
               •  Moderator: Sean Kidney, CEO, Climate Bonds Initiative
               •  Emani Kumar - Deputy Secretary-General, ICLEI and Executive Director, ICLEI South Asia
               •  Émilie Maehara, Deputy Executive Director of the Global Fund for Cities Development (FMDV), UCLG
               • Idan Sasson – Project Coordinator at Climate Policy Initiative, Leadership for Urban Climate Investment (LUCI), CCFLA
               • Aditya Bahadur, Principal Researcher, International Institute for Environment and Development 
This session will be recorded, and the video will be available publicly on the CBI YouTube Channel as well as on the CBI UNDRR MCR2030 Platform.
Read the speakers biographies here. 
Useful resources for reading pre-webinar:
FMDV ACTIVITY REPORT FOR 2019-2020
This report presents the highlights of FMDV around its 3 missions:
1) Support and advice to public partners, 2) Multi-stakeholder dialogues and partnerships to accelerate action and 3) International advocacy and the production and sharing of knowledge. 
STATE OF CITIES FINANCE REPORT (CCFLA)
The 2021 State of Cities Climate Finance Report examines the current state of urban climate investment, the barriers to reaching the needed investment levels, and the steps to overcoming these challenges. Produced by the Cities Climate Finance Leadership Alliance (the Alliance), the report contributes to the Alliance's mission to mobilize city-level climate finance at scale by 2030. The report also contributes to the Leadership for Urban Climate Investment framework initiative hosted by the Alliance, which aims to create a strong global architecture for subnational climate finance and tracking.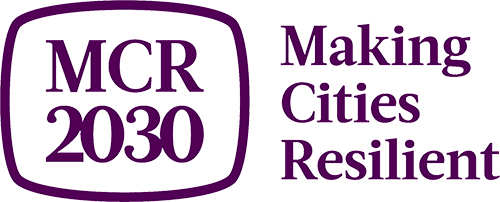 .                                      
About Making Cities Resilient 2030
Is your city resilient? Does its resilience help its citizens to prosper and flourish? Join other cities on a pathway to resilience – making the city safer, preventing risks and promoting innovation and investments.  
Making Cities Resilient 2030 (MCR2030) is a unique cross-stakeholder initiative for improving local resilience through advocacy, sharing knowledge and experiences, establishing mutually reinforcing city-to-city learning networks, injecting technical expertise, connecting multiple layers of government and building partnerships. 
Through delivering a clear 3-stage roadmap to urban resilience, providing tools, access to knowledge and monitoring and reporting tools, MCR2030 will support cities on their journey to reduce risk and build resilience. 
MCR2030 aims to ensure cities become inclusive, safe, resilient and sustainable by 2030, contributing directly to the achievement of Sustainable Development Goal 11 (SDG11) "Make cities and human settlements inclusive, safe, resilient and sustainable", and other global frameworks including the Sendai Framework for Disaster Risk Reduction, the Paris Agreement and the New Urban Agenda. 

About the UNDRR Global Education and Training Institute (UNDRR GETI)
UNDRR GETI was established in 2010 to develop a new cadre of professionals in disaster risk reduction and climate change adaptation to build disaster-resilient societies. GETI has a global mandate to provide capacity building support to mainstream disaster risk reduction and climate change adaptation into sustainable development; convene and support inter-city learning to strengthen resilience (Making Cities Resilient), and to provide capacity building and best practice sharing support to national training institutions working on resilience issues. Based in Incheon, the Republic of Korea, UNDRR GETI is also a global secretariat of the Making Cities Resilient 2030 (MCR2030).

The Climate Bonds Initiative (CBI) role is in outreach to inform and stimulate the market, working closely with core stakeholders through market and policy research, offering a partnership program with governments, investors and issuers offering support through capacity-building and other activities. 
Our work involves: 
•    supporting governments and corporates to develop sustainable finance strategies and plans aligning policy with industry innovation and institutional finance towards the transition to low carbon and climate-resilient economy
•    providing market data and intelligence and market development analysis 
•    supplying assurance mechanisms for investors raising the integrity and credibility of the new debt instruments that support climate change
For the last decade, CBI has been the world's leading organization working to mobilize the largest capital market of all, the USD100 trillion global bond market, for climate change solutions.
 
When
October 7th, 2021 12:00 PM through 1:30 PM