Support the growing Green and Climate Bonds market
Climate Bond Partners gain access to detailed data on bond issuance, market insights and opportunities to collaborate on events, public policy as well as on advocacy to governments and regulators.  
Partners support investor and stakeholder outreach and education projects centred on growing robust and sustainable green bond markets that contribute to climate action and low-carbon investment. 
Partners assist in developing initiatives to grow investment in climate finance solutions, participate in different market development committees & help define policy agendas for sector, country & sub-national green bond development programs.
Banks, institutional investors, non-governmental organizations (NGOs) other stakeholders and government bodies are eligible to join as Climate Bond Partners to help grow the markets of green and climate bonds. 
Current Partners include banks, bond issuers, developers, NGOs and insitutional investors; and people who want to support the Climate Bonds mission.  
The Climate Bonds Initiative is a registered charity, and donations are tax deductable in the UK.
In becoming a Climate Bond Partner you join a movement to use bond markets to deliver a rapid transition to a low-carbon and climate-resilient economy.

>>> Access Climate Bonds Partners Zone <<<
 
        Download our Partners brochure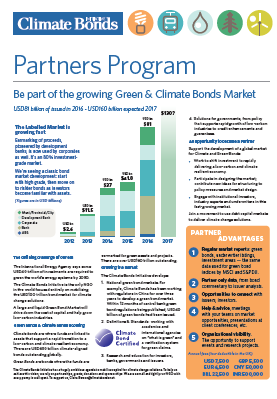 Climate Bonds Partner Benefits:
Access to bonds data, including the latest green and climate bonds, underwriter details and new investment areas. 

Market insights, tailored corporate briefings and advice making the most of opportunities in the market.

Opportunities to connect with issuers, banks, investors, and other Partners.

Organizational visibility: ability to use the Climate Bonds logo on organizational material and website.
>> View our Partners >> See what Partners say >> Climate Bonds Partners zone
Become a Climate Bonds Partner now @ USD 7,500 / EUR 6,500 / GBP 5,500 / CNY 50,000 / INR 500,000 p.a. 
info@climatebonds.net or call Sean Kidney direct +44-75-2506-8331