Elisabeth Vishnevskaja, CFA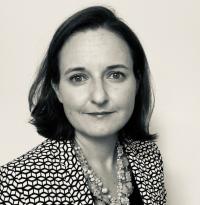 Elisabeth Vishnevskaja, CFA
Professional Bio
Elisabeth leads the Partnerships team. Her focus is on engaging with current and potential partners, in line with CBI's mission to empower its partner organisations to mobilise the $100+ trillion bond market for better climate change solutions.
Elisabeth has a long-standing career in Fixed Income. After graduating with a Masters in Asset Management from Paris Dauphine University, she started out as an analyst in the Index and Analytics team at Lehman Brothers. She later moved to the buy side, working as a fixed income product specialist at Neuberger Berman, UBS Asset Management, BlackRock and later Fidelity International. She has hands-on experience incorporating environmental and broader ESG considerations in fixed income portfolios and she has keenly participated in the evolution of ESG solutions over the past few years.
Outside of work, Elisabeth enjoys exploring Greece where she has been living since 2020 and is kept busy by her three little boys.
Internal team information