Brian Robertson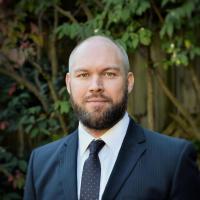 Senior Certification Manager
Professional Bio
As Senior Certification Manager of Climate Bonds Initiative (CBI), Brian both assures that bond issuances adhere to the CBI Certification Standard, and contributes to special projects that influence CBI's overall strategic direction. Brian also supports adjacent teams with sector-specific criteria development, and acts as a bridge between regional teams (such as CBI Latin America) and CBI's certification team.

Prior to joining CBI, Brian has worked since 2005 in green finance, economics and sustainability research, greenhouse-gas accounting and auditing (validation, verification, and enterprise-wide scope-mapping and mitigation-plan development), energy and emissions trading (front office and middle-office), as well as tangentially with IT, mortgages, and asset-backed securities.

Brian is also an active university lecturer and has a PhD in economics from the Centre of Ecological Research of the Carl von Ossietzky Universität Oldenburg.
Internal team information