Global milestone of $5tn annual green investment  by 2025 moves closer: Climate policy measures, market mainstreaming, investor demand gathering pace
A continued acceleration of green issuance drove the green bond market to just over half a trillion (USD517.4bn) in 2021 according to Climate Bonds Market Intelligence.[i] The annual figure is the highest since market inception and maintains the trend of 10 consecutive years of green market expansion.
Substantial growth across social, sustainability, sustainability-linked bonds (SLBs) and transition labels pushed 2021 issuance across these themes to USD646.5bn in 2021.
This represents a 50% increase from USD434.5bn in 2020 when the market saw its largest growth and diversification spurt (and up a huge +343% on the 2019 figure of USD98.2bn), in part driven by pandemic bonds, a subset of the social bond label. 
In combination this takes the 2021 total labelled sustainable debt[ii] volume to a record USD1.2tn according to Climate Bonds definitions. 
Green finance in full flight 
The green debt market has gradually snowballed from a relatively slow start following its inception to an impressive growth rate of over 50% in the last five years. 
At the end of 2015, cumulative green debt reached a total volume of USD104bn. Less than two years later global green issuance passed the annual USD100bn mark for the first time in November 2017 during COP23.
By December 2020, the market surpassed the cumulative USD1tn milestone and just over 12 months later we are beyond USD1.5trillion in labelled green issuance.
The 2020 record figure of USD297bn was overtaken in 2021 with an overall upswing of more than 60% as the USD517.4bn green figure topped the mid-year Climate Bonds forecast to surpass the half trillion mark.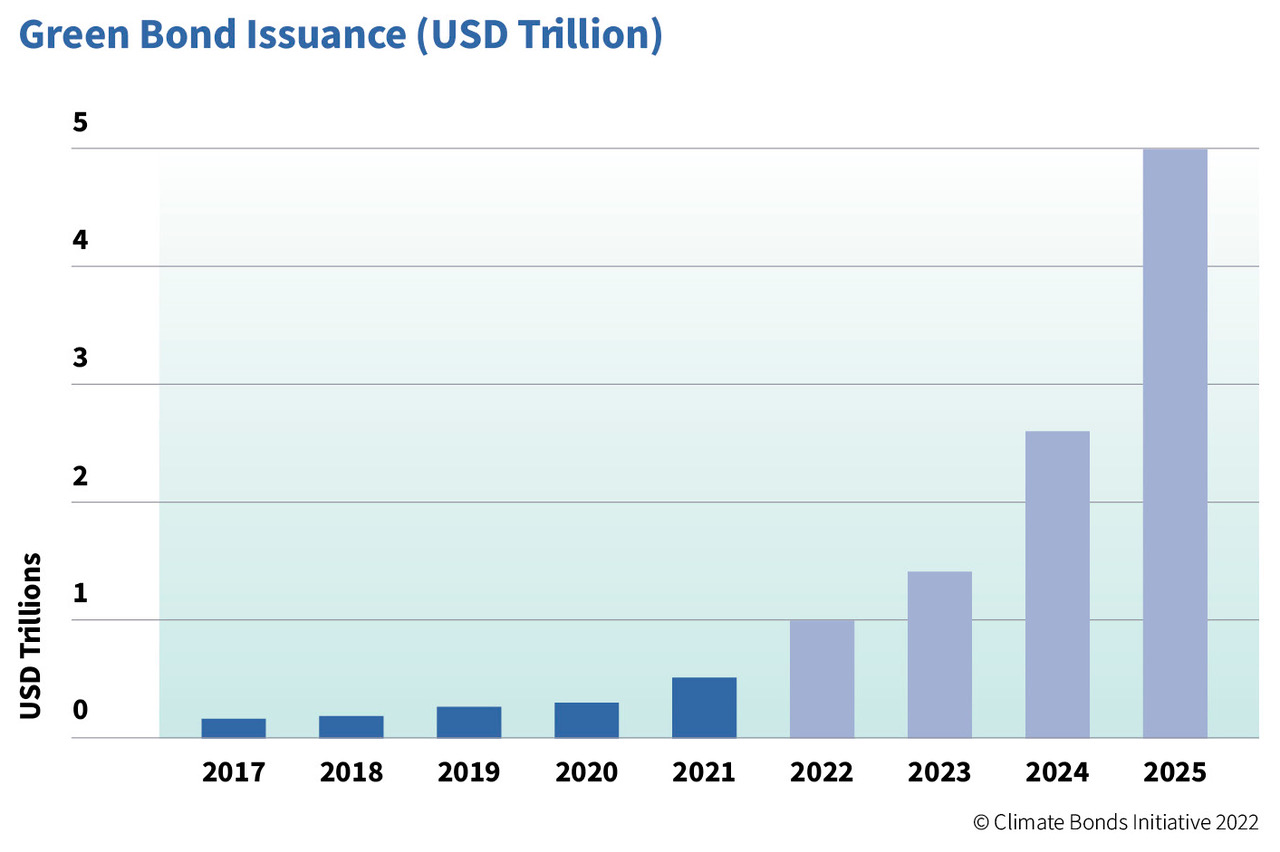 ​
USD1tn in 2022 then USD5tn by 2025? 
The current growth trajectory could land the first annual green trillion in the year ahead – a long held milestone for green finance. Climate Bonds first advocated for a trillion in annual green investment at COP22 in 2016 and since then has repeatedly called for policymakers, investors and issuers to work towards this crucial target.
Hitting this milestone early this decade serves as key indicator that capital is being shifted at scale towards climate solutions as the world races the clock. 
Wider sentiment is also positive with results of an October 2021 Climate Bonds Market Survey reflecting investor expectations that global green investment could reach USD1tn in a single year for the first time by the end of 2022, as the most favoured choice, with Q4 2023 or Q3 2023 the next most popular options.  
Is USD1tn per year enough? 
As the climate clock races, so should trillions towards green.
Recent analysis from McKinsey suggests a total of USD9tn in green investment is needed each year to reach net-zero by 2050. This figure is higher than some other estimates but provides a headline reference against which to compare current investment levels. 
Climate Bonds CEO, Sean Kidney, has nominated an annual USD5tn in green bond issuance by 2025 as the next global milestone governments, policy makers and investors need to reach as the necessary contribution to achieving our climate goals. 
Together with equity flows and sovereign outlays, the McKinsey figure could be within reach.   
2021 in detail 
US, Germany, China top green issuance table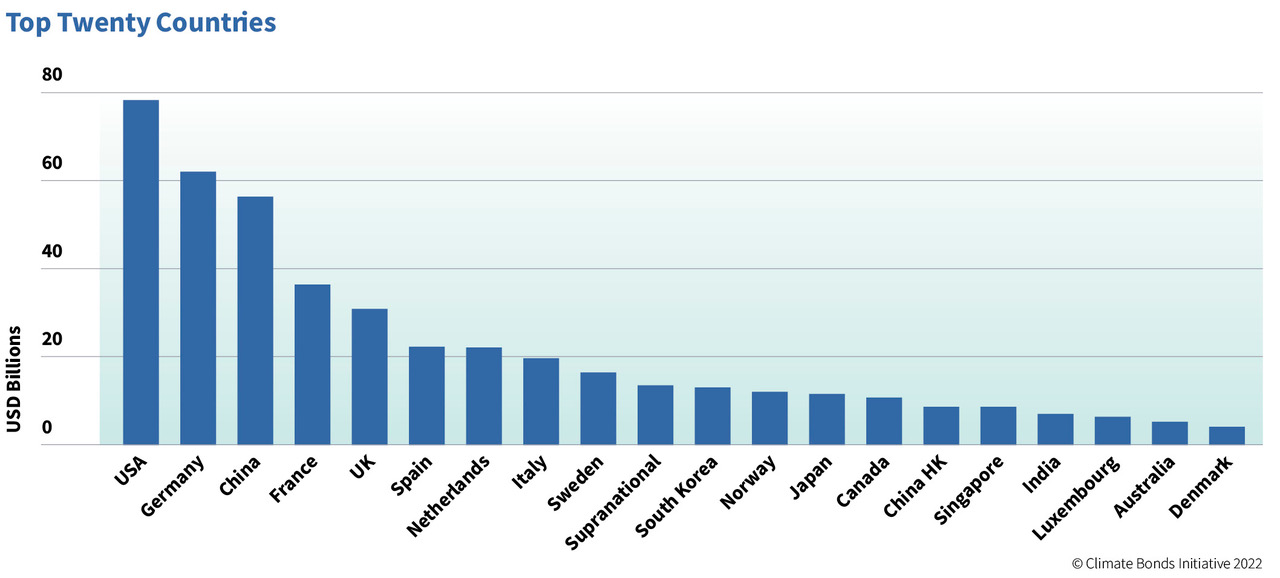 The US and Germany maintained their leading first and second positions. France, the third largest green issuing nation in 2020, has been pipped for a podium place by China who moved up a spot in 2021.
Use of Proceeds
The Renewable Energy category drew the largest share of green investment across sectors and issuer types in 2021, followed by investments into Low-Carbon Buildings and Transport.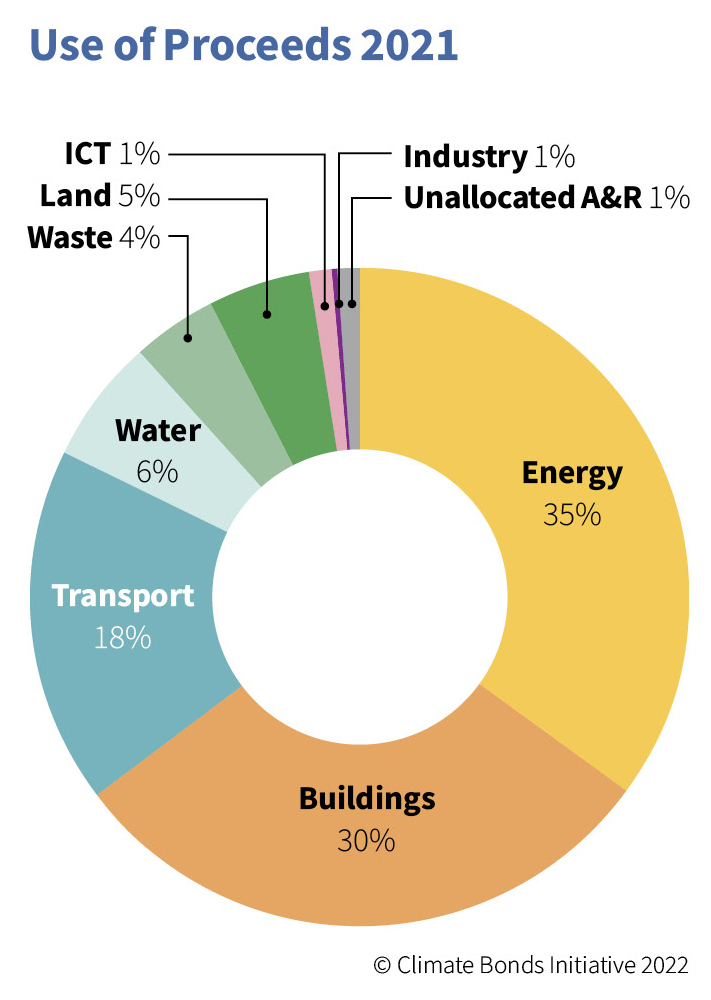 UK - 2021 leading sovereign green issuer
21 sovereign green bonds were priced in 2021, including a GBP10bn (USD13.7bn) UK Gilt, the largest single debut sovereign green bond to date and the largest green bond of 2021. A smaller GBP6bn (USD8.25bn) deal followed later in the year, making the UK the third largest sovereign green bond issuer after France and Germany by volume. 
Consistently committed, KfW was the second largest green issuer of the year with a total volume of USD13.6bn, and Fannie Mae was third with USD13.4bn. France consolidated its position with USD12.9bn of new green debt to take fourth position, while Germany made fifth place with USD11.5bn.
Certified Issuance in 2021 – Major banks and corporations maintain best practice 
Several prominent Certified Climate Bonds originated from China in 2021, with major banks continuing their practice of issuing multiple green bonds aligned with the Climate Bonds Standard.
The world's largest bank, Industrial and Commercial Bank of China (ICBC) returned to the market with another Certified Climate Bond of GBP2.3bn (USD3.2bn), with use of proceeds certified in accordance with the Low Carbon Transport, Marine, Solar, and Wind Renewable Energy Criteria of the Climate Bonds Standard.
State-led China Development Bank raised USD7.4bn in three deals, with funds used for ecological protection and green development along China's Yellow River Basin. As a result, the China Development Bank (CDB) was the largest Certified Climate Bond issuer in 2021. 
The CDB issuance puts them ahead of French transport operator Société Du Grand Paris (SGP) for 2021. SGP was an early adopter of Programmatic Certification and is the all-time largest Certified green debt issuer, funding a decade-long upgrade of the Paris rail network, one of the largest infrastructure projects in Europe.  
Cumulative Certified issuance reached USD210bn by December 31st, helping to establish green market investment standards and harmonised definitions in multiple jurisdictions in both developed and emerging economies.
 Table. 1. Top 10 Climate Bonds Certified Issuers in 2021   

Issuer Name

 Certified in 2021 (USD billion)

China Development Bank

7.4

Société du Grand Paris

5.8

ICBC

4.2

Queensland Treasury Corp

2.2

ABN AMRO Bank NV

2.2

DNB ASA

1.8

Republic of Chile

1.2

Westpac

1.2

FS Italiane

1.2

Renew Power

1.0
Other themes – social, sustainability, SLBs and transition total USD646.5n in 2021
As noted above, 2021 saw a total of USD646.5bn in other labelled sustainable debt (excluding green). 
Sustainability bonds are the largest theme with USD310.7bn of debt issued over 959 instruments in 2021. The label describes use of proceeds instruments with a combination of green and social projects, activities, or expenditures. 
For social debt, Climate Bonds Market Intelligence recorded USD201bn worth of issuance from 2,451 deals in 2021. The label is exclusively related to projects with social benefits, and proceeds can go to financing a range of positive social outcomes such as housing, gender equality, livelihoods and income equality, healthcare, and education. 
The issuance of social bonds has exploded since 2020 when governments scrambled to raise financing to fight off the immediate socioeconomic impacts of COVID-19.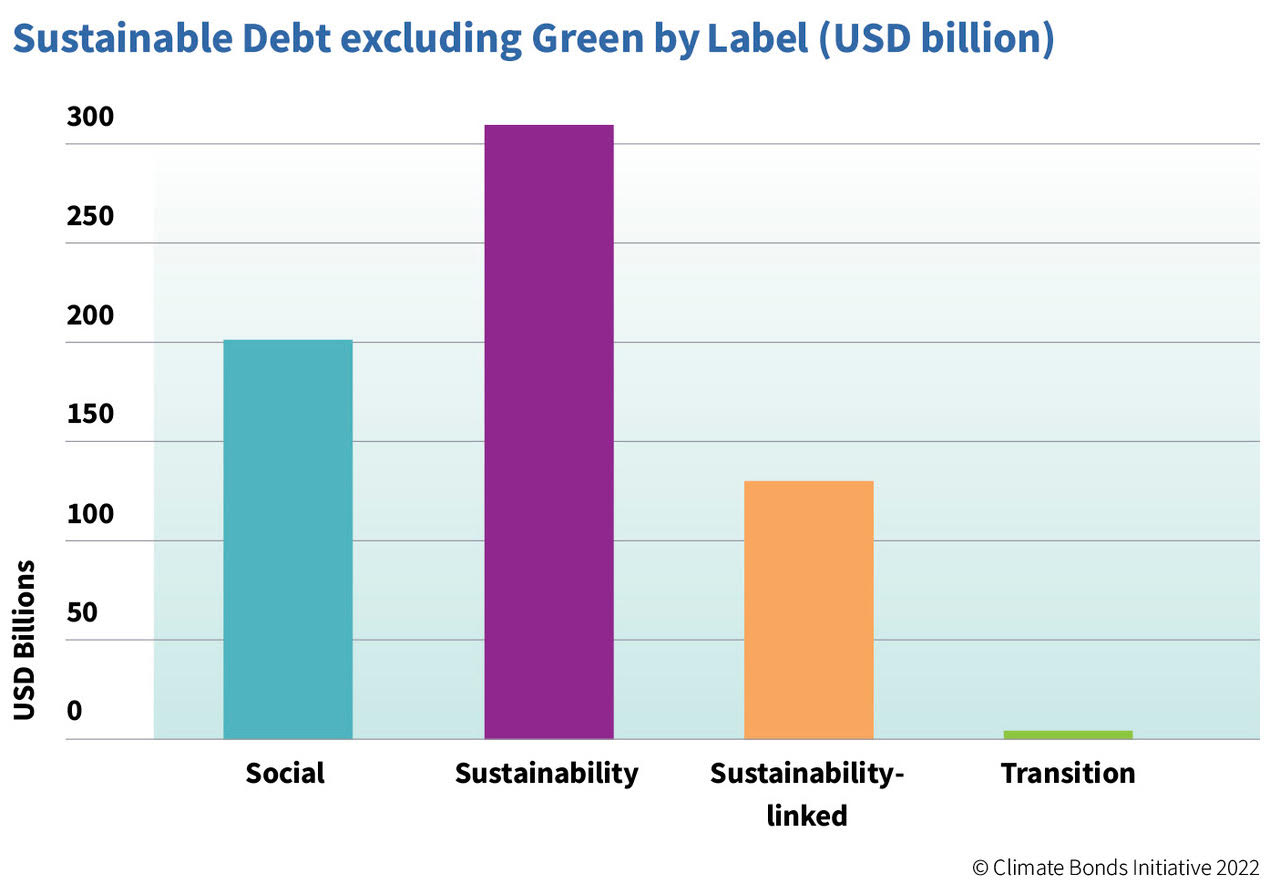 The increasingly popular issuance of SLBs totalled USD130.2bn in volume with 271 deals in 2021. Unlike typical green and social bonds, SLBs come no restrictions on the use of proceeds. Instead, issuers commit to improving their environmental performance against KPIs and link the achievement of these pledges directly to the coupon paid to investors.
The transition label remains nascent with 13 issuances totalling USD4.4bn. 
Climate Bonds hopes to facilitate the growth of this market by progressively rolling out new Criteria for specific hard-to-abate sectors throughout 2022, beginning with the release of new use of proceeds and entity-level Criteria for the Basic Chemicals, Cement and Steel sectors.
Climate Bonds Expansion 
As the market expands, so do Climate Bonds' market activities.
2022 will see further expansion in the reach of the Climate Bonds Standard with new Criteria for heavy emitting sectors nominated above.
This adds depth to the five new sector criteria (Grids and Storage, Hydropower, Bioenergy, Geothermal, and Shipping) launched during 2021. 
Expect to see additional Certifications, building on the existing pool of over 220 issuers from 40 nations. 
Also in the pipeline is a new Social and Sustainability Database, aimed at providing issuers, investors and other market participants with new insights into these growing investment themes and their constituent issuers and instruments. 
The Forecasts 
2021 has been another huge year for sustainable finance with USD976.6bn issued across all sustainable debt themes. 
As we look ahead to the immediate horizon will 2022 bring the first annual trillion in green milestone?
Climate Bonds forecasts green investment to reach USD900bn-1tn in 2022. 
On social, sustainability, SLBs and transition (SSSLBT) labels we estimate total of USD1tn-USD1.2tn. 
This brings our combined sustainable (G & SSSLBT) market forecast for 2022 to between USD1.9tn-2.2tn. 
The last word - the climate capital gap remains 
These figures are a long way ahead of 2016 and 2017 when USD100bn in green was a cause for great celebration.
But also, a long way behind global investment being sufficient to address the climate crisis. 
As Sean Kidney put it prior to COP26 in November 2021: 
"Capital allocation towards clean energy, resilient infrastructure, green transport, buildings and sustainable agriculture needs to accelerate into the multiple trillions, every year, rippling through both developed and emerging economies." 
"The climate capital gap still remains. USD5tn in annual green investment by 2025 is a real economy investment benchmark to judge progress in greening the financial system."
More to come
There'll be more coverage of our 2021 and the 2022 forecasts on our social media pages. Our 2021 green finance maps will be arriving soon, with a breakdown of the final figures for each nation. 
Find us on Twitter, LinkedIn, Facebook and Instagram. 
'Til Next Time, 
Climate Bonds
End Notes:
---
[i] Climate Bonds' Data as at January 21, 2022 shows a total USD485.7bn of green bonds aligned with the Climate Bonds Taxonomy and Green Bond Database Methodology. A further USD90.6bn is currently under assessment for inclusion ("Pending"). 
Based on historical rates, it is expected that roughly 35% of the pending volume will be included in the Database. This brings the total issuance of aligned green bonds in 2021 to approximately USD517.4bn. 
A final figure for the year will be confirmed once all responses from queried issuers have been received; and yes it could be higher.
[ii] Sustainable Debt covers Green, Social, Sustainability, Sustainability-Linked and Transition (GSSSLBT) themes.